Evolution Trikes celebrated their 10th anniversary at Sun 'n Fun 2019. That show and this company have enjoyed a long relationship, one meaningful enough that the two principals, Larry Mednick and Amy Saunders, exchanged their wedding vows at Sun 'n Fun 2018 with show boss John "Lites" Leenhouts conducting the ceremony. Now, that's commitment (to each other and to the big spring airshow).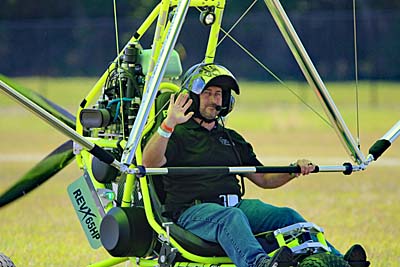 Larry Mednick is a happily married man now but he remains a restless designer, always striving for a new variation on the exquisite theme he started with Revo ten years ago.
Since the ultra-deluxe Revo was introduced a decade back it has set a new benchmark for being the best-equipped, most-customized construction, with carefully-designed wings. The weight shift market enjoys several quality brands (though we did lose P&M earlier this year) and some are more affordable but none more sophisticated then Revo.
However, that level of engineering and manufacturing costs money and all the many Revo features and appointments add to its expense. What about buyers with tighter budgets or who want something that performs a bit differently?
The Rev' Line from Evolution
First came Revo. Like Tesla, they put out their strongest product first. Then came the little Rev that can make Part 103 if you don't choose all the options Evolution can deliver. After Rev came Revolt, another two seater. It uses the trademarked attributes and hardware that made Revo famous but is a simpler construction that costs less.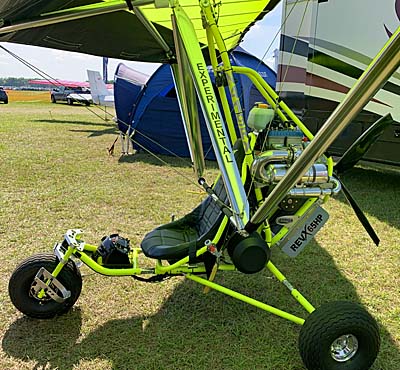 Finally comes RevX. Larry said about Rev that it is a delightful trike that he has thoroughly enjoyed since it was released four years ago. However, it is a calm weather flyer. I see nothing wrong with that but the lightweight airframe of Rev means it is somewhat more vulnerable should conditions pick up strength.
Enter RevX. Larry said three attributes distinguish the newest in his "Rev" line. RevX still folds in six minutes flat and, yes, Evolution has video to prove it (plus see our video below). That system was developed with Rev but when Larry says it folds up he also means it can be transported this way. Rev and RevX both fold quickly while still supporting the structure completely. Most trikes fold up (although few do so as fast) but once folded the wings are not perfectly supported by structure that was purpose-designed to do so.
RevX also brings full suspension to the Rev-type design. This was not reasonable on Rev as it tried to stay within the tight constraints of Part 103's 254-pound empty weight (before emergency parachutes or floats, for which extra pounds are allowed).
Third, RevX shares with Rev the wide-open visibility of having no structural forward strut. Many trike observers think that forward strut is no visual impediment, but they may not have flown a fully-open trike like Rev or RevX. Evolution designed their structure so that the forward strut was not necessary and double value is achieved when the forward strut need not be removed to facilitate fold-down.
Higher Wing Loading
RevX tips the scales at 410 pounds as seen in the video below. Now, that's for an accessory-loaded trike including an airframe parachute but that empty weight is well past the Part 103 limit so you must build and register your RevX kit aircraft and you must have a Sport Pilot license or better to fly it. For those that may not realize, a Part 103 ultralight vehicle (specifically not called an an "aircraft" to avoid normal FAA requirements) does not require a pilot certificate, N-numbers, or any sort of medical plus it can be delivered ready-to-fly.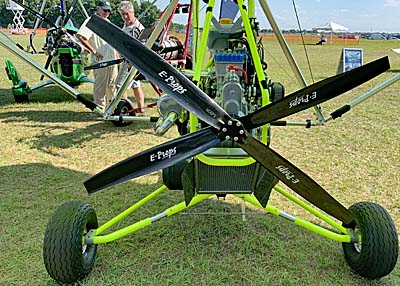 However, in exchange for some building effort RevX buyers will get a quite capable trike with impressive performance.
"Another big change is that the wing on RevX is 25% smaller than on Rev. The RevX wing is 12.0 square meters (129 square feet) with a 28 foot span, where Rev's Part 103 wing is 15 square meters (161 square feet) with a 31.5 foot span," clarified Larry. The higher wing loading makes for crisp handling but more windspeed capability than the more lightly loaded Rev.
A smaller but still single-surface wing is paired with the much more potent Rotax 582 engine with 65-horsepower. "Climb rate is 1,200 feet per minutes," beamed Larry. "I tell pilots about to fly RevX that they should start moving the bar forward immediately because acceleration is so fast that RevX will be ready to fly very soon after you advance the throttle." This appears to make RevX well suited to shorter field operations though such things should still be carefully evaluated.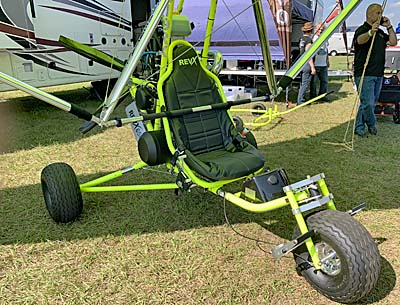 "The single surface RevX wing has a limited speed range," Larry explained. "Pilots will see stall at 28 mph, normal cruise at 45 mph and the wing maxes out at 58 mph," he noted but the handling of a single surface wing is superior.
As you'll see in the video, not only is Larry a gifted trike pilot but the machine seems willing to allow handling to delight most trike pilots.
---
Here's our video interview with developer Larry Mednick shot at Sun 'n Fun 2019 when RevX was introduced…