The newest SLSA on our List is a weight-shift control aircraft from Evolution Trikes, the folks who put the trike world on a pedestal with their remarkably deluxe and superbly finished Revo (see our Video Pilot Report of Revo and Part 2).
Following that BMW of trikes (Revo) Evolution released Rev, a Part 103-capable single seat trike.
A year ago, the company debuted a new model, called Revolt.
In less than a year, this model went from pre-flying debut to a fully ASTM-compliant aircraft.
Evolution, lead by Larry Mednick, started ASTM work in June 2017. Testing was completed by December 15, 2017 and they felt ready for an FAA inspector but it took time to arrange a visit from an agency.
In the case of any new model, FAA in Washington, DC can choose to require an official, full-blown audit, meaning three or four full days' work by three or four FAA staffers. Illustrating that (1) the industry has matured and now does ASTM compliance work well, and (2) that Evolution has done their job well, FAA decided no full audit was needed. Instead they sent someone from FAA's Orlando, Florida MIDO* office.
FAA sent Tom Hayden from Orlando's MIDO. Experienced FAA auditors Terry Chasteen and Bob Franklin gave Tom the go-ahead to do this himself.
Hayden spent about five hours at Evolution, said Larry. He looked at required documentation (maintenance manuals, quality program, and more) to find everything in order thanks partly to Evolution's successful FAA audit of Revo two years ago. This is a great example how good, dedicated work by LSA builders pays off when they introduce new models.
Remarkably, FAA had no findings and therefore no corrections were needed. This is admirable. Normally, any company will slip up on some minor point or two (perhaps easily corrected) but it's fairly rare for a company to get a clean bill of health immediately.
Amy Saunders, a key member of the Evolution team explained, "We prepared for a full audit." That kind of good preparation clearly paid off.
Not Their First (Audit) Rodeo
Evolution was not only prepared but had qualified help.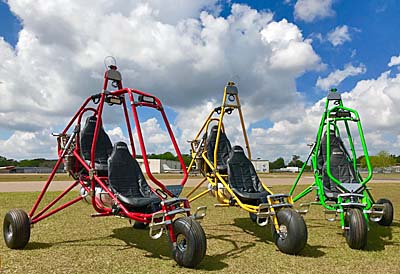 Dan Saunders aided Larry and Amy as they got ready for the inspection. Dan has already earned his credentials as he worked with Abid Farooqui of SilverLight when Progressive Aerodyne underwent a full audit for their Searey amphibious LSA. They had some minor findings but all were addressed before FAA left so Searey was accepted that day. FAA big shots still refer to this achievement as a first proving that Dan and Abid know their stuff. It further shows an industry that now well understands how ASTM compliance works.
Dan was involved with using Solid Works engineering software to prepare Revolt. He was also brought in for the audit of Revo but has been involved since the beginning of Revolt. "He set up all the testing (drop tests, etc.) and certifications plus he reviewed all our documents," said Larry.
Evolution was so sure they had this nailed — correctly as it turned out — that the Zephyr Hills airport-based Evolution has already built 10 Revolt aircraft. "We were certain we had done it correctly," observed Larry.
"From debut to test flying to FAA approval took only about one year," added Larry. "We had remarkably few changes to the aircraft though we've added a few options that were not shown at 2017 Sun 'n Fun."
Amy did the production test flight as required, flying in winds gusting 16 knots. For a weight shift aircraft, this can demand good skills yet Amy rose to the task.
Read more about Revolt here, priced beginning at $45,900. Even better, come to Sun 'n Fun 2018 and see the fully approved model, as shown in the nearby photos.
Hearty congratulations to Team Evolution for a job well done!
* MIDO is Manufacturing Inspections District Office