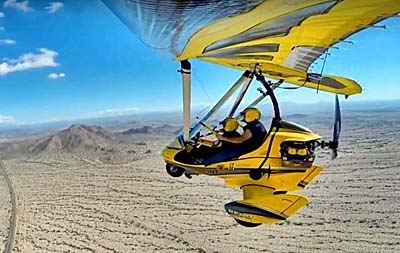 Sometimes I am pretty darn sure I may have the best job in the world, or at least one of the best jobs. Other times, it seems like work, as does any job. However, when it's good, it can be ecstatically great, no question about it. One time I know this is the case is when I get to go aloft in a truly great flying machine with an excellent instructor or demo pilot to explain their aircraft and show me how to optimize the machine.
Such was the situation when I got to fly the Evolution Trikes Revo with Larry Mednick at the Arizona Copperstate show in October 2015. We hadn't been to this event for some time and mid-fall in Casa Grande demonstrated why they hold it then.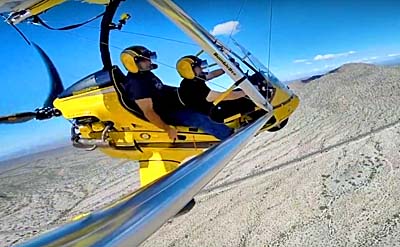 I grew up in the desert and to this day, I find that landscape beautiful. I love green trees covering granite mountains, or ocean views, but the Arizona desert is simply stunning to my eyes. To see it so perfectly well as you can in an open cockpit aircraft like Revo is very special. You see desert charm in the photos accompanying this article, but I think the video conveys it even better. So, come on along … let's go for a flight.
As I've said in previous writing and earlier videos, Revo is one of those aircraft that gets better looking the closer you examine it. Larry and his team — including the delightful Amy Saunders, and dad, Phil — have not overlooked a single, even minor, item. The hardware detail is absolutely exquisite in every knurled knob, sweeping sculpture of fiberglass, or shiny, anodized aluminum component. If you don't believe my enthusiasm, I encourage you to scrutinize Revo with a magnifying glass.
In Revo, you can have digital glass instrumentation. Radios and intercom work well through helmet headsets. Controls are available front and back seat and that applies to the hand and foot controls needed to fly a trike. Seats are comfortable and the rear seat has excellent forward visibility.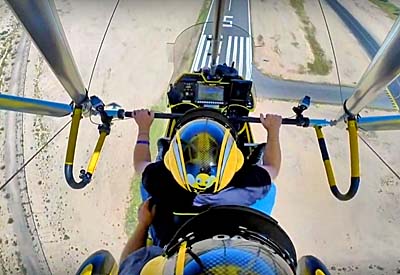 A one-piece curved mast — the massive strut connecting carriage to wing — provides added comfort for the passenger. The front seat offers quick-adjust foot pedals for even the tallest of pilots. An airframe parachute is available and installed — like everything else — in a most sanitary manner. All carriages are available in brilliant colors and many hardware parts are color coordinated to the overall color scheme.
Our Revo videos — you see both below or find more on our LSA Videos page with hundreds more — reveal the equivalent of a half-hour flight lesson. During the flight you can quite clearly hear Larry's instruction to me as I worked to refine my technique for this evolved trike. Over the years, I've accumulated quite a few hours flying a wide range of trikes (dating back further than I care to admit). I've enjoyed most of those hours but handling a few trikes were more like working out on a Nautilus machine. Revo is nothing like that. On the video you'll hear us talk about control bar pressures and you'll see each of us execute steeply banked roll reversals.
Revo is pushed aloft with great vigor by a 100-horsepower Rotax 912iS engine. The wing, called Rival S is a 12.4 meter wing, meaning it has 133 square feet of area. Evolution has worked equally hard on the wing as they have on the carriage. In the old days, sturdy trikes like Revo were very difficult to fly, certainly so if they were also fast. I once admitted doubt that Revo would be different, but somehow the magic of sail sewing — itself something of an artform — has risen to the challenge.
To relieve the pilot's effort — just as in any three-axis airplane — Revo offers electric in-flight adjustable speed trim. This isn't the trim of yesteryear on trikes; this is done as well as any airplane trim system. They say it "Gives effortless cruise up to 100mph." I can confirm this and video proves it.
Below, you see both videos comprising our two-part Video Pilot Report (VPR) on the Evolution Revo. First is the in-flight portions (29 minutes) followed by a cockpit and details review (16 minutes). Enjoy!
Watch more than 1,000 videos … on Videoman Dave's YouTube channel publishing as SportAviationMagazine.com. Your support of Dave's YouTube channel allows him to do his work. Please consider subscribing annually or Lifetime.