UPDATE 5/10/15 – Rev Videos — Shortly after the following article was written, we posted two videos about Evolution's new Rev. Part 1 shows you how fast the setup from trailer to flight goes and Part 2 gives more information, both featuring primary developer Larry Mednick. Enjoy! –DJ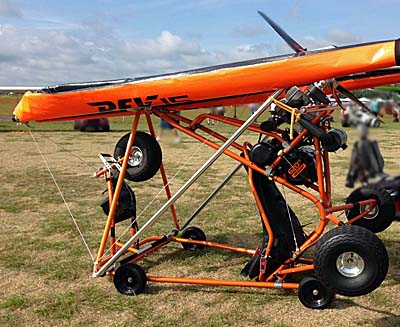 Earlier I've written that the Part 103 ultralight sector seemed more vibrant than ever at this year's Sun 'n Fun. I admit a bias. I love Part 103 … the aircraft, the concept, I like flying single seat aircraft, and, hugely, I love that Part 103 deftly avoids most of the interference from government officials that tends to dominate so much of aviation worldwide. While certified aircraft have hundreds or thousands of pages of regulations they must follow, Part 103's entire ruleset can be printed on the front and back of a single piece of paper. That's fantastic!
Earlier a few folks reading my enthusiasm about Sun 'n Fun 2015 exhibits of Part 103 machines voiced doubt that these machines can actually qualify — meeting the challenging empty weight of 254 pounds (278 if a parachute is mounted; more if floats are added); the max speed of 55 knots or 63 mph; the stall of 24 knots or 28 mph; the five gallons of fuel, and, well … that's nearly it.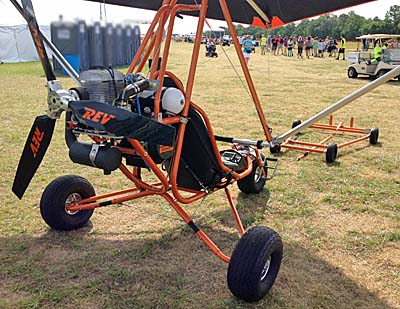 Of course I couldn't weigh each machine out in the fields of Sun 'n Fun's Paradise City, but I did probe with each vendor interviewed, "Are you certain this meets Part 103's parameters faithfully?" Each answered, "Yes!" although they also noted that customers sometimes like to add options that can push the vehicle out of 103.
One of the most fun was Evolution Trikes brand-new Rev, which is perhaps shortened from Revo, their super-deluxe two seat trike featuring every bell and whistle known to trike developers. However, although Rev is highly simplified compared to Revo, it has everything I'd want on a trike and has a very special arrangement to help you maneuver the machine when its is folded for transport or storage.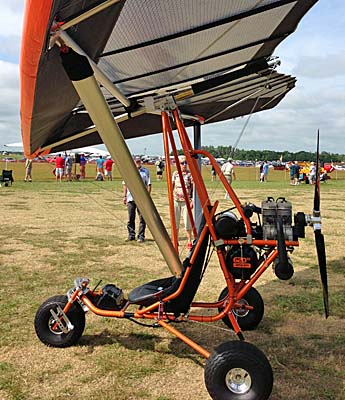 As you look at the lead photo, you have to wonder if this thing just crashed and jumbled its tubing into a mess. You can be excused for wondering. However, what you see above is Rev in compact — and wheeled — form so it can be moved around easily inside a hangar or onto a trailer. Because Part 103 trikes are limited to 60 mph, owners may trailer their rig; also, an enclosed trailer can make an inexpensive hangar.
Rev cleverly folds from its collapsed configuration to flight or the reverse in a mere six minutes and even those minutes won't strain your back, thanks to the ingenious thinking of lead developer Larry Mednick. He's proved his design prowess with the marvelous Revo and he's done it again with the far simpler Rev.
Rev's wing is intended to stay attached, folding into flight position while mounted to the trike carriage. Then the carriage itself folds to allow movement on the ground with a second carriage (see second and fourth photos). Yet, as the late-night TV advertorials boast, "That's not all!"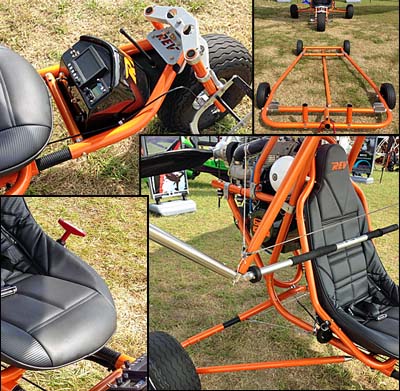 Once the wings — of this simpler, single surface design with nifty wing ribs that insert easier than ever — are unfolded, the ground-movement carriage is detached, and the nosewheel assembly plugged in, the wing lifts quite easily into flying condition. Even the "haul-back" is easier (haul-back is an action to fully deploy and tension the wings to flying condition; it can be difficult on some large, tight wings).
One the wing is fully erected over its carriage, you attach the standard forward support strut … except, nope, you don't! Like very few trikes on the market, Rev is design to support the wing from the rear, making forward visibility the best I've seen in recent memory. This has been done before, but it's rare and the earlier efforts were not this slick. For those nervous about the lack of a forward strut, Rev is designed to accommodate one if you wish (as an option).
Similar to his superb Revo, Larry has left few details needing any further attention. As you look at the detail image collage, you see the whole creation is thoughtfully considered. An instrument panel is nestled behind the beefy front wheel; it can be configured in various ways (though you'll need to restrain your impulses if Rev is to remain in Part 103). It has comfortable foot rests and even the throttle hook up to the right pedal is neatly achieved.
Large main gear tires combine with a robust nosewheel to assure landing on rough fields won't provide a threat and all three wheels use a smart but simple and light form of suspension (see black insert in rear gear leg and under the seat of the front support arms). Even the nosewheel gusset has a fine touch with the product name machined into the plate. A parachute is fitted, allowing empty weight to rise in a way that "buys" a few extra pounds (the parachute weighs slightly less than FAA's AC 103-7 allows).
Of course, some buyers will simply have to add some options and Evolution has several. Adding too much will push Rev into Experimental Amateur Built where a pilot license, medical, and N-number will be needed but Evolution offers various ways to personalize your Rev. Looking like the one in the photos and fully optioned out, Rev will exceed $33,000. However, with its standard Kawasaki 440 (40 hp) engine and still a mighty nice machine, Rev lists for just $17,900. That's terrific. Go, Rev!