All week at Sun and Fun 2023 my eye kept drifting to a rather distinctive gyroplane. We've seen side-by-side before (AutoGyro, Magni, and Rotorvox, the latter being closet to Nisus). I liked those for the same reason as most pilots. Generally, we enjoy sitting next to our cabin mate although some prefer the "dual solo" configuration of fore-and-aft tandem seating.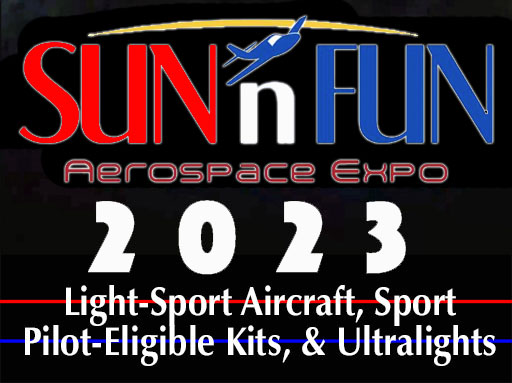 Since it wasn't side by side that did it, was it the way the canopy seemed to hinge forward and nearly off? Was it the dual-boom empennage?
No, it was something much simpler.
Several years ago, Cadillac redesigned their line of luxury cars with what I'd call a "faceted" look, that is, body panels composed of straight or flat surfaces with angular lines (something like the "facets" that help a cut diamond catch the light). I had car-geek friends that simply hated Cadillac's look. I liked it. I thought it conveyed a strong, formidable appearance. Like a car's paint color, such design features are very personal.
Nisus Gyroplane
Nisus leaders Jindrich Zahumensky (CEO and founder) and Ondrej Jancovic (COO and product development) have been head-down for three years said U.S. representative, Rich Lanning. What we saw at Sun 'n Fun 2023 was one of three in existence. However, based a long list of special design qualities and the installation of a potent engine, I predict we'll see more Nisus gyros.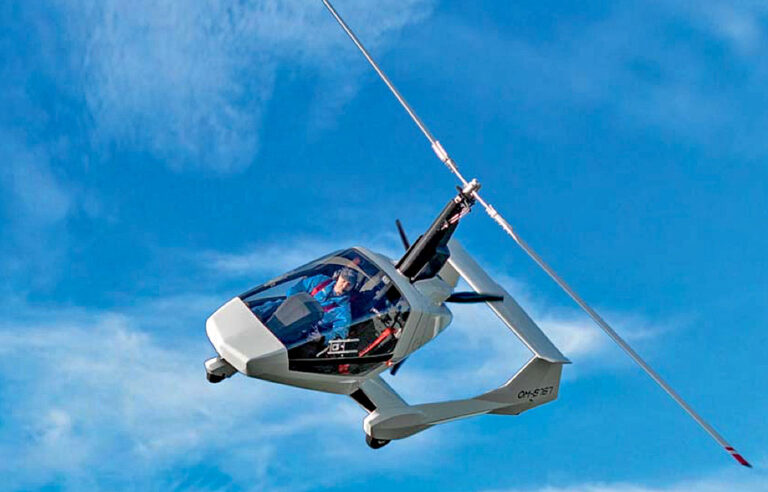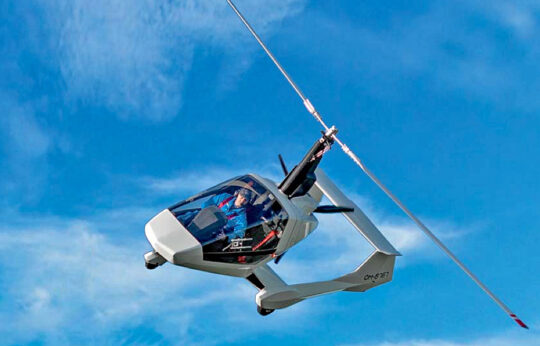 Jindrich and Ondrej could see what the other side-by-side gyro producers were doing and they clearly set out to further those design efforts. The earlier designs simply don't have all the innovative ideas that Nisus does.
I realize that a substantial majority of my readers prefer fixed wing aircraft so I keep a rather close focus on conventional three-axis flying machines. However, I like trikes and gyroplanes, too, and they deserve regular coverage for those enthusiasts.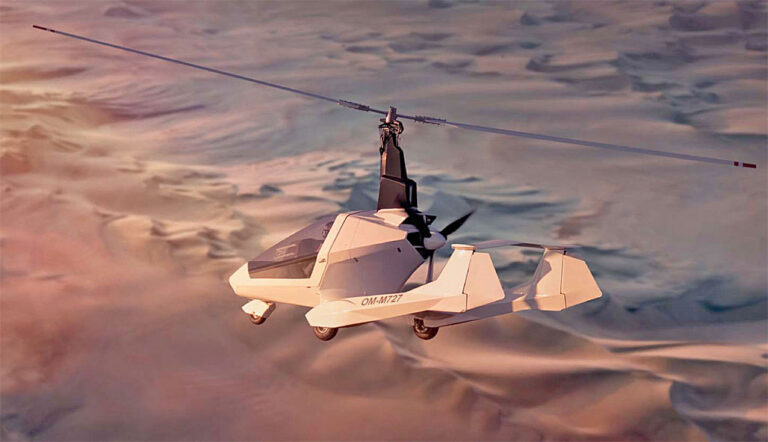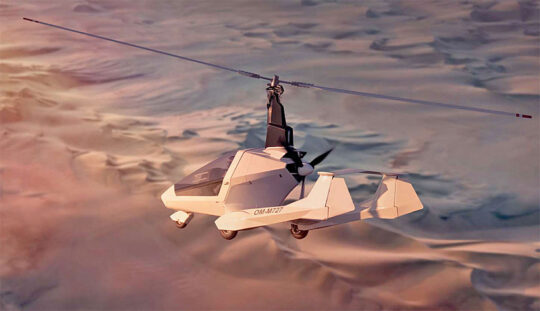 Nisus uses a primary structure welded from chrome molybdenum steel tubes (25crmo4 NBK), reducing weight while ensuring a rigid form and enhanced safety. The inside of the cabin is fully layered with a carbon Kevlar hybrid for occupant safety.
The empennage is a rare (though not unique) gyroplane design with double rudders to improve low-speed maneuvering at low speed, such as during landings.
Getting the Details Right
At Sun 'n Fun 2023 and once afterward, I visited with Rich to review all the upgrades Jindrich and Ondrej introduced. Some are minor and simple. Others are novel. All have some merit. Let's review…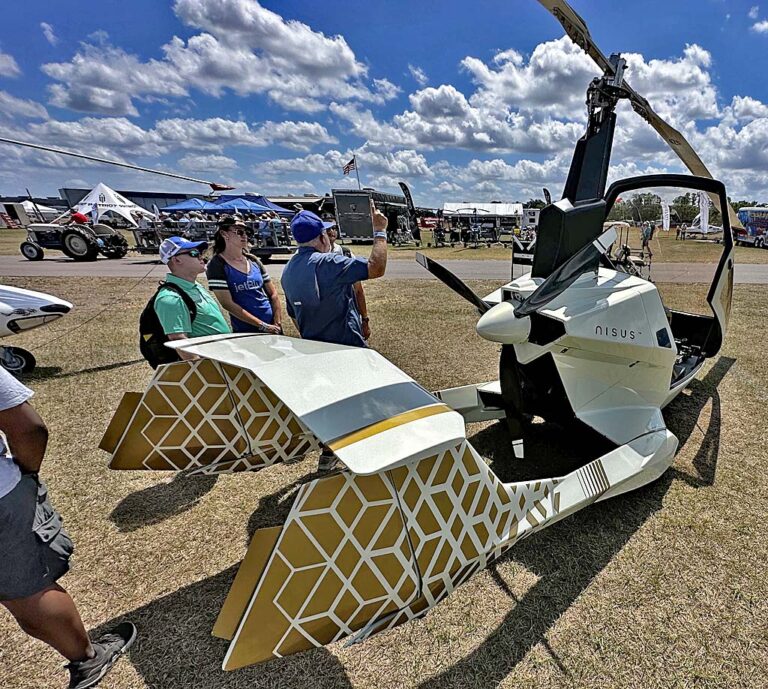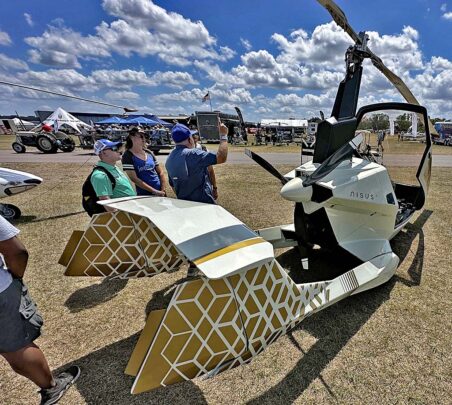 ✔️ Simple but necessary. How do you tie down a gyroplane. Not by its "wings." Instead, Nisus provides tie downs on all three wheels.
✔️ Nisus' engine cowl unlatches in three places on each side. Pilots must remove the cowling to check the oil. Why the added step? This careful pair of designers wanted to be sure pilots examine the whole engine before flight, not merely check the oil quantity. The engine cowl is secured by latches, not screws; they have guide pins to help seat each latch properly. It only takes a few minutes. Nonetheless, Rich said they have asked about hinging the cowl panels to make this inspection easier. Their goal was good but removing the cowl seems burdensome.
✔️ Nisus provides two gas doors. "I'm not sure why they use two fill points," wondered Rich, "but you can fill from either side into a single tank." Nisus comes with a fuel dip stick, which can be used on either side to verify quantity. Many aircraft fuel-fill points use a curved pipe that can cause fuel back splash if you refuel too quickly (airports serving large, thirsty airplanes often pump fuel very fast). With Nisus' straight down pipes, Rich says he never splashes.
✔️ The seat back moves fore and aft either at top or bottom. This is the principal adjustment for shorter or taller pilots. The seat cushion does not move, however, the rudder pedals are adjustable so Nisus fits different sized pilots easily.
✔️ The cabin with its large acrylic canopy is vented in front of pedals aided by a variable speed fan. Two canopy side-mounted inlets assure plenty of cabin airflow. For colder climates, Nisus also has heat.
✔️ A fuel cut-off is easy to reach; some design place this important emergency control in harder-to-reach locations.
✔️ Nisus uses pneumatic control supplied by an on-board air compressor for a rotor brake and for the rotor disk trim system. Hydraulics are used for wheel braking.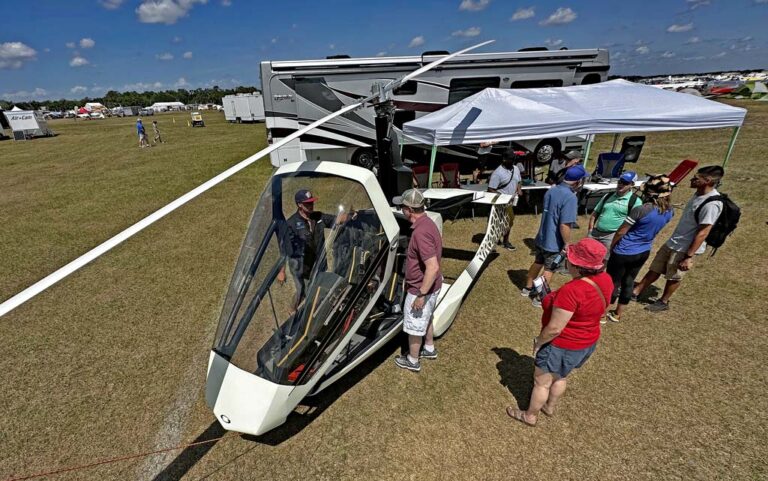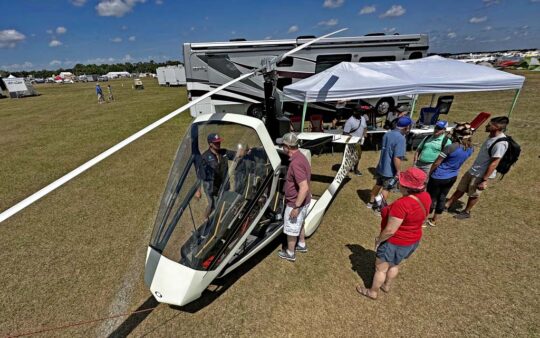 ✔️ Nisus uses an integrated throttle, wheel-brake lever, and prerotator handle grouped for one-hand operation. Rich said that Nisus prerotator spins up the rotor quickly (15-20 seconds) and you can go full power as this happens. With a simple hand gesture, you can relax the wheel brake and release the prerotator without removing your hand from the throttle. This makes great sense in an important phase of flight.
✔️ A glove box aft of the throttle quadrant has inside it a zippered lining that when unzipped gives access the control cables and more for inspection… another minor but clever way to check your bird before flight.
✔️ Less frequently, recommended every 100 hours, you can perform a simple check for weldment fatigue — cracks in the chrome moly welds — by using an access point to pressurize the steel tubes. With the correct technique this could uncover a major problem before it arises.
✔️ Nisus offers custom-designed passenger luggage that perfectly fits openings behind the seats while matching the interior.
✔️ Kanardia avionics are installed.
✔️ Nisus is amply powered by a 141 horsepower Rotax 915iS as standard. Engine inlets for cooling appear top and bottom of the engine compartment with plenums to direct the air.
✔️ Rich noted that Nisus offers a very tight turning radius.
✔️ Pre-configured weights that are custom fit to a location in front of the rudder pedals are provided. This mass is used during solo operation; the pilot-in-command sits in the right seat.
TECHNICAL SPECIFICATIONS
Nisus Gyroplane
all specifications provided by the Slovak factory
Length — 16.6 feet
Width — 5.5 feet
Height — 8.9 feet
Cabin Width — 51 inches
Cruise Speed — 70-86 knots
Maximum Speed — 105 knots
Engine — Rotax 915iS, fuel injected, intercooled
Power — 141 Horsepower
Rotor — Gyrotech (brand) 28.25 feet diameter
Fuel Tank Capacity — 24 U.S. gallons
Airframe (primary structure) — Welded chrome molybdenum steel tubes
Propeller — Composite, 3-blade
Takeoff Distance — 656 feet
Landing Distance — 492 feet
Takeoff Roll — 230-390 feet
Landing Roll — 0-60 feet
---
Nisus got their start in 2005 making the Joker Trike. It continues in production alongside the gyroplane.