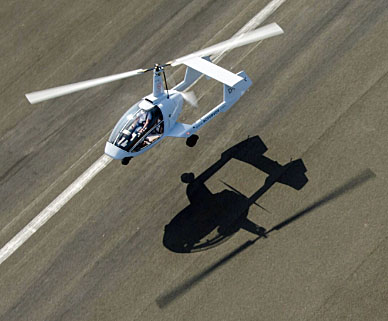 Besides LSA seaplanes, one area of furious development (and sales) is gyroplanes, the term modern industry prefers to "gyrocopter," which was actually a branded name used since the days of Igor Benson.
A new player, arriving on the scene about five years ago, is Rotorvox. Americans have not seen this aircraft but will soon get an opportunity at Sun 'n Fun 2018 at Booth #30 in Paradise City.
Demonstration flights will occur throughout the week.
What Sets Apart Rotorvox?
Structurally, the C2A is largely carbon-fiber monocoque construction. This is notably different than the majority of smooth-looking gyroplanes. Most are steel structure with a composite pod. Rotorvox's fuselage is also engineered to provide a protective cell for the occupants.
A few other side-by-side seating gyroplanes are on the market, including Cavalon from AutoGyro, the far and away market leader. Rotorvox's version employs the carbon structure to provide such seating, which means it can double as a very inexpensive air ambulance.
Entry is also different with a forward-hinged, three-piece canopy. Above the occupants, you see a faired pylon that supports a two-blade aluminium rotor pushed by a Rotax 914 turbocharged engine swinging a three-blade prop. As with nearly all modern gyroplanes, Rotorvox's rotor offers hydraulic pre-rotation before takeoff.
Another big departure from most gyroplanes are flat-sided tail booms separated from the fuselage on lateral structures. Each boom supports a tapered fin and rudder with ventral fins. C2A has a short-legged, wide track tricycle undercarriage that should aid ground stability. The main gear uses trailing link main gear with elastomer shock absorption.
Rotorvox reports two prototypes were flown during five years of development before C2A deliveries began in October 2014.
Specifications
Seating — Side by side
Length — 18 feet fuselage; rotors 27.5 feet)
Width — 7.24 feet
Height — 9.3 feet
Gross weight — 1,235 pounds
Fuel capacity — 24 gallons
Powerplant — Rotax 914 turbo 115 horsepower (limited duration) / 100 horsepower continuous
Main rotor diameter — 27.5 feet, two aluminium blades with NACA 8H12 airfoil
Propeller: 3-blade, 69 inch diameter
Cruise speed: 90 mph / 78 knots
Never-exceed speed: 102 mph / 89 knots
Range: 375 statute miles / 324 nautical miles
Endurance maximum — 6 hours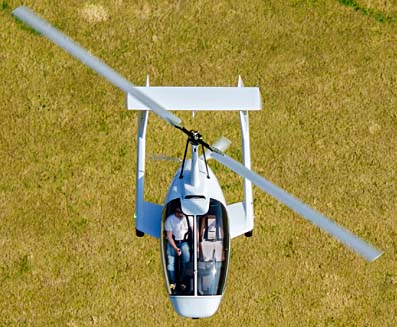 Rotorvox Aero will act as the U.S. importer and will display C2A in Lakeland from April 10–15, 2018. Tw twin-boom gyroplane was developed and produced in Germany by Rotorvox Lift Air GmbH, now a division of Lift Air in Eisenach Germany, the same company that is majority owner of the former Flight Design and its popular CT-series.
C2A's spacious cabin with dual controls offers what the company calls "outstanding inflight visibility that has to be seen to be appreciated." You can check this out for yourself at Sun 'n Fun.
"We are very excited to be participating in Sun 'n Fun this year," said Cobus Burger, importer and distributor for the Rotorvox products in the Americas. "I went to Eisenach, Germany to fly the C2A last fall and met the folks at Rotorvox Lift Air and came away very impressed with the C2A and the people behind it. I am very pleased to be presenting this great aircraft both in Lakeland, Florida and later in the year at EAA Airventure in Oshkosh."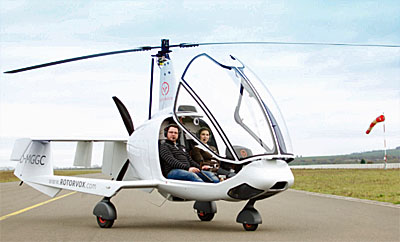 C2A is sold ready-to-fly in Europe but must be sold as an Experimental Amateur Built kit in the USA. Rotorvox Aero is based near Denver, Colorado and plans to work in association with Flight Design USA in South Woodstock, Connecticut to provide an East Coast customer build assistance center.
After Sun 'n Fun 2018, Cobus will be flying C2A to its new base of operations at the Rocky Mountain Metropolitan Airport (KBJC).