For more than 15 years one class of Light-Sport Aircraft has been held down in America even while it has been burgeoning in other parts of the world. The class is LSA gyroplanes, for a decade and half prevented from selling a fully-built model in the USA.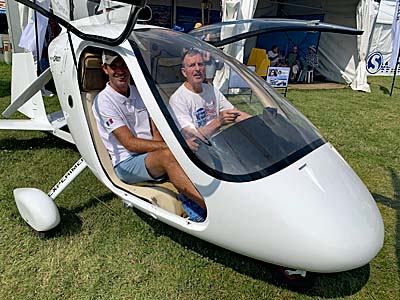 How well  is the category doing in other parts of the world? The answer draws on reports from dominant engine producer, Rotax Aircraft Engines, which has reported for years that the class of aircraft buying the most engines has been gyroplanes. Considering the many fixed wing designs also use that engine brand, Rotax's statement carries tremendous weight.
The story about why gyroplanes were denied the full privileges of Special LSA — and therefore have to be built as Experimental Amateur Built (EAB) kits in America — is a long, sad story …but it is one that appears to be ending, thank goodness!
As described in this recent article about FAA's plans for revised regulation of LSA (as well as other non-LSA segments), the leash around the neck of gyroplane producers is set for release. When the revised regulation is issued — possibly in 2021 — fully built Special LSA gyroplanes are expected to be approved.
In the U.S. market today, Magni ranks as the #2 seller, according to registrations captured on our Tableau Public page (chart below).
M24 Orion
Italian company Magni Gyro calls their M24 Orion model an "enclosed side-by-side two-seat factory built gyroplane." Currently in the USA, all models of Magni gyroplanes must be built as kits but until the new regulation arrives, dealers in the USA are prepared to assist this relatively modest effort.
Orion is structurally based on a "chrome-alloy aeronautical 4130 steel that is TIG welded," said Magni. The fully enclosed model has a carbon fiber fuselage, undercarriage, wheel pants, and rudder.
Integral fuel tank manufactured in epoxy resin reinforced with fiberglass hold 21.5 gallons, a fuel capacity that allows flights of up to four hours at a cruise speed of 75 to 95 mph. In this article you can read about a flight from Texas to Cuba by a pair of Magni gyros, proving the range capability of these flying machines.
Power on M24 Orion comes from a turbo Rotax 914 providing 115 horsepower from the four cylinder, four stroke, water-cooled engine fitted with a mechanical rotor blade pre-rotator. Orion's three-blade carbon fibre propeller can be optimized by ground adjustable pitch.
Magnin goes beyond some gyro producers — the company makes its own 28-foot diameter, two-bladed rotor from composite materials.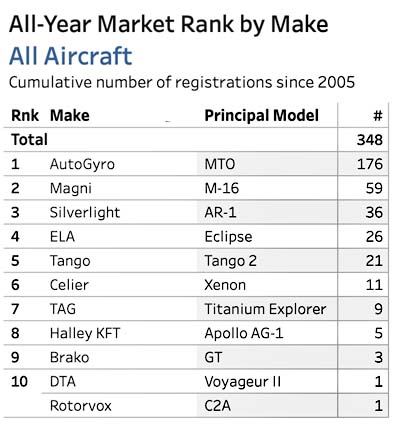 Orion's instrument panel is equipped with rotor revolution counter, altimeter, air-speed indicator, vertical compass, a digital engine monitoring system, and fuel level gauge. Additional, optional instrumentation can be added as desired.
For controls, Orion offers full dual joystick and pedals for each occupant. Standard equipment includes electric trim.
M24 Orion is attractive and roomy inside. For carriage, Orion is equipped with three easily-accessed baggage compartments. Its cabin heating system combined with full enclosure allows M24 to remain comfortable even on cold winter days.
From either seat the view is enormous, a key benefit of gyroplanes without nearby wing structure to block your view. Orion would definitely be more comfortable for long flights or in chilly weather but the open cockpit M16 Trainer or M22 Voyager models deliver an even more expansive view.
Combined with a gyroplane's unique handling and performance, these machines make wonderful viewing platforms.
Magni's "Plus" Series
In the last year, Magni Gyro introduced use of the new Rotax 915iS turbocharged 141 horsepower, fuel injection-powered engine. Models with the most powerful Rotax yet are designated by the suffix, "Plus."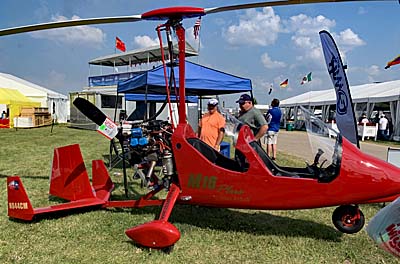 "An innovative and avant-garde choice," Magni said, "[915iS] brings to the whole range a considerable increase in cruising and climbing performance, with fuel consumption comparable to the Rotax 914."
One of Magni's American customers, identified only as M.B., wrote the company to say, "As the proud owner of the first Magni M16 Plus in the USA, I can tell you the performance is like none other. Takeoff, climb and speed performance exceeded my expectations. This gyroplane has incredible power reserve, more than enough for every aspect of flight. Takeoffs are breathtaking, cruise is smooth and landings are gentle. The Magni M16 Plus is an incredible flying machine!"
One final comment of worthy note: In late 2016, the Magni Gyro factory in Besnate, Italy produced the company's 1,000th gyroplane.
See lots of video experiences in Magni gyros at this link. — Come along for a flight as we perform a Video Pilot Report in an M16 Magni gyroplane with representative and expert gyro pilot, Greg Gremminger. You will clearly see a series of interesting in-flight maneuvers.