While I have been familiar with AVI's Swan for several years, having earlier seen it at the German Aero show, this was a first appearance for Swan in the United States. What's brand new is the Swan 103 model made specifically for FAR Part 103. The new model made its American debut at the Midwest LSA Expo. [September 9 UPDATE: Tom Bartlett's contact info has been added; see "Article Links" toward the end of the article. —DJ]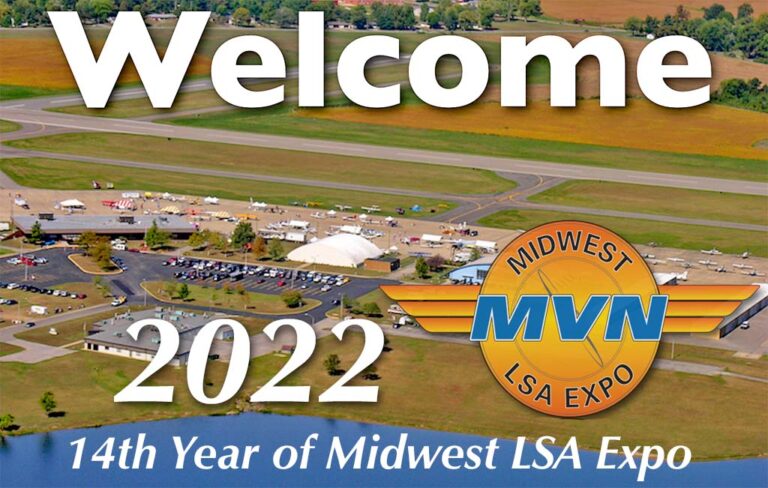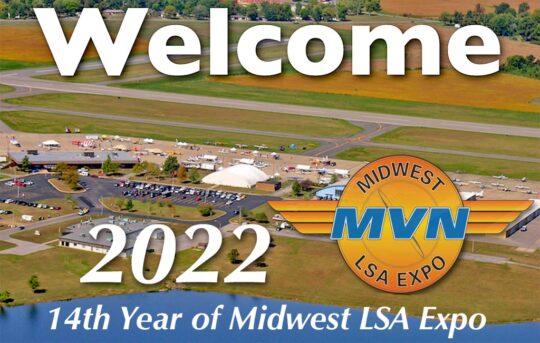 This is the 14th running of the popular show in Mt. Vernon, Illinois. It's what I call an intimate, sector-specific show. By that I mean it is all the sort of aircraft I cover on this website… Light-Sport Aircraft, Sport Pilot-eligible kit aircraft, and ultralight aircraft.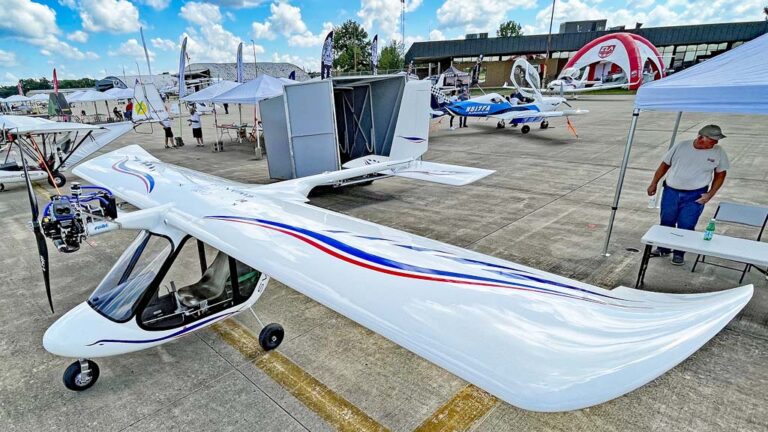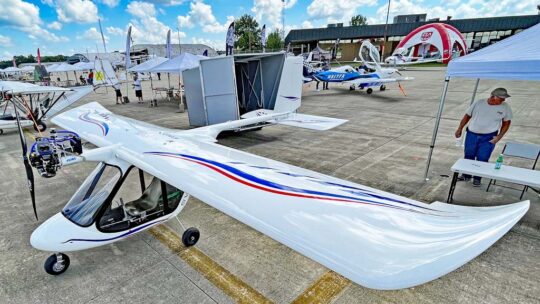 Thursday is regarded as one of the slower days of the three-day event — some vendors only attend on Friday and Saturday. Yet at least two airplanes and maybe three or four were sold on opening day. It was a nearly perfect day to go for a demonstration flight and many did.
People often ask me why they should go to a show that is smaller than the giants of Oshkosh or Sun 'n Fun. One of my answers is that I see most of the same vendors year after year. They would not do that if the show did not produce results for them and that means new owners leave Mt. Vernon with a big smile on their faces.
Affordable Aviation Lives!
As you surely know by now, my work on this website sticks closely to affordable aviation. To many, those words don't even go together because all aviation is expensive. I don't believe that's true. Some aviation is actually very reasonable and I have lots of articles that prove this.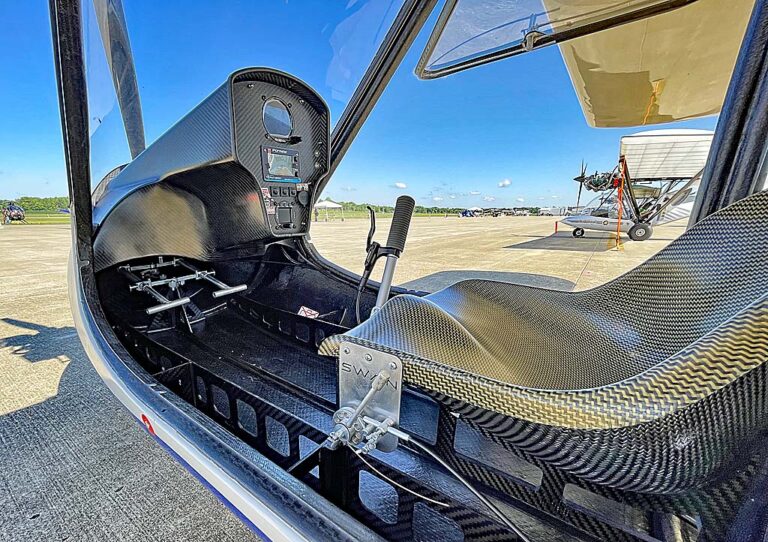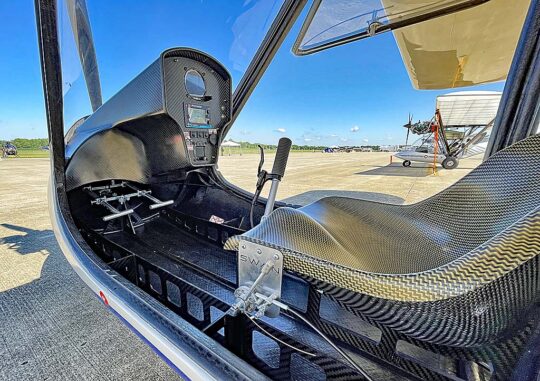 I have written about Swan in various articles and the Romanian AVI Aircraft company promised to tweak their design specifically to the U.S. market. My conversations with the company president, Radu Berceanu, assured me he knew very well what the FAA required.
So it was exciting to learn the one seen in nearby images is in America now and I expect we will see more of these. It sells for under $29,500 although that's before shipping which is a huge challenge these days. See the video below for more on importer Tom Bartlett's plan to lower shipping costs; every importer is facing this same situation.
Remember that figure of $29,500 is less than the average price of a new car in America in 2019 (it's much higher now). Also, this is for a carbon fiber airplane.
Swan 103 has a roomy interior and offers doors for both sides. The whole aircraft looks improbable as a Part 103, I realize, but this company has already met German specifications for their 120-Kilogram (264.5 pound) Class examined closely by government-sanctioned organizations.
"Milestone for AVI Aircraft!"
Radu and his team proudly proclaimed on Facebook, "Our latest aircraft, Swan 103, has been flight-tested and shipped to the USA." They hoped to display at EAA AirVenture Oshkosh 2022 but shipping delays prevented that plan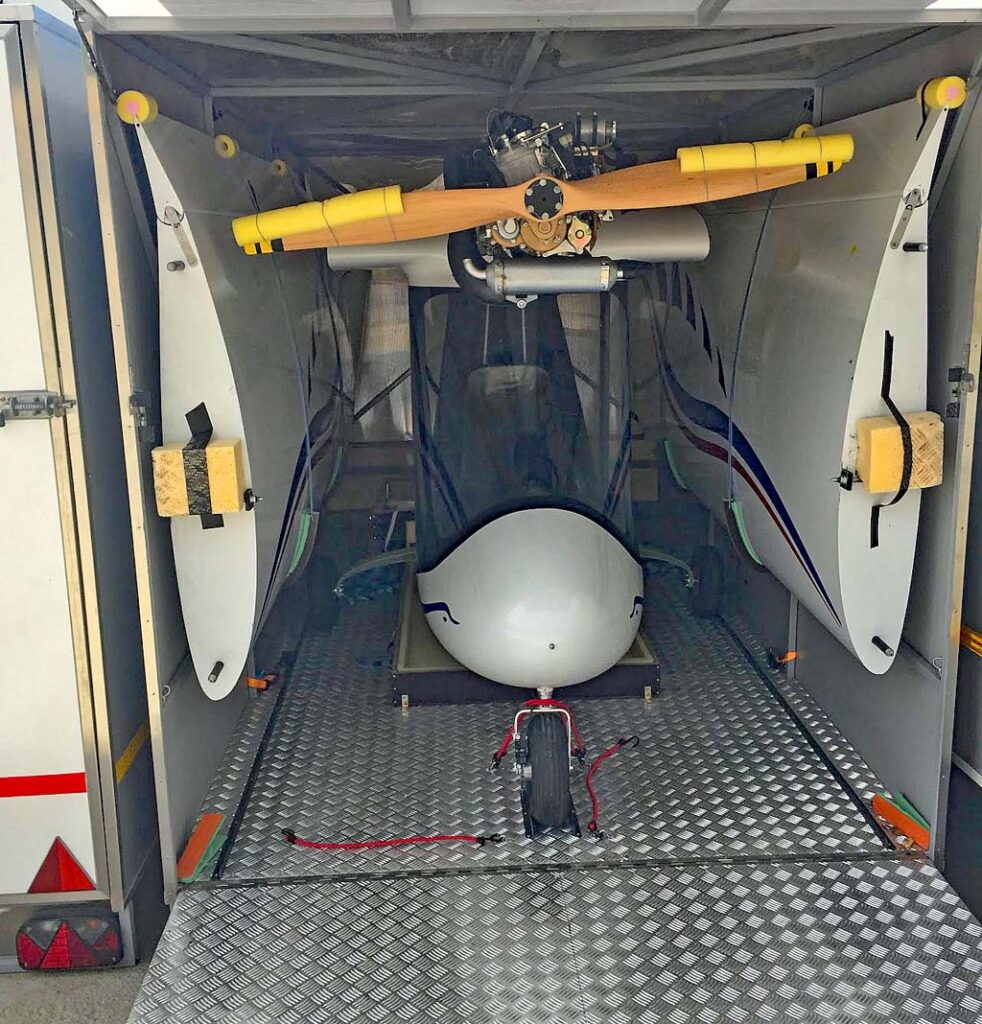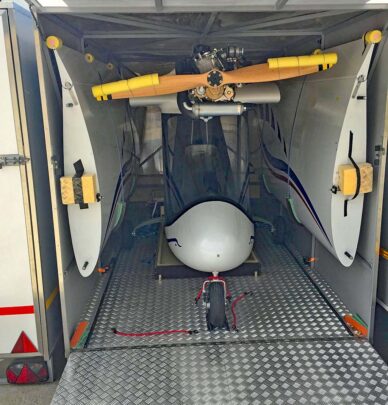 "Swan 103 is specifically designed to meet all requirements for the FAR Part 103 category," stated AVI Aircraft. Swan 103 was to be displayed in an exhibit hosted by "AVI Aircraft's USA representative, Mr. Tom Bartlett, who will also facilitate all sales of AVI Aircraft airplanes to the USA."
Radu is AVI Group's owner and president. He started developing AVI Group's aviation division in 2015.
Tom finally got the airplane through U.S. Customs and transported Swan 103 in its tiny factory trailer directly from the East Coast shipping broker to Mt. Vernon for the Midwest LSA Expo.
The six-minute video below will provide a good overall look at Swan 103 as built specifically for the U.S. Part 103 market.
ARTICLE LINKS:


Swan 103 debuted to Americans at the Midwest LSA Expo in Mt. Vernon, Illinois, September 8, 2022.