We live in an age of sophisticated two seaters, a large flock of wonderful aircraft of every description. Such two-place flying machines lead in sales and perhaps that's to be expected. Around 80% of light aircraft buyers prefer three-axis fixed-wing aircraft. This is hardly surprising as that's what nearly all pilots have used for primary training since the '70s.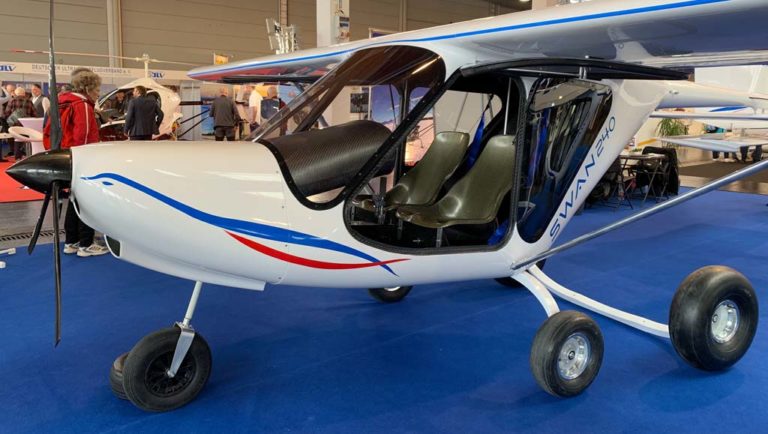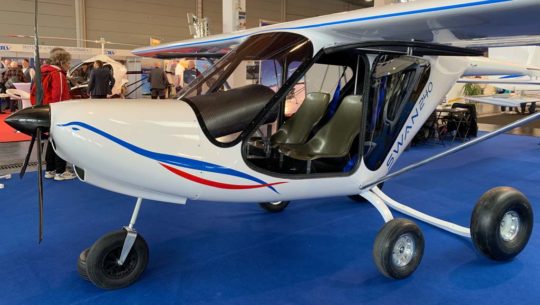 To select another aircraft type means going out on a tree limb. This is especially true with what I call "alternative aircraft" — weight shift trikes, powered parachutes, motorgliders, and gyroplanes. It would include lighter-than-air, too, if we had more than a single entry.
However, some three-axis fixed wingers also disregard Part 103-compliant aircraft. Some say, "Those things are flying lawn chairs," by which they try to disparage the category hinting they're too "flimsy." Most who say this probably never sat in one let alone flew one.
One entry I've written about (see my earlier report) appears to have be viewed differently, perhaps as it has a full enclosure and is built of composite materials. Let's look further at the Modern Wings Swan (link presents the German page via Google Translate. No U.S. representative has emerged).
What's Available Now?
Today, interested parties must choose the single-seat Swan 120 — the number relates to the German Part-103-like program that allows an aircraft under 120 kilograms or 264 pounds to fly with reduced regulation.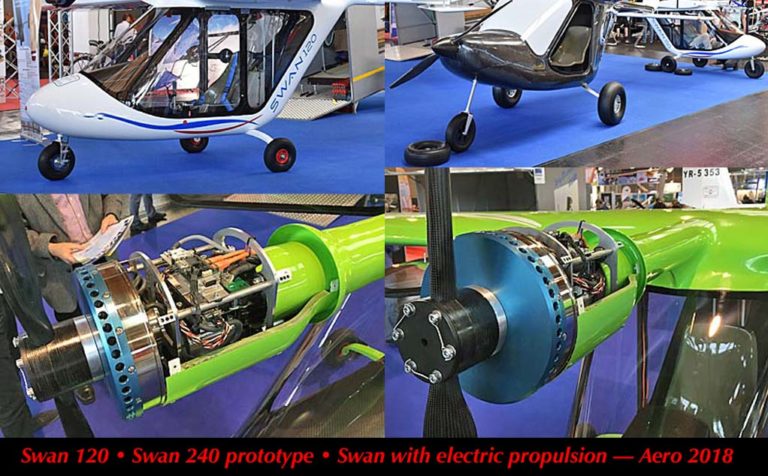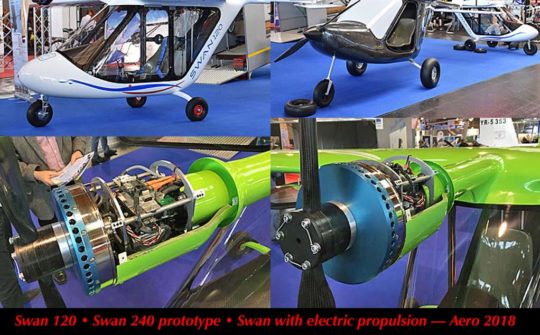 That's great. Swan 120 is reportedly a well-flying aircraft; I have not had the chance yet.
Yet lots of potential buyers may prefer a two seater and as the video below shows, I did see a finished version of such at Aero Friedrichshafen 2019 (like many others, the event was cancelled for 2020 but will return on April 14-17, 2021).
At this writing, however, Swan 240 is not offered for sale. "The Swan two-seater will take some time," wrote Peter Hügel, head of Modern Wings in Germany. Peter works with manufacturer Radu Berceanu.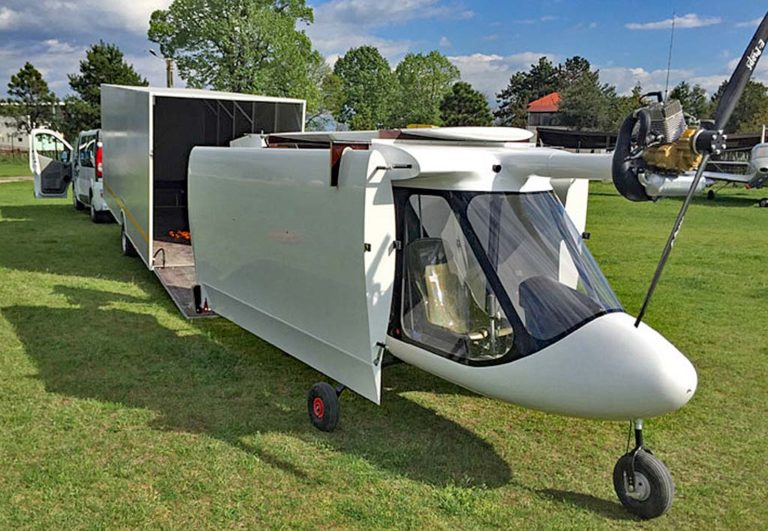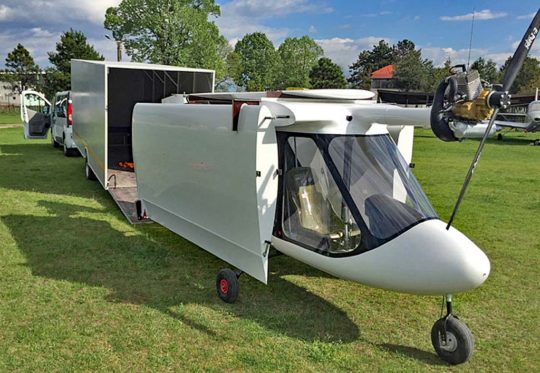 Radu owns a larger company, Avi, in Romania where he makes all sorts of industrial composite components for trains, aircraft, and backyard swimming pools. He's an aeronautical engineer with 25 years experience in composite construction. As with similar companies, the airplane portion of the business is a smaller segment of the overall enterprise although Berceanu is very passionate about aviation.
Unlike Swan 120 that qualifies as a 120 Kilo Class aircraft under German rules, a two-seat Swan 240 at about twice the weight must earn approval in a higher class. Peter observed, "Swan 240 [cannot use rules for] Swan 120 Europe-wide."
Instead, Swan 240 must qualify under EASA rules or those from the CAA of each European country. While rules in many countries are similar for light aircraft, they are not identical. "It is still not quite clear what max takeoff weight Swan 240 is allowed to have, 600 or 640 kilograms," clarified Peter. "The rules are different, which is one of the reasons why we still wait a little bit."
In the USA, Swan 240 would have to be a kit or go through the approval process for Light-Sport Aircraft (no small task).
Good To Go!
"Waiting a little bit" is a problem laid partly at the foot of the virus pandemic, Peter felt. "It's not going the way we wanted. The airplane examiner, who comes from Germany, faces travel restrictions, so the approval project will take additional time."
However for those interested in the single-seat Swan 120, Peter confirmed, "Yes, I am actively selling and representing Swan 120. When Swan 240 is ready, I will represent that model as well."
Swan 120 Features
Large, fully enclosed, ventilated, waterproof cabin.
One door, left or right
Heating option
Fiberglass control panel equipped with airspeed indicator, altimeter, compass, and slip/skid ball.
Powerplant
Base Engine — Polini Thor 200 EVO, air cooled, electric starter, 28 horsepower at 8000 rpm
Upgrade Engine — Polini Thor 250 EVO, liquid cooled, electric starter, 36 horsepower at 7500 rpm
Transport & Storage
When folded, the aircraft measures: 11 feet (length) x 5 feet (width) x 6 feet (height).
Complete disassembly can be done in 10-15 minutes
Specifications
Wingspan — 25.6 feet
Wing area — 111 square feet
Length — 17.4 feet
Height — 8.5 feet
Wheel base — 5 feet
Load factors — + 4G / -2G
Empty weight, with emergency airframe parachute — 254 pounds with Polini 200 / 260 pounds with Polini 250
Maximum takeoff weight — 550 pounds
Performance
Stall speed — 38 miles per hour
Stall speed with option flaps — 28 miles per hour
Cruising speed — 56 mph Polini 200 / 66 mph with Polini 250
Maximum speed — 62 mph with Polini 200 / 81 mph with Polini 250
Rate of climb — 440 fpm with Polini 200 / 520 fpm with Polini 250
Take-off Distance — 360 feet with Polini 200 / 295 feet with Polini 250
Landing Distance — 260 feet
Takeoff Distance Over 50-foot obstacle — 750 feet with Polini 200 / 625 feet with Polini 250
Landing Distance Over 50-foot obstacle — 550 feet
Range — 165 statute miles with Polini 200/ 200 statute miles with POLINI 250
---