For three years at Aero Friedrichshafen, the wonderful April show in the south of Germany, I have admired one genuine ultralight called Swan.
Yes, "ultralight!" Swan may not look like a U.S. "ultralight vehicle" as Part 103 rule writers deliberately named the type. Yet I use the term with care. So does the Swan producer.
The company is well aware of three national standards with which Swan neatly complies, they said: England's SSDR or Single Seat DeRegulated, or Germany's 120-kilogram class or FAA's Part 103. These are all surprisingly similar (see this article for more). Swan may need to be equipped carefully to achieve this but the producer assured me it was possible.
Naturally, I get that not everyone is into ultralights and/or single seat aircraft. However, interest appears stronger than in many years. No doubt many potential buyers look closely at purchase prices they can afford while for those lucky enough to afford two airplanes, Swan could be their "sport" airplane as some spam can works to haul the family around.
Swan is the "affordable, foldable airplane," said company owner, aeronautical engineer, and developer Radu Berceanu of Romania. His company is called Avi and they specialize in composite structures ranging from swimming pools to components for street trams and railroad trains. This diversity helps a small airplane producer build such a sleek looking product
Radu's website only reveals their industrial products today but will be updated for their aircraft, he said at Aero 2018. Until then, the company recommends the website of their German outlet, Modern Wings.
In 2017, Avi exhibited an electric engine version with a maximum take off weight of 300 kilograms or 660 pounds. In addition to a two seater seen nearby, the Romanian company plans a float version with a slightly higher gross of 315 kilograms or just under 700 pounds.
"Every version has, after the name Swan, the empty aircraft weight in kilograms and, after the dash, the engine power in horsepower," said the engineering-oriented company that uses the latest Catia design software for these projects. "For example, Swan 130-30 means a 130 kilogram (286 pound) empty weight version of the aircraft with an engine of 30 horsepower."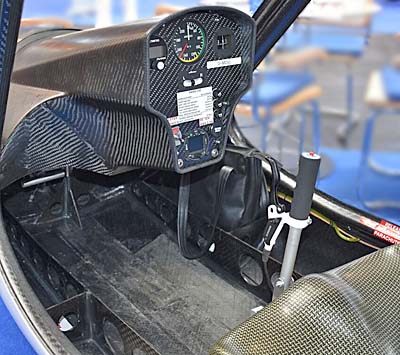 From the beginning, Swan was planned with an enclosed cockpit so the pilot could be comfortable in low temperatures without needing a bulky flight suit. A cockpit heating system can be added as an option. Two ventilation systems are provided; one to prevent the windscreen fogging during taxi and another to supply fresh air. Alternatively, when the weather is hot, "the door can be simply removed," said Radu.
The inside is spacious enough for quite tall or large pilots and the roomy cockpit has a large area for luggage that can be accessed during the flight.
The conventional configuration — tractor engine, tricycle gear, high wings — were chosen to make for easy transition for pilots. "The front wheel is mechanically braked by a handle on the joystick," said Radu. "Optionally, Swan can have a single hydraulic brake or the main gear wheels can be differentially braked using the pedals."
"A special design was chosen so that the aircraft can be easily disassembled and stored in a closed trailer, which we offer as well," Radu said. The trailer can carry 750 kilograms (1,650 pounds) and measures a lean 6 feet by 6.25 feet by 18 feet. Even on Europe's narrow roads, this would be quite maneuverable and many American yards or driveways could easily accommodate such a small trailer.
The process of assembling and disassembling Swan for the trailer "takes no longer than 20 minutes because only seven screws need to be removed without affecting the flight controls."
Only a handful of Swans are flying today; Radu said 11 so far. No price is set for U.S. consumption …yet, but this may change after the aircraft becomes better known. To learn more, make direct contact by email.
I predict you will hear more about this aircraft but to hear about it from its creator, watch this interview with Radu at Aero Friedrichshafen 2018…