Whoo, Hoo! It's almost showtime! April 2023 seems destined to finally overcome all the Covid baggage as attendees sign up in droves for Sun 'n Fun.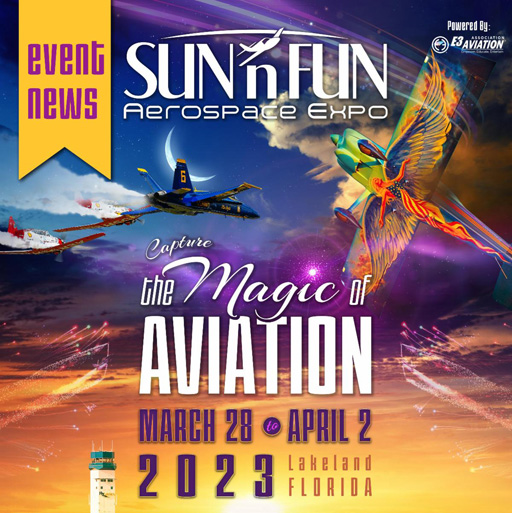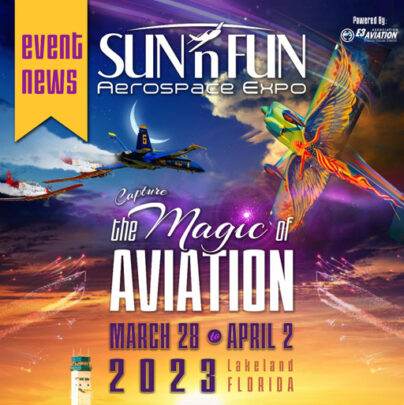 With a delicious 10-day spacing between them — time to rest up a bit after a vigorous week — later in April comes Aero Friedrichshafen. Get ready for plenty of reporting from these two events.
Both events have new leadership in 2023. A time for changes. Fresh ideas are emerging. What can you expect at this years airshows? With Sun 'n Fun 2023 starting in about two weeks as this is written, let's focus on Lakeland, Florida first.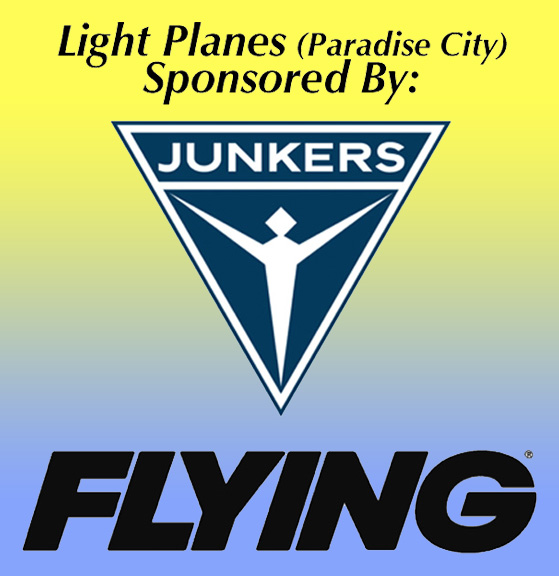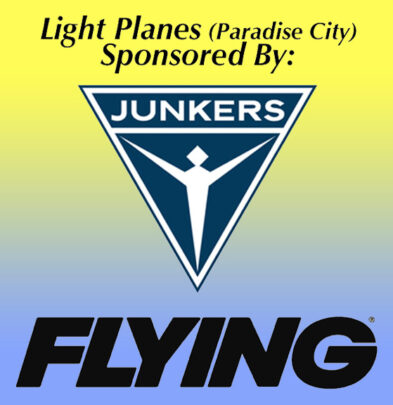 Organizers of the 49th event announced major plans for this popular airshow that kicks off the recreational flying season. My focus is on LSA, Sport Pilot kits, and ultralights. At Sun 'n Fun, that means Paradise City, where big things are happening. You would not be wrong if you scanned this article and saw increased interest in this part of the overall Sun 'n Fun grounds.
Friendly Island
Hey, I have one on my new iPhone and now Sun 'n Fun will have one, too. Apple calls their design "Dynamic Island." Sun 'n Fun is even simpler with "The Island." What could this mean?
"The Island" is a new customer service center for Sun 'n Fun 2023 that illustrates how attention is shifting East on the grounds. This will not lessen the appeal or crowd density in what they once called the "core area," but is demonstrates that under new leadership the Lakeland event plans to better use the available area to the east of where Warbirds have been  (however, no change to the Warbird area location).
To get a better picture plus the thinking of the new big guy at Sun 'n Fun, Gene Conrad, check out the video below.
The overall effect I predict: This will boost activity in Paradise City, which is now right on the way from the core area to The Island …at least via road. You can also get to this new area from airside and via a new tram route.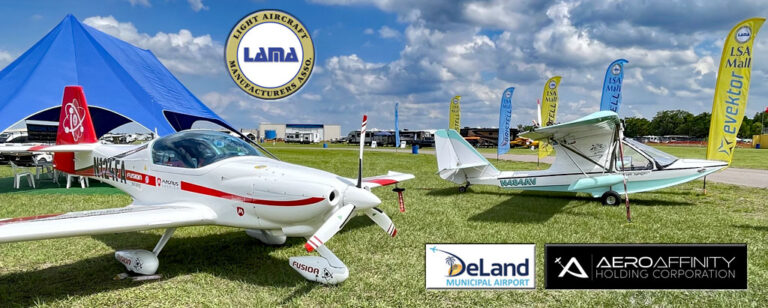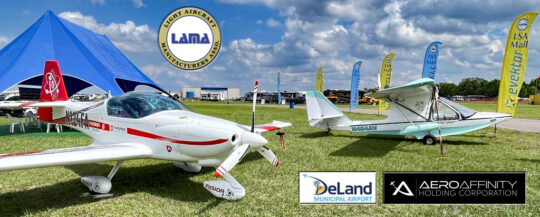 Perhaps it is the potent combination of new leadership and bubbling pilot energy. Perhaps new attention is related to the coming Mosaic regulation. No matter, the area known to many readers as Paradise City or the Ultralight Area — or Light Planes, as Sun 'n Fun now labels it — appears newly energized for 2023. This follows a solid year in 2022 when the overall market sector I follow was up a healthy 18% (in aircraft registrations) over 2021. So, 2023 could be an exciting year in Paradise City.
Area Sponsors
This year the overall area has two major sponsors. This is not new. Sun 'n Fun has long had sponsors for the area but not of the capability of this year's pair. Everyone who has ever looked at an airplane knows Flying magazine. The new owner of this storied title is an LSA enthusiast himself so no surprise that he wanted to help this area. The magazine is giving away a high-end LSA as part of a subscription offer.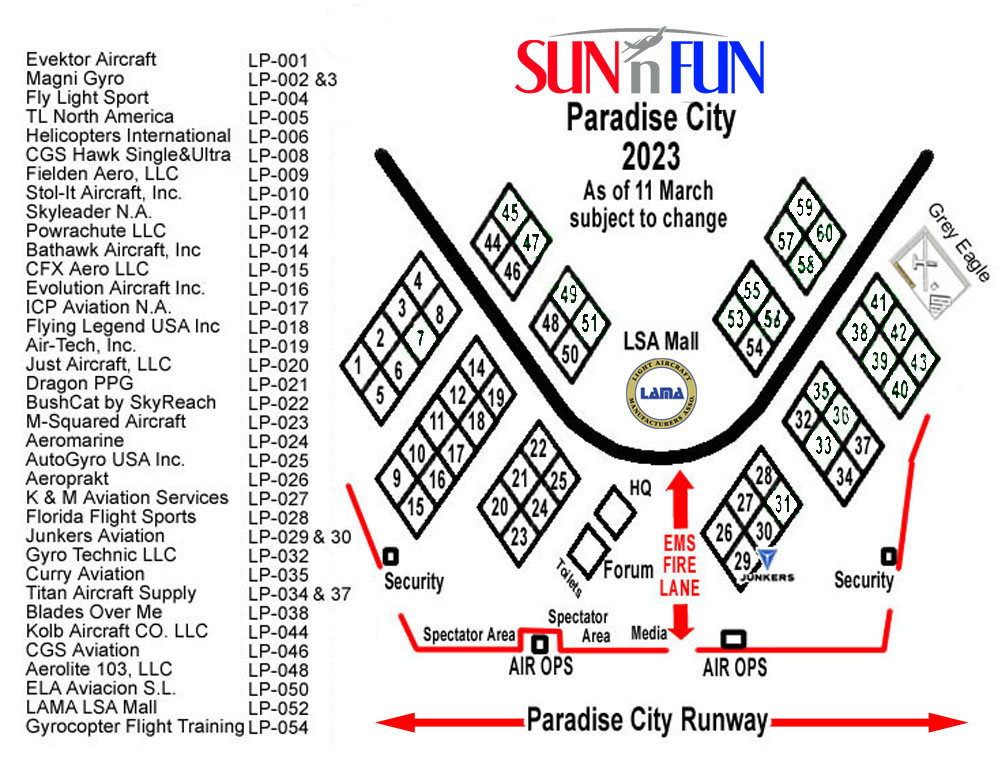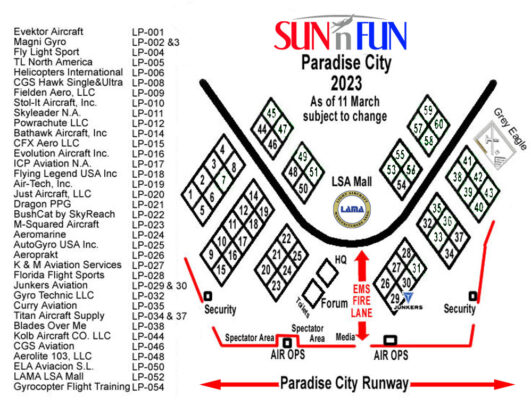 The other sponsor is a new aircraft manufacturer, Junkers Aircraft. The historical German company has partnered with Waco Aircraft to build the distinctive A50 Junior as a Special Light-Sport Aircraft in Battle Creek, Michigan. Junkers will have a flight-line display at the center of Paradise City.
Both Flying magazine and Junkers have big news to announce at Sun 'n Fun 2023.
The LSA Mall again provides a central exhibit in Paradise City. The LSA Mall is sponsored in 2023 by several enterprises: Aero Affinity, Deland Municipal Airport, Evektor, and Bristell. As it has been for 16 years, the LSA Mall is hosted by LAMA, the Light-Sport Aircraft Aircraft Manufacturers Association.

Rotax Aircraft Engines will once again sponsor two six-seat golf carts to help you get to and from Paradise City. Rotax pays for the golf carts and Paradise City volunteers drive them all day following a route from the core area (by the food court) to the LSA Mall. They can also go to "The Island" to help assure getting to Paradise City is easier than ever. This a free service thanks to Rotax.
A closing thought to all attendees from our friends at AVweb, "Very important: Buy your parking pass online for $10; it's $20 if bought at the gate." Sun 'n Fun announced tickets are selling at above-average rates, so you are advised to plan ahead and use their online ticket purchase system. AVweb also links to a couple other useful videos in their Sun 'n Fun 2023 preview article.
See you in Lakeland!
ARTICLE LINKS: