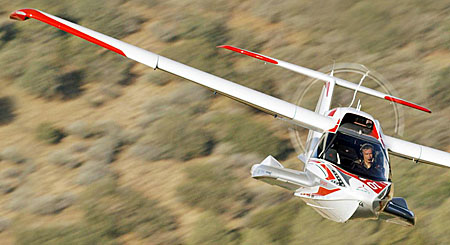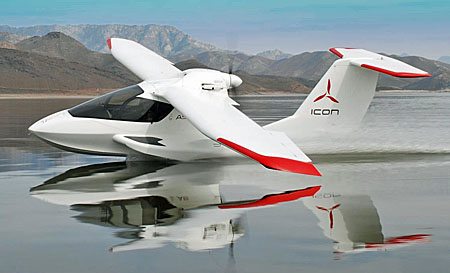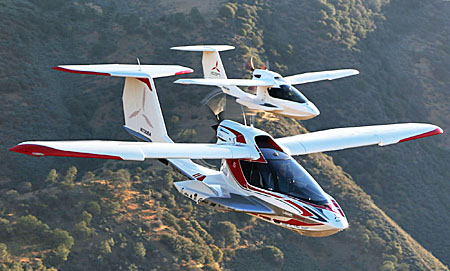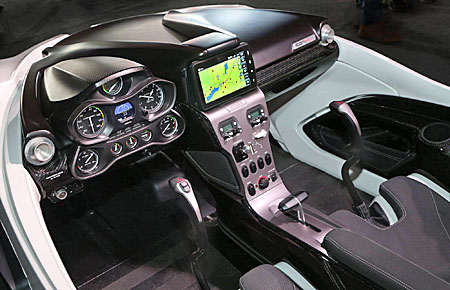 One of the most-watched Light-Sport Aircraft is Icon's A5 seaplane. Through savvy marketing and a splashy display and events at AirVenture (the only show where Icon Aircraft regularly exhibits), the company has clearly wowed potential buyers, the general aviation public, plus media journalists and photographers. ByDanJohnson.com has followed Icon since the beginning, actually even before the beginning, so we are pleased to continue our updates on their progress. Most observers see that it has been a long road. I first met CEO Kirk Hawkins back on the EAA Sport Pilot Tour in 2005 when he was — as he put it himself — "one guy with a business card." Whatever you may think about the road long traveled, Kirk has taken his company from nowhere to one of the most closely tracked enterprises in the entire LSA space worldwide. His training for this lengthy exercise began at California's respected Stanford University Graduate School of Business where he learned the Silicon Valley way to make a big impact … what the tech industry likes to call "creative destruction," leaving behind the old ways of methodically introducing products and embracing the Internet style of taking bold leaps forward.
Icon and its A5 are certainly not your father's LSA (for those mature enough to remember my adaptation of former car company Oldsmobile's line to herald their newest model). Hawkins and his team of ex-Scaled Composites engineers went off in several new directions, perhaps culminating in their Spin Resistant Airframe proof to FAA that gained them an exemption to the LSA weight limit. Read our earlier article or see our video with Kirk on this for a fuller explanation. The company used automobile designers to create their distinctive interior (photo) and did things like ditch the awkward outboard sponson floats for their "sea wing" interior floatation that also serves as the retractable landing gear cavities. Their powered folding wing mechanism has impressed crowds for years, even if it may have been one of those features that pushed the company to seek the weight exemption. Icon said they are targeting 1,510 pounds gross, which is only 80 pounds more than normally permitted for LSA seaplanes (1,430 pounds). They were exempted up to 1,680 pounds but apparently won't employ all that extra weight.
Icon has always made the most of their dramatic Oshkosh exhibit and it worked again in 2014. The company reported that AirVenture "proved to be [a] great success, with thousands of visitors stopping by the Icon booth. Demand for the A5 remained strong with nearly 200 orders placed [during the] week, an all-time record for the company, bringing [the delivery] position list to just over 1,500." At that level, Icon eclipses even Cessna's once-impressive order list of just under 1,000. Companies like Flight Design have delivered many airplanes but never racked up such a large order book, though naysayers will surely retort that Icon would never have reached such a number if they'd been delivering all along. My take is that a book of business filled with 1,500 deposits is a very powerful statement about the viability of the Light-Sport Aircraft market and I personally wish them all the best. "Before Icon can begin customer deliveries, the FAA will conduct an audit in which they inspect the manufacturing facility, verify the aircraft's compliance with ASTM standards, and confirm that the documentation and quality systems are in place," reported the company. "The first customer delivery is scheduled for May of 2015."
"The interior of the A5 has been significantly refined (nearby photo), and even completely re-imagined in some places, during the journey from concept to production," said Icon. Their team conducted user studies on numerous design parameters including the graphics and colors of key cockpit controls, calibration of stick and pedal travel to accommodate pilots of all sizes, and upholstery that optimizes breathability and drying time. Such consideration reflects the nature of a seaplane that can and will get wet. Readers who enjoy Facebook may wish to click over to Icon's page, which has attracted more than 850,000 likes. At this location you can find many photos and follow the company's development. As reported here earlier, Icon will be relocating to Vacaville, California, northeast of San Francisco, in 2015. Production of the A5s will start at this new center.
Located near Hollywood (for now), Icon Aircraft logically produces some great video. Check this short clip: