At a reception ending Day Two, DeLand Showcase Director Jana Filip reported that front gate receipts were greater on Thursday than either Thursday of the two prior years of the Showcase. Then she announced Friday's gate was greater than the two previous Fridays. DeLand Showcase 2018 is the third running of the event.
Showers rolled in threatening Showcase's perfect weather record although the rain didn't start until exhibitors and sponsors had gathered in the main show center tent. Under shelter, live music was presented by the Flying Musicians Association, lead by professional music man, Gary Filip. A catered dinner fed the group and as the evening concluded, the rain died off as if on cue. A couple tents were damaged by strong winds including one in the Dreams Come True booth of Steve and Debbie Minnich and an EAA Chapter food tent. No airplane damage was reported.
A front will pass in the night and weather looks much improved for the third and final day on Saturday so I'd still judge DeLand's weather to be an unblemished record even if blustery winds on Friday slowed flying activities.
On the final day we hope to capture several Video Pilot Reports (VPRs) as we are scheduled to fly Jabiru's new J-230D, the SeaMax LSA seaplane, the 912iS-powered Aeropilot L600, and M-Squared's CH750 Cruzer. VPRs require more than two hours each to mount and later demount multiple cameras inside and out, fly for 45 minutes to an hour examining multiple characteristics of each airplane, followed by a stand-up review of the aircraft. We will work as hard as possible to get all four done in the remaining day. (Then the true time consuming job of editing begins for YouTube Ultralight News publisher, Videoman Dave.)
2018 Results Keep Adding Up
Yesterday's Day One post related several conpanies giving satisfactory results for their sales this year. Perhaps encouraged by a buoyant economy, pilots are choosing new LSA but in parallel more importers and manufacturers are helping to move used LSA. The fleet has grown enough to generate a good supply of low-time, desirable Light-Sport Aircraft. Any representing looking to sell new machines can boost their enterprise by also facilitating the sale of used aircraft. In either new or used transactions, pilots win as they can acquire aircraft that interest them. It's all good and 2018 is proving to be a respectable year.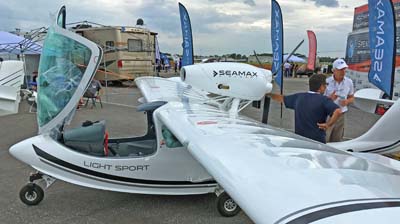 Seamax is another company pleased with their U.S. developments. We interviewed lead designer and business owner Miguel Rosario to find his lightest-of-the-LSA-seaplane-fleet Seamax is developing their business on the campus of Embry Riddle Aeronautical University. With care and long experience, Miguel has built an active enterprise that has supplied more than 150 aircraft around the globe with about 10% flying in the USA. That number is sure to grow with the Brazilian company's American operation, an excellent price point among LSA seaplanes, and sprightly performance
SuperPetrel reports delivery of eight units in the last year after establishing their U.S. base. Global sales over many years are now approaching serial number 400 according to representatives from the Ormond Beach, Florida enterprise of Brazilian investors associated with Scoda Aeronautica. This seaplane maker is also growing its installed base in America for this long-established design that was thoroughly updated when Scoda (formerly Edra) Aeronautica took over Super Petrel. An FAA audit proved the quality of their work as they earned SLSA credentials.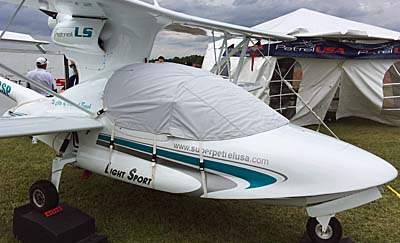 Inside the tent, we did an interview with Sensenich president Don Rowell. The very popular maker of wood, metal, and composite props reported strong business that is challenging the company to keep propellers in stock. To address the demand, Sensenich is expanding and bringing new CNC equipment. We will be visiting the factory just before Sun 'n Fun 2019 to give viewers a tour of their new facility and equipment.
As with yesterday's report, this is not an exhaustive review of each exhibiting company. Yet the sum of reports from company after company reinforces the view that 2018 qualifyies as a solid year. I see the happy smiles of new pilot owners on the field.