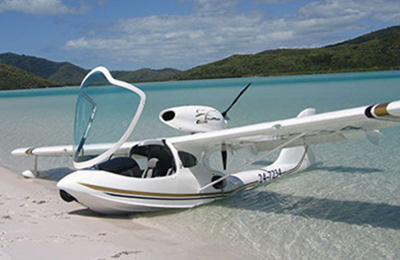 In addition to being a hot performer, SeaMax is loaded with features, such as: a folding wing system; glass cockpit, a beautifully optical canopy; electric landing gear; full dual controls; Frise-style ailerons; Kevlar/composite airframe; whole-airframe ballistic parachute; external view cameras; parking brake; cabin heat; fully retractable landing gear; and more.
SeaMax is a highly capable... it is faster than most LSA seaplanes, reaching 130 mph and cruising at 115 mph yet stalling at a slow 42 mph. It has excellent range at 610 miles. Both attributes are partly achieved by keeping weight down; while most LSA seaplanes are 1,430 pounds or even higher, SeaMax is only 1,320 pounds yet it still manages a 600 pound useful load.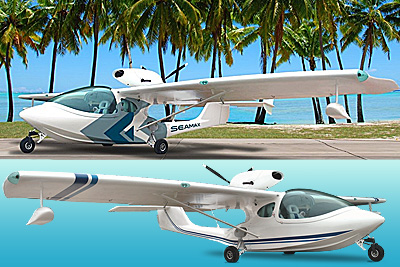 After more than 20 designs, talented developer Miguel Rosario shows his experience in SeaMax. "Spare no detail" appears to be Rosario's philosophy and he executes a deluxe aircraft that is remarkable light in weight, an uncommon achievement. Though the exterior appears small the cockpit is roomy enough for two larger occupants.
To truly appreciate this Brazilian beauty, you should thoughtfully examine its interior. Finished like a speed boat (except with lightweight components), SeaMax is a joy to behold. A clean, accented treatment blends nicely with controls and instrumentation within easy view and reach. An overhead switch panel is easily accessible to either occupant without blocking the great view. Throughout the SeaMax cockpit, attention to detail is superb.
Most amphibians introduce two challenges that SeaMax solves. General aviation amphibious floatplane aircraft are very expensive, with the float system alone often costing more than the entire ready-to-fly SeaMax. And amphibs also tend to be quite heavy, where SeaMax easily fits within the definition and meets the spirit of a Light-Sport Aircraft. These facts mean more pilots can afford an amphibious aircraft.