"When I roll up to the terminal on any airport, it never ceases to amaze me how a small crowd will gather around the aircraft. Happens almost every time," said Jeffrey Boyd, importer of the JK-2 Nano single-seat gyroplane. "They just think it looks cute and different. Then they find out it's quite affordable."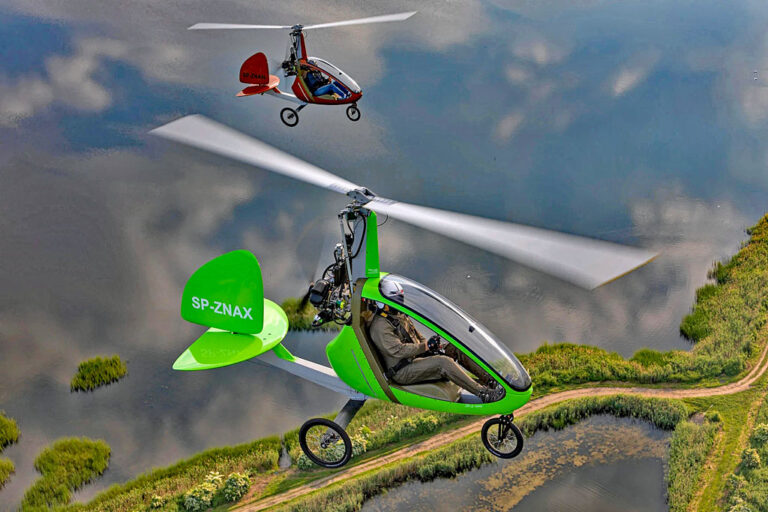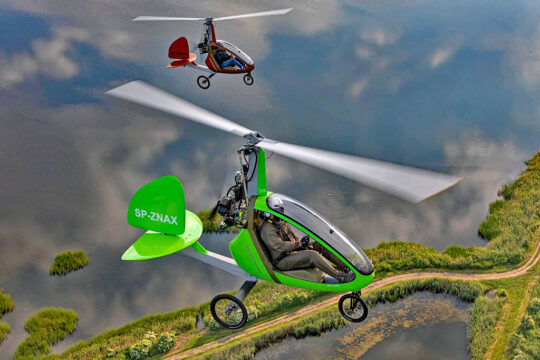 I reflected back that this cleanly executed Nano had the same effect on me when I first saw it at AirVenture Oshkosh 2021. A glance at this eye-catching design, beautiful in its simplicity and compact in its features (see on trailer or in shipping crate) suggested to me that JK-2 Nano could find a market.
For more than a decade, interest in gyroplanes has been strong. After European designers took earlier American simple gyros and transformed them into sleek aircraft, a wider range of pilots looked at them more positively. However, those more elegant and feature-laden designs steadily rose in price. While still a bargain compared to many fixed wing aircraft — especially considering that prices on everything have risen dramatically in the last three years — the fanciest gyroplanes are now much more costly and complex.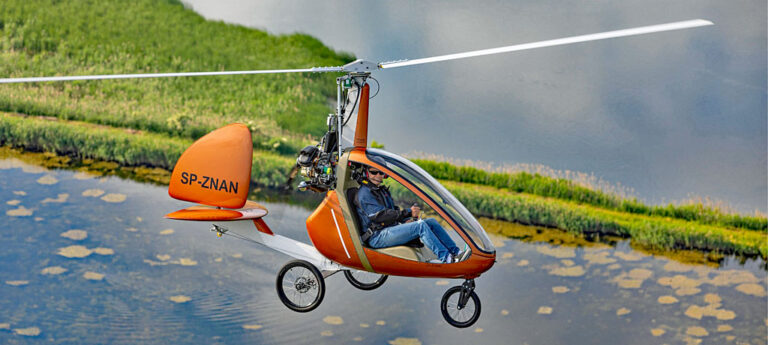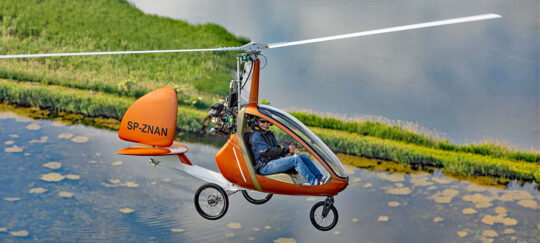 Would pilots interested in rotary show interest in a single place machine? They did but some were less certain about the first powerplant. Although the Polini 250 got Nano aloft, it wasn't particularly energetic. Options from other brands didn't inspire some Americans.
As U.S. importer, Jeffrey heard all this and encouraged business owner Jacek Lichota and designer Jaroslaw Kowlski to bring extra power to the design. Buyers now have two choices and both remain quite economic. In fact, their prices have only crept up gently while many things you purchase have leaped in price. We'll talk cost below.
For 2023, Nano has engines that many pilots want.
JK-2 Nano
by Fusioncopter
"Nano is a true Part 103 Ultralight gyroplane," said manufacturer Fusioncopter. As it easily qualifies for Part 103 (specifications below) no license is required, "but training is strongly encouraged," they added. Made in Poland, Nano is imported to the USA by F.U.N. (Fly Ultralight Nano), operating from the municipal airport in Ann Arbor, Michigan (KARB).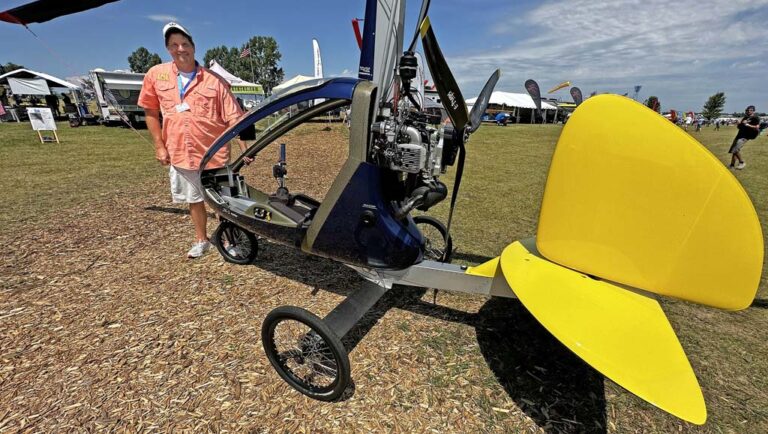 If you're not already a gyro enthusiast, here's a quick primer — Gyroplanes fly with many similarities (though not identically) to fixed wing aircraft. Many pilots find them less demanding than helicopters. Gyroplanes are highly maneuverable and "they can handle wind gusts and windy conditions much better than their fixed wing counterparts," said FUN. Gyroplanes can land in extremely short distances and a headwind reduces ground roll to almost nothing. Jeffrey explained that gyroplane rotors are "always in auto-rotation so engine failures are much less of an event than in a helicopter."
A Part 103 ultralight vehicle, Nano is a simple gyroplane but one with a cabin and aluminum structure. Nano's standard engine is the proven and durable Polini Thor 303, a dual-ignition engine producing 38 horsepower or the Hirth F23 V28CL offering 50 horsepower.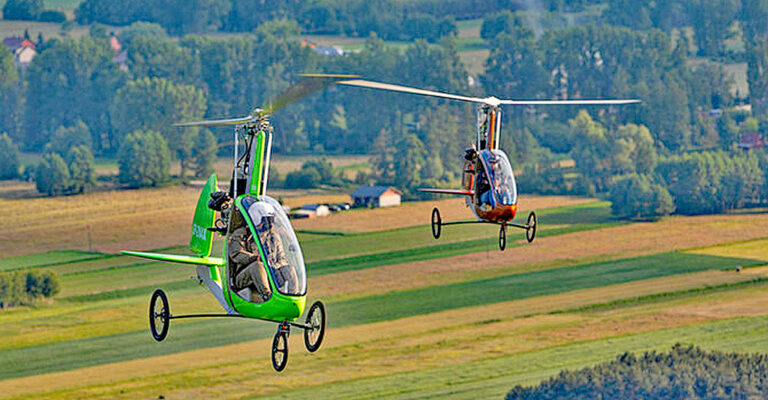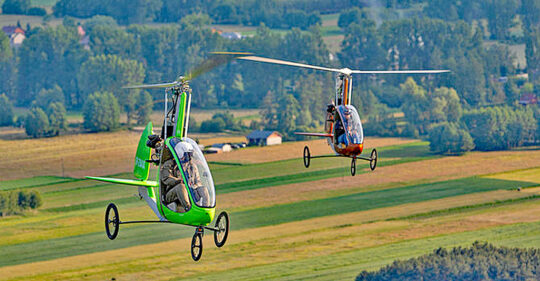 "The chassis of this gyroplane enables take-offs and landings not only on runways but also on unpaved meadow-like areas," said FUN. Though smaller and Part 103 weight compliant, Nano has an easy-to-use pre-rotator (used to spin up the rotor blades for takeoff before takeoff roll begins).
An additional feature is the ease of hangaring the aircraft. After disassembly of the rotor, chassis and tail it takes no more space than a motorcycle (nearby photo on trailer).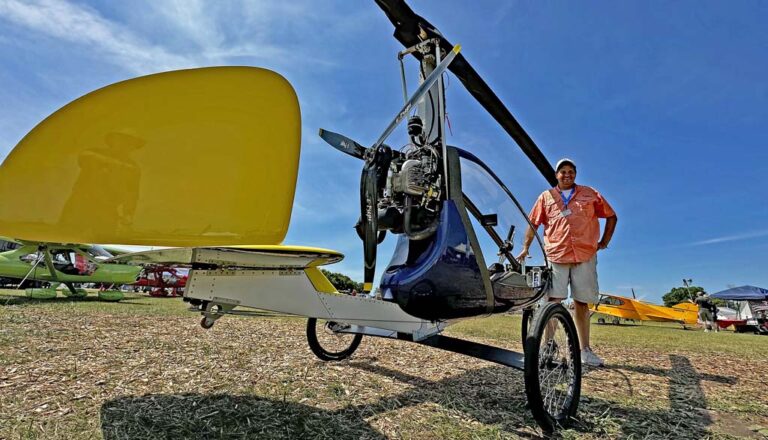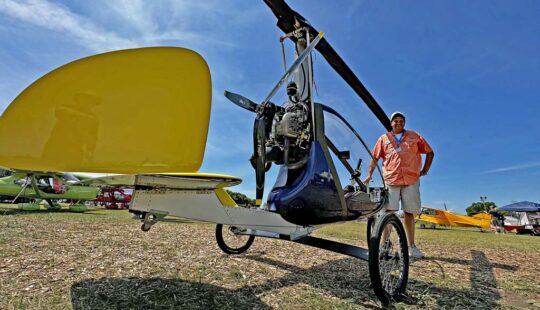 After AirVenture Oshkosh 2023, 21 Nano JK-2s are flying in America. Most have the Italian Polini engine but new customers are excited about the Hirth, a two-cylinder, two-stroke F-23 engine outputting 50 horsepower.
Jeffrey reports a climb performance of 1,300 fpm with the more potent Hirth, compared to 400 fpm with the Polini. Lighter pilots at lower elevations may find the Polini sufficiently energetic. No matter what engine you select, Part 103 regulations limit all ultralight vehicles to 55 knots airspeed (63 mph).
Changes made or planned since Oshkosh 2023 — Jeffrey reported that Nano will get two more inches of headroom inside a new canopy shape. That small difference will be appreciated by taller pilots. A fuel sight gauge has been incorporated into the lower fairing so you can easily check quantity before takeoff. It's a prior feature but the simple digital instrument can show direction back to a home field or other waypoints in addition to many engine-reporting functions.
How Much Is Nano?
"A JK-2 Nano kit can be assembled in a lazy weekend, with only 19 bolts to install," said Jeffrey. "The kit price, with the new Hirth engine is €27,295" ($28,850 on the date this article was posted), he added. Some pilots prefer optional fuel injection, which adds €2,000 Euros ($2,115 at this time).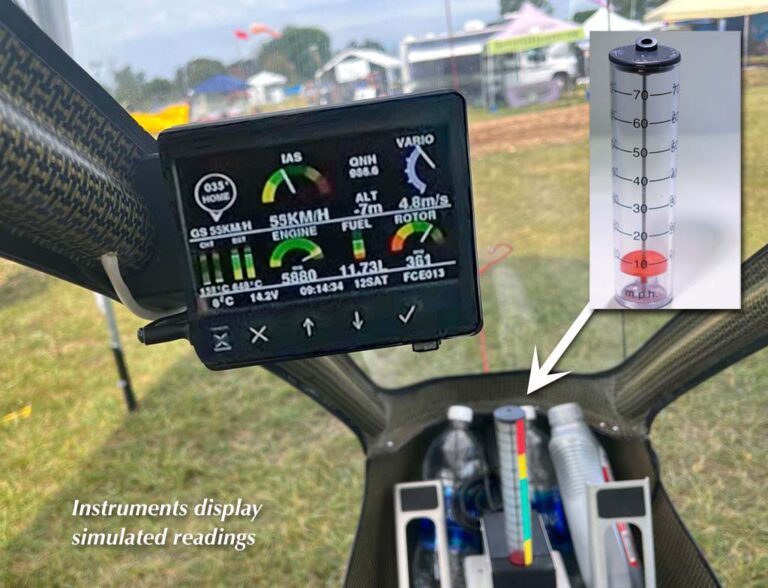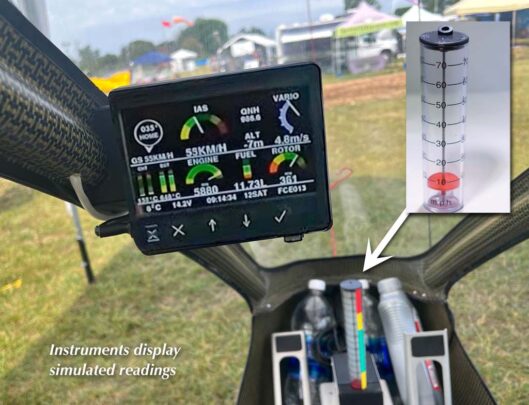 With the Polini, the cost is even lower, around €22,660 ($23,950), however, both have shipping and customs costs. Fortunately, those have come down a lot in recent months. "Those costs run between $3,000 and $4,500 depending on your location," said Jeffrey.
For a full, delivered price, it's best to assume $33-35,000 for a delivered Hirth-powered Nano JK-2. With the average price of a car in America now more than $48,000, I think Nano is a wonderful bargain… and doesn't it just look fun?
TECHNICAL SPECIFICATIONS:
Fusioncopter JK-2 Nano gyroplane
all information provided by U.S. importer, FUN
Rotor diameter — 23 feet
Length without rotor — 11.5 feet
Wide without rotor — 5.5 feet
Height — 8 feet
​Empty Weight (Polini Thor 303) with coolant and hydraulic fluid — 220 pounds
Empty weight (Hirth F23) — 253 pounds
Maximum Take-off Weight (Polini Thor 303) — 440 pounds
Maximum Take-off Weight (Hirth F23) — 518 pounds
Fuel Capacity (per 103 regulations) — 5  gallons
​
Performance (Hirth F23)
N​ever Exceed Speed — 68 miles per hour
Maximum Speed Vmax — 63 miles per hour (level flight, limited by Part 103)
Minimum Speed Vmin — 22 miles per hour
Cruising Speed — 53 miles per hour
Maximum Climb Rate — 1,375  feet per minute (at sea level)
Take-off Run — 150-300 feet (depending on surface, wind, pilot weight and fuel level)
Landing Roll — 15-30 feet
Fuel Consumption —3 to 3.75 gallons per hour
MTOW — 518 pounds
​
Performance (with Polini Thor 303)
N​ever Exceed Speed Vne —68 miles per hour
Maximum Speed Vmax — 56 miles per hour
Minimum Speed Vmin — 22 miles per hour
Cruising Speed — 50 miles per hour
Maximum Climb Rate — 400 feet per minute
Take-off Run — 150-300 feet (depending on surface, wind, pilot weight and fuel level)
Landing Roll — 15-30 feet
Fuel Consumption — 2.3 to 2.6 gallons per hour
MTOW — 440 pounds​​​​
Construction:
Main supporting structure — metal
Composite carbon elements
Fairing of the cabin and the seat made of carbon-Kevlar composite
20-inch main wheels
Cushioned front swingarm
16-inch front wheel
Metal rotor, profile developed by Fusioncopter
Hydraulic prerotation system
Engine — Polini Thor 303, 38 horsepower, dual ignition, electric start
Engine — Hirth F23 V28CL, 50 horsepower, dual ignition, electric start
​
Options (at additional cost — add ≈6% for US dollars):
USB charger socket – €51.50
Aluminum wheel (type 2) – €100; available on Polini model only
Front stabilizing brace for travel – €257.50
Color (metallic) – €515
Painted rims – €206
ARTICLE LINKS: