➡️ This article was UPDATED on July 31, 2020 with additional information — see after video…
Some pilots love to whirl their wings over their heads. Many others like the idea of rotary flight — offering short takeoffs and landings plus ease of operation in windier conditions. A majority have not (yet) acted on their interest but perhaps they are waiting for the right aircraft, maybe one of these.
One is a very light coaxial helicopter from Russia. The other is a single place gyroplane from Poland.
Micron-3 Coaxial Helicopter
Have a glance at the RD Heli's Micron-3 ultralight helicopter. This is like no other ultralight helicopter I've ever seen, although the idea of coaxial is not new.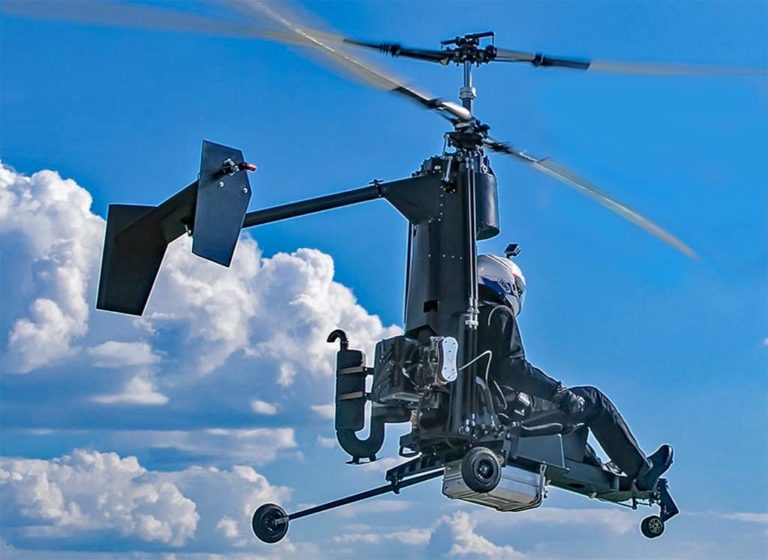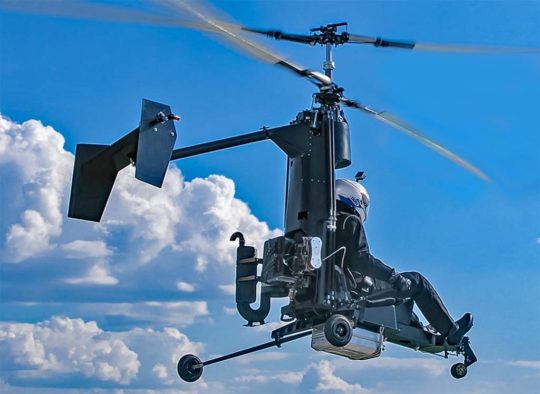 History suggests coaxial rotors originated with Mikhail Lomonosov a very long time ago, according to Wikipedia. Over the years, many helicopter models have emerged but none so compact as Micron-3
Coaxial rotors are a pair of helicopter rotors mounted one above the other driven by concentric driveshafts, with the same axis of rotation, but turning in opposite directions (contra-rotating; see graphic).
Another benefit arising from a coaxial design includes increased payload for the same engine power; "a tail rotor typically wastes some of the available engine power that would be fully devoted to lift and thrust with a coaxial design," say knowledgeable people. Reduced noise is another alleged advantage of the configuration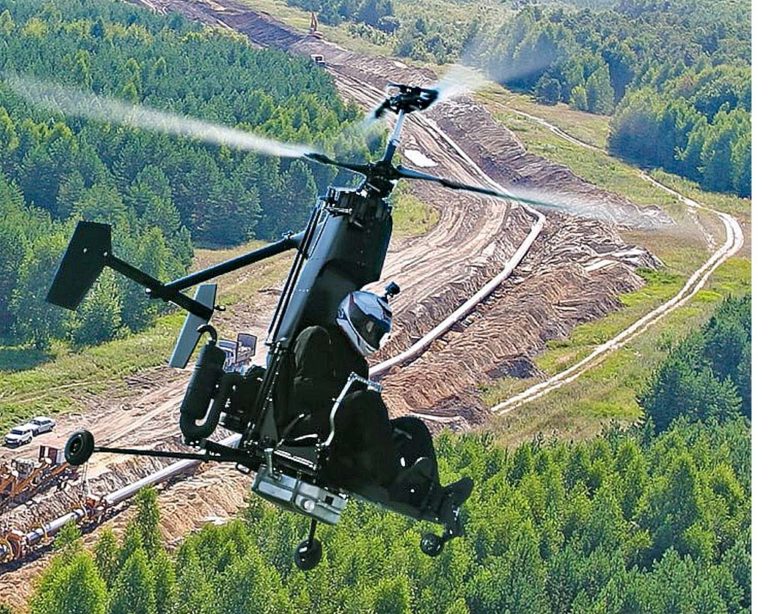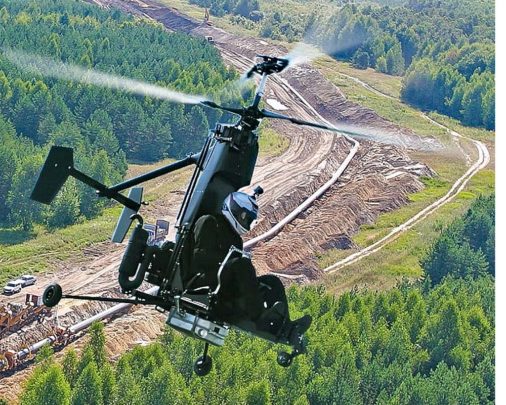 Phoenix Skyblazer is an American coaxial helicopter that was designed by the Nolan brothers and produced by Phoenix Rotorcraft using a pair of 50 horsepower Rotax 503 engines. It never found a market but coaxials are more common in Russia, where the military uses them.
According to the Micron website, the aircraft is powered by a single MZ202 engine for which the company reports 63 horsepower at 6250 rpm. A standard fuel tank offers 1.5 hours of flight but an extra tank can be added. The website was sparse about tech specs so endurance and range are unknown but the video below displays an agile and fun-looking flying machine.
As the aircraft weighs 348 pounds empty and assuming it was fitted with extremely light floats, it is conceivable that Micron could qualify as a Part 103 ultralight. Certainly it could be assembled as a kit although technical support for a kit project is unknown.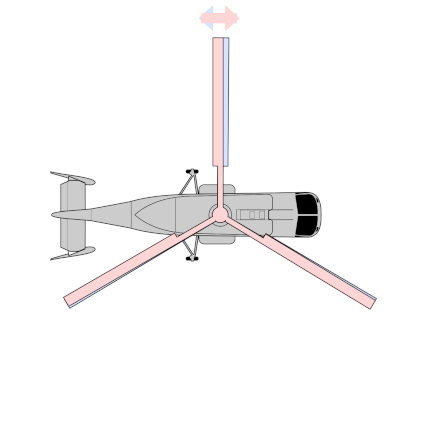 I report this as a fascinating light aircraft but I cannot vouch for Micron-3. It presently has no American representation that I could discover.
I also have no information on pricing although I have contacted the company to request additional details. If they are forthcoming, I'll add to this article.
Generally, though, I can tell you RD-Heli's website has very good English language descriptions. Go explore for yourself.
Micron-3 helicopter development was a collaboration by Chief Designer Valery Shokhov and Dmitry Rakitsky after whom RD-Heli company is named.
---
Fusioncopter JK-2 Nano
Now, let's look at a more familiar aircraft type, a gyroplane, but as with Micron-3, the JK-2 Nano is not like any other gyroplane you've seen in recent years.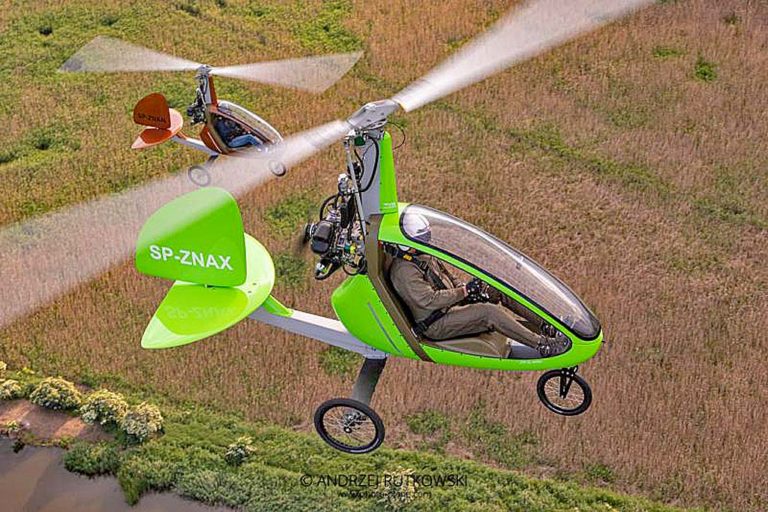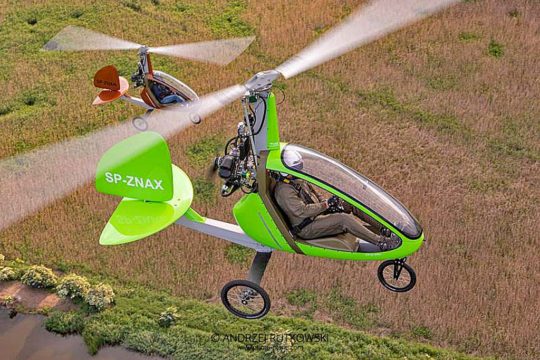 In one way Nano is similar to the original Bensen Gyrocopter. Nano is a single seater. At first, all gyros were one-seaters but since European engineers took the concept and started to advance development, I've seen almost exclusively two seaters.
What's even more unusual is that Nano comes from a company call Fusioncopter that started out making, get this! — a four-seat, twin-engine gyrocopter. I'm guessing you've never heard of that either unless you dig pretty deeply among unusual aircraft information.
"JK-2 Nano project was created from experience accumulated during research and development of a large, two-engine, four-seat gyroplane designed by Fusioncopter Ltd., with investor funds," explained Jacek Lichota. "Nano is a younger, smaller, but still fully professional brother."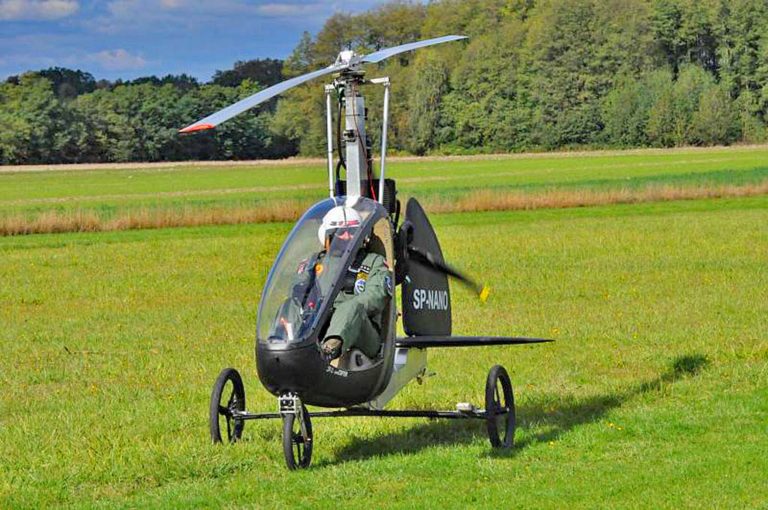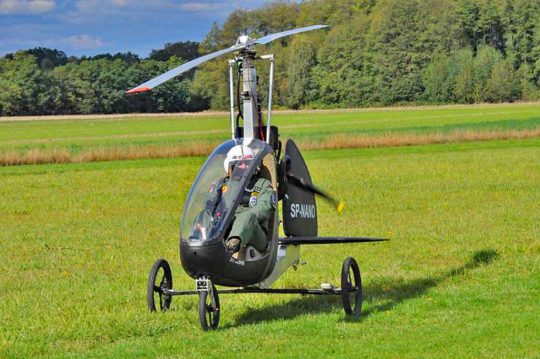 Nano is a simple gyroplane that has a partially-enclosed cabin and a fairly traditional configuration. Empty weight is listed as a modest 220 pounds.
Large-wheels enable take-offs and landings not only on runways but also from undeveloped fields.
Nano uses an aluminum structure, composite body with carbon and kevlar materials. Sturdy-looking 20-inch main wheels allow more confident operation from turf runways or grassy meadows. A suspended 16-inch front wheel also helps negotiate uneven surfaces.
The metal rotor was developed by Fusioncopter, the company notes. Unlike bigger, two-seat gyroplanes that commonly use mechanical means, Nano uses a hydraulic rotor prerotation system to shorten takeoff roll.
It is powered by a popular powered paraglider engine, the Polini Thor 250DS with electric starter and dual ignition system and Fusioncopter reported that it outputs 48 horsepower.
Nano Q&A
I posed a series of questions to Jacek Lichota.
How many of your aircraft are flying? "At the moment six, which are all Nanos. We started manufacturing in March of 2020."
How long has Nano been flying? "Nano took its first flight on 25th of September 2019. We started to sell Nano on November 18, 2019."
Do you believe this will meet U.S. FAA Part 103?
"Definitely, yes!"
What is the approximate price?
"The price is €20.000 (currently about $23,800)." Please see the U.S. representative for exact pricing.
Have you any U.S. representation? "Yes, we have a dealer in California." Interested readers can contact Jonathan Barraclough of Tehachapi, California at 661-972-5240. Visit his website or send email.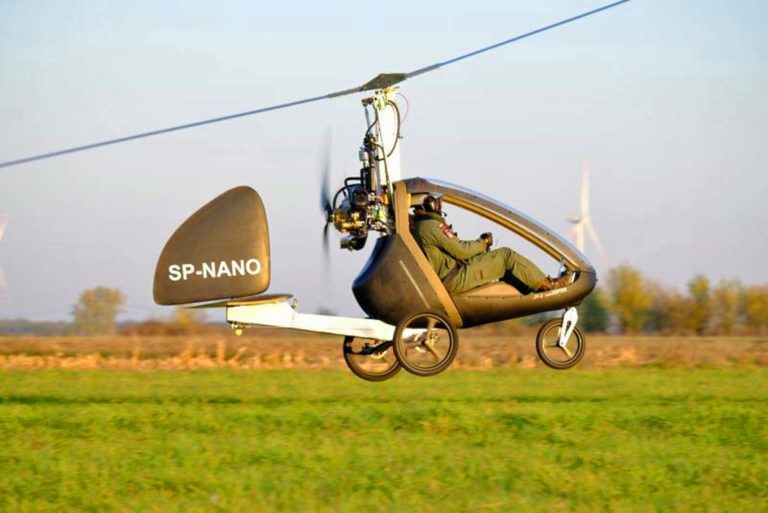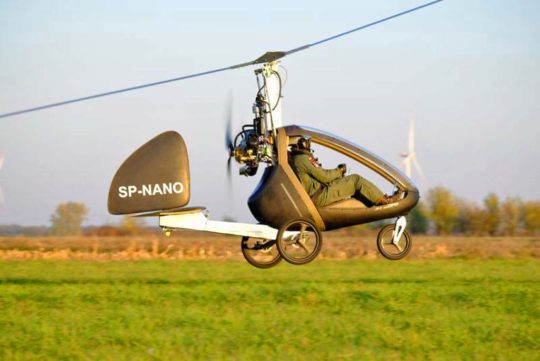 What countries are flying your aircraft? "Today they fly in Poland, Austria, Czech Republic and the next three are going to the USA, followed by two to Germany and two more to Poland."
How long has the company existed? "Fusioncopter was founded in 2012. We made two prototypes of our FC-4 four-seat gyroplane, which needs more time for certification; it shares the same technology employed on JK-2 Nano that is just for fun flying."
When is the twin-engine model available? "I hope we will perform some flights this year but I do not think it will be commercially available for two years (or 2022)."
JK-2 Nano Technical Specifications
Rotor diameter — 23 feet
Empty weight with coolant and hydraulic fluid — 220 pounds
Maximum take-off weight (limited by regulations) — 440 pounds
Fuel tank capacity (limited by regulations) — 5 gallons
N​ever exceed speed — 70 mph
Maximum speed — 55 mph
Minimum speed — 22 mph
Cruising speed — 45 mph
Maximum climb speed — 400 feet per minute
Take-off run — about 150 feet
Landing distance — 0-30 foot roll
Fuel consumption — approximately 1.5–2 gallons per hour
---
---
New Info Since Article Was Posted
Many of you asked about prices for these two rotary winged aircraft. The Fusioncopter Nano was price quoted in the article above. What follows came from my inquiry to RD Heli.
What is the approximate price of this aircraft? "Price of a kit starts from 2,500,000 rubles." That amount converts to about $33,500 at today's exchange rates. Find more detail on the kits on RD Heli's website, then scroll down to images and click on the kit image, not the order button.
How many are flying? "We sold more than 10 units. Not one unit was sold to private pilots. All of them were sold to companies."
Additional Tech Specs:
Maximum speed — 72 mph
Cruise speed — 55 mph
Fuel capacity — about 7 gallons
Fuel consumption — 4.5 gallons per hour
Empty weight — 348 pounds (10 more than the maximum allowed under Part 103)