Article Update — Photos of the designer's own project… see at bottom. —DJ 3/2/22
A steady stream of readers ask about motorgliders. This is one of recreational aviation's most interesting aircraft types. Motorgliders can soar reasonably well for those interested in working thermals or ridge lift to ascend without motor noise.


Many others might never shut down the engine and soar but are intrigued with efficient cross country flying. In a motorglider, a pilot can be more confident as the aircraft can glide far further than other types, providing a broader safety margin.
From a one-man operation comes the Italian Piuma Project. Designer and builder Tiziano Danieli describes his creations as "a friendly family of ultralight* motor gliders."
Trouble Is…
Motorgliders Are Expensive

…Or, Are They?
Fully manufactured LSA motorgliders may get you airborne quickly whereas you need to build your Piuma, but the factory-built version will cost substantially more. I've written about Pipistrel's Sinus, Ekolot's Elf, Distar's SunDancer, the Phoenix Air motorglider, and even the kit-built Sonex Motorglider, among several others (even more here). Most of these will cost multiples of the cost of a Piuma homebuilt motorglider.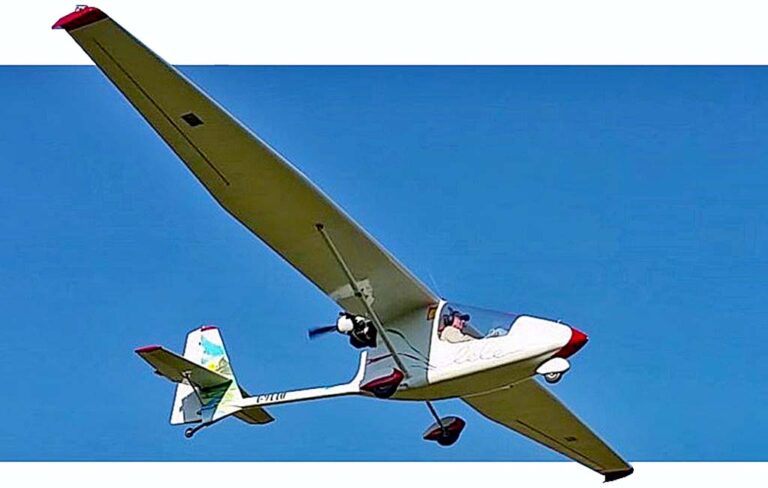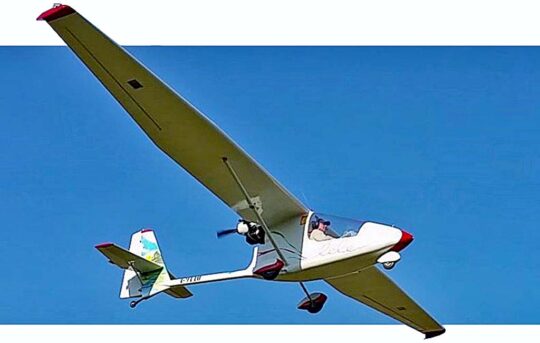 If you'd like a motorglider without the big bill, Tiziano's Piuma series might be just what you are seeking.
"As readers will see on the website, I am not a company, but only a passionate pilot / designer / builder of ultralight motor gliders in wood and fabric for personal use who has decided to sell the construction plans to finance his passion," related Tiziano.
"Now I am retired, but … being a technician by training, this allowed me to document technical texts in order to first perform the structural calculations of the elements making up the aircraft and then design and build the objects of my hobby." Tiziano fulfilled his dream — with a lot of effort — and he is willing to share that effort via a plans set and descriptions of materials needed.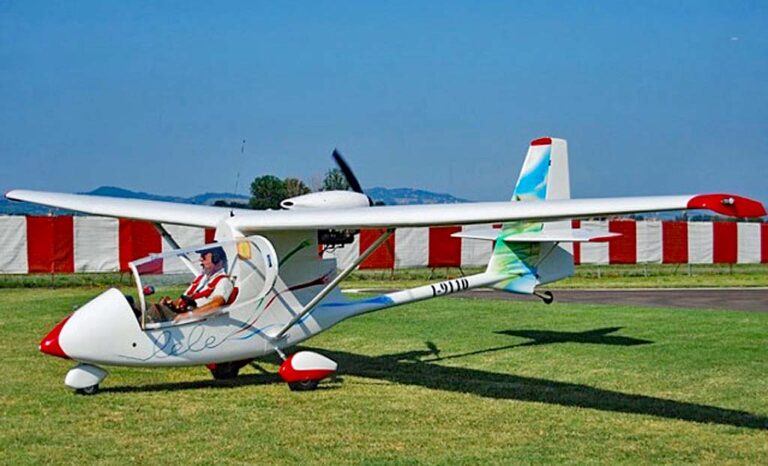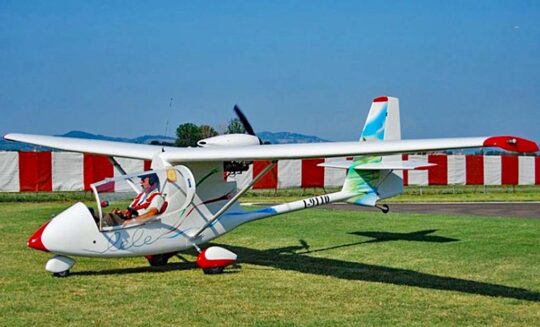 Readers who want to save money acquiring a motorglider may finally have a good option: the Piuma Project — composed of five models, the Original, Evolution, Tourer, Twin Evolution, and Almerico. The latter two are two seaters, though Tiziano admits his primary interest is the single place model.
"The first idea was to design, to build and to fly a little one seat ultralight motorglider, for personal use, very safe in flight, simple in the construction, and easy to pilot," said Tiziano. "I wanted it to have flight characteristics and comfort higher than various tube-and-fabric ultralights of that time." (This was at the end of the '80s.)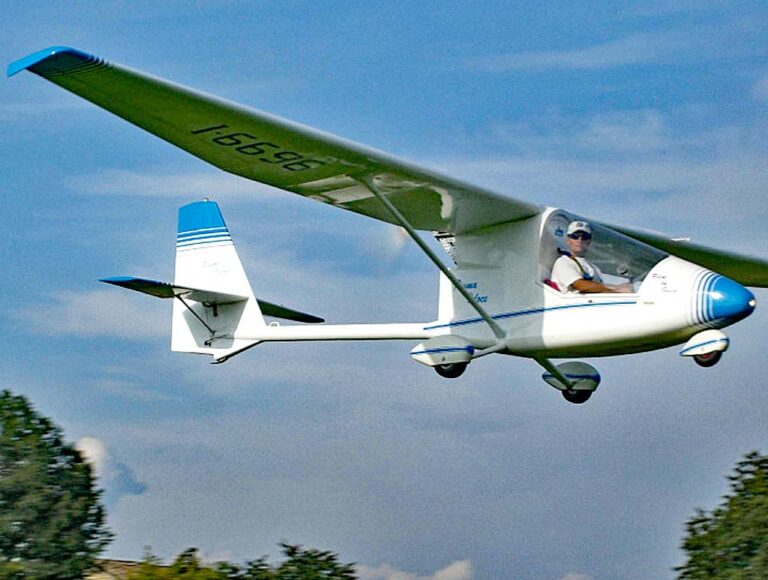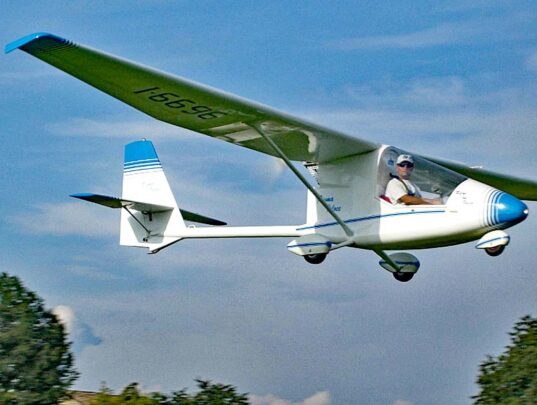 The first flights of the Piuma Original date back to 1990. This was followed with the Tourer.
­Piuma designs have a significant history, yet Tiziano saw value in upgrading his plans and info package. "Given growing interest in minimal ultralights," Tiziano reported, "in 2021, the drawings of the Original Piuma, the Construction Manual, and also the Project Book were improved with new photos, all now available also in English language." Based on my scouring every page of his website, I can attest his command of English is excellent. When you examine Piuma's website, you will even find English measurements, unusual for a European  developer.
Touring Piuma Motorglider
Perhaps a majority of pilots interested in motorgliders will rarely fly them as soaring machines. With long, slender wings, gliders and motorgliders have an elegant, graceful look and are efficient aircraft with low fuel usage per mile flown.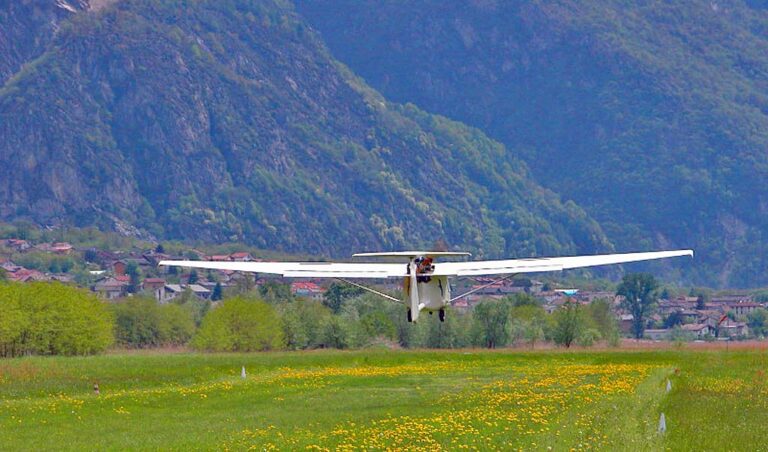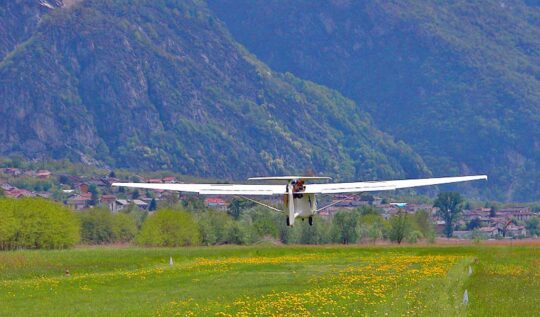 A Piuma Tourer confirmed the suitability of the name by flying from Venice to Sicily one year (1,250 kilometers or 776 miles) and from Venice to Paris another year (900 kilometers or 560 miles). These flights confirm, Tiziano said, "that even with a small motorglider, I can do great trips."
He has also designed and drawn two-seater versions: the Piuma Twin, later replaced with the Piuma Twin Evolution, that incorporates all the improvements suggested during nine years of Piuma Twin construction: a 20 centimeter (8 inch) longer front fuselage, for better balance without ballast and a rear fuselage similar to the single seat Piuma Evolution.
The designer's interest and that of many potential buyer/builder may remain with the single seat models. Not only will they be less costly but with only a single seat, pilots need only satisfy themselves.
Constructing Piuma
Tiziano sells neither completed motorgliders nor kits. These are "scratch-built" aircraft, meaning that builders have to acquire all the materials and follow drawings to build any of the Piuma models.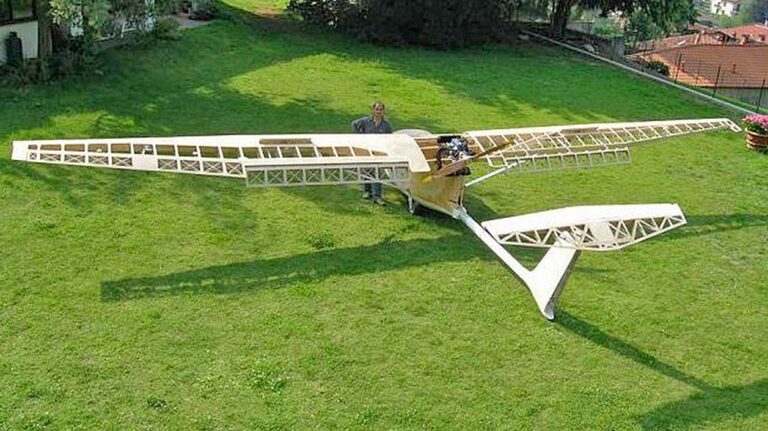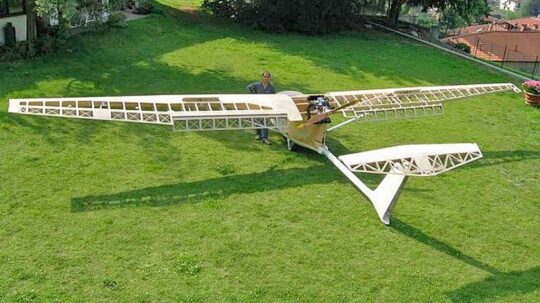 "Construction time depends on the builder's meticulousness," said Tiziano. "Normally, about 1,000 hours are sufficient for a person with limited woodworking experience to complete the work. Plans are composed of large technical sheets (24 x 40 inches) with lots of details."
"Some component elements require the use of a lathe and/or milling machine, but most of the construction may be built without special tools. It is very easy," said Tiziano. He completed his Piuma Original after 18 months of work, in a two-car garage measuring 21 feet long and 13.2 feet wide.
Drawings show multiple views and have all the details. A "Construction Book" is provided with instructions and references to the drawings that explain more details relating to each model. Drawings and the book also note all the materials to be purchased specifying the quantity and quality of each necessary element, from the aviation birch plywood to the aluminum alloy parts and including Dacron fabric, glues, and more.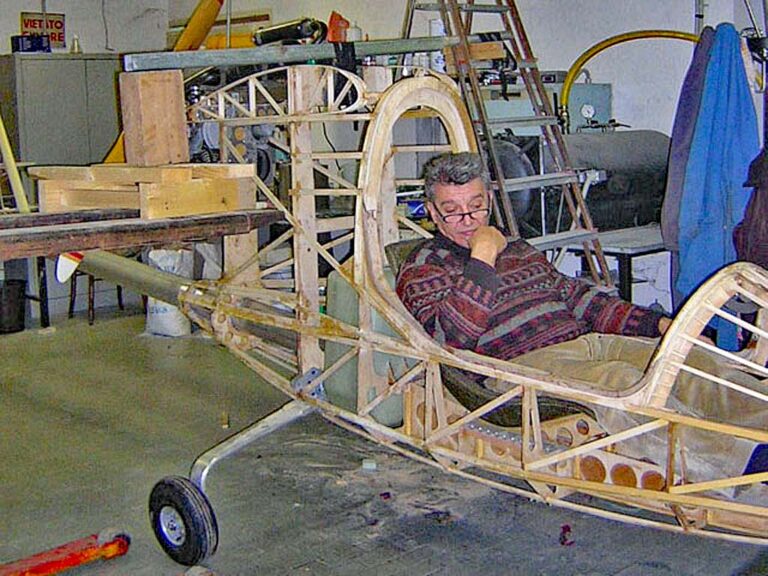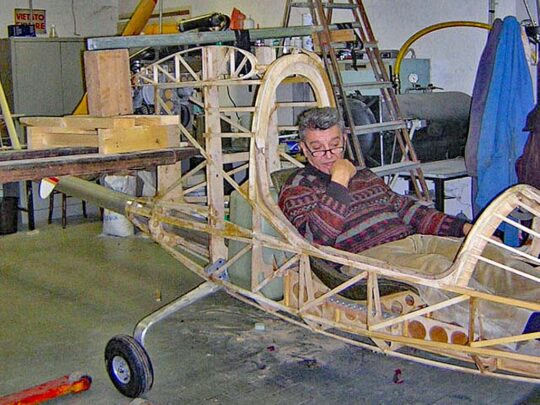 A "Project Book" is not necessary for the normal builder, but it is very important for those who want to know the project better. The Project Book contains design considerations; lots of drawings of the fuselage, wings, tail, and more; structural calculations; plus flying characteristics and speeds.
The construction plan set sells for $200-$400 (each model is somewhat different in price) in early 2022. Tiziano reported, "The cost of materials, excluding engine and instruments, is around $4,000 (at 2020 prices)."
Based on that number my guesstimate for total price with a used Rotax two-stroke engine, basic analog instruments, and minimal paint might be $15,000 or less.
How This Gets Interesting
After Mosaic Is Released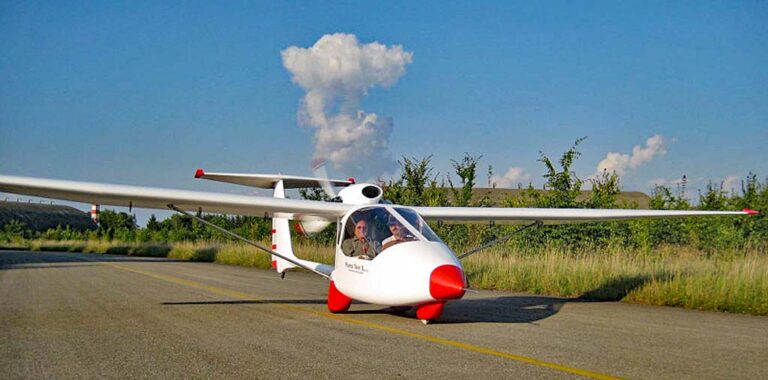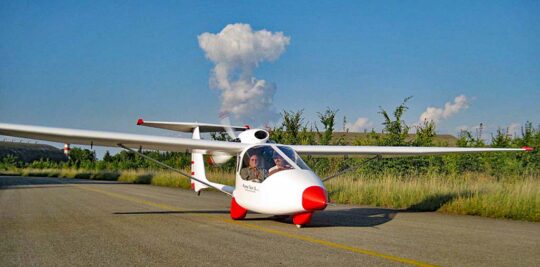 Professional build centers have been highlighted as one of Mosaic's many aspects. Everyone including FAA recognizes that kits built with oversight from people who know the aircraft and the process of construction makes for better, safer airplanes. Because safety is FAA's main consideration, professional builder-assist centers are expected to part of the new regulation. I have been predicting we will see the NPRM by Oshkosh 2022 (mere months away now).
Such a center could, for example, set up shop specifically to assist buyers of the plans sets, The result could be Piuma motorgliders assembled under controlled circumstances.
Piuma Original (Tourer specs shown for some parameters)
TECHNICAL SPECIFICATIONS
all data provided by the designer
Wing span — 38.4 feet(34.1 feet)
Total wing area — 125 square feet (99 square feet)
Aspect ratio — 11.2:1
Dihedral — 3°
Total tailplane area — 17.2 square feet
Length overall — 19.4 feet
Height — 4.6 feet
Empty weight — 320 pounds
Max take-off weight — 518 pounds (550 pounds)
Useful load — 198 pounds
Max wing loading — 4.14 pounds per square foot
Recommended load factors — +3.4 / –1.2
Ultimate load factors — +6.8 / 2.5
Max level speed — 51 knots (81 knots)
Normal cruising speed — 43 to 48 knots (73 knots)
Stalling speed — 26 knots (34 knots)
Never exceed speed — 65 knots
Best glide ratio with power off — 17:1
Take-off — 330 feet
Landing — 330 feet
Max climb rate at sea level — 390 feet per minute (1,000 fpm)
Min sink rate (at 31 knots) — 200 feet per minute (235 fpm)
Engine — 25 horsepower (40 horsepower; Rotax 447)
---
To help you find lots more information and details plus more photos for each model click or tap any of the several links below. (Note: English is used and is very good.)
* European use of "ultralight" does not mean FAR Part 103 parameters. While light, these are not Part 103 ultralight vehicles.
---
This March 2, 2022 update provides photos of designer / builder Tiziano Danieli's own project. Here's a few words from him about it.
"I personally am still flying with my Original Piuma and I am completing the construction of the Almerico (images below), which I modified into a single-seater for personal use."
"The construction plans of the Piuma Almerico single-seater that I used for my personal use are not yet completed [but] I intend to make them available to the builders, together with hundreds of photos of the details under construction, in the coming months."