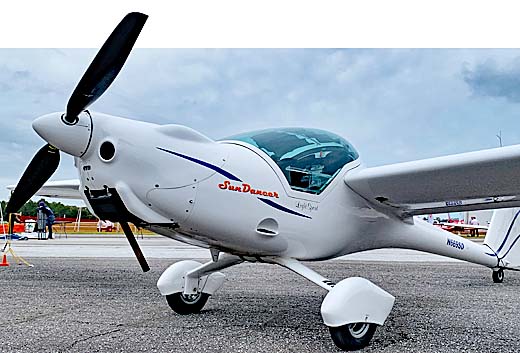 Opening day at DeLand Showcase 2019 got off to a solid start. Most of the sold-out exhibit spaces were populated with aircraft despite the rush of colder, turbulent air from the north on Wednesday. While it was not the blue sky day that often visits Florida this time of year, winds died down nicely and a decent crowd of interested pilots were on-site though not all displays attracted as many visitors.
Flying activity was generous including a midday favorite from Sebring and Sun 'n Fun: Manufacturer's Showcase, which refers to a period of flying activity not the event. Aircraft representatives put their airplane through aerial paces one at a time, allowing more impressive demonstrations of their aircraft. All the action is close enough that attendees can see them well. This is similar to the flying on the grass strips of Paradise City or the Fun Fly Zone at Lakeland or Oshkosh. People appear to love it.
Forums appeared well attended when I had a chance to look and DeLand Showcase volunteers were everywhere in their blue shirts. As it has for three previous years, DeLand was well executed. Good job to Jana Filip and her whole team!
Distar's SunDancer Motorglider
Michael Tomazin flew from California with Distar Production manager Elias Khelil to attend DeLand Showcase 2019. They flew 3,000 miles to do so as they wandered around to fly over spectacles such as the Rocky Mountains, Monument Valley, and Grand Canyon. How's that for a view of America? Elias was thrilled with the experience to span this vast country, several times his home land of the Czech Republic.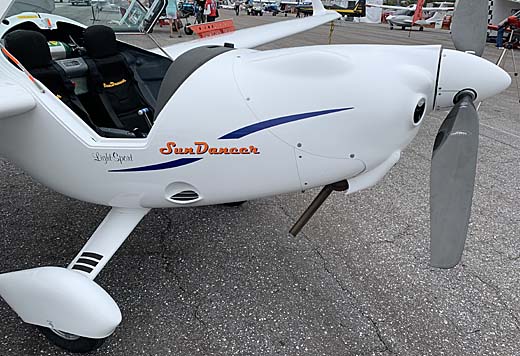 SunDancer may be consider two airplanes in one, partly as it can be either a very efficient and surprising speedy cruiser or a motorglider capable of genuine soaring flight, but also because it comes with two wing extensions. SunDancer motorglider can exchange removable wing extensions boosting wingspan from 42 feet 8 inches (13 meters) to 49 feet 2 inches (15 meters). Glide goes from a respectable 26:1 to 30:1.
If you've never thought about what that kind of reach means, try drawing a 30:1 line on a computer or graph paper (for reference, 1:1 is a 45° slope). If you're precise what you'll see looks essentially like a horizontal line. From 6,000 feet you can glide to almost any point you can see, presuming no wind resistance. Of course, this is also the reason why speed brakes are valuable; you'd be hard pressed to land on a long runway because SunDancer might keep gliding right past the end.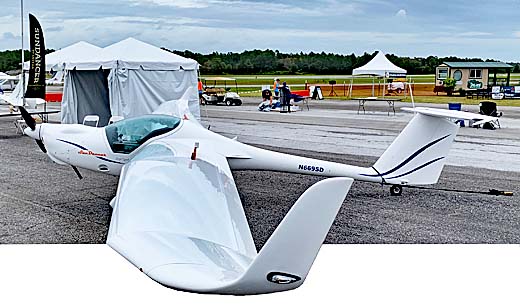 Clearly, cruising from the West Coast to East Coast shows SunDancer to be a serious travel machine for two occupants. Tomazin said you can range 800 miles and carry 100 pounds of baggage.
SunDancer grosses at 1,320 pounds like most LSA but has a fairly light empty weight of 639 pounds. It is powered by either the 80- or 100-horsepower Rotax 912.
Special Motorglider Benefit
Because Sun Dancer can be registered as a motor glider, it benefits from a special exception from FAA. No medical is needed but even better if a pilot has been denied a medical, you can still fly a motorglider. That's not true for a Light-Sport Aircraft.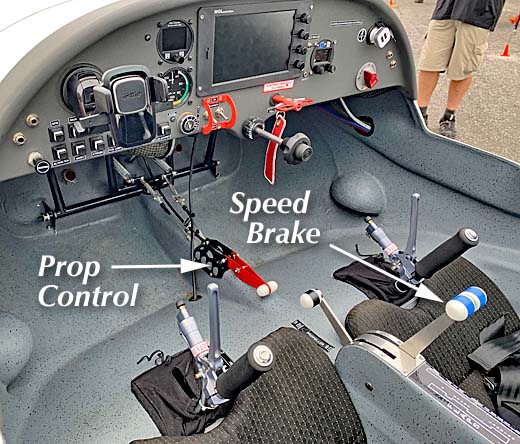 According to FAA Part 61.23, "A person is not required to hold a medical certificate … when exercising the privileges of a Sport Pilot certificate with privileges in a glider or balloon," with the definition of a glider being "…a heavier-than-air aircraft, that is supported in flight by the dynamic reaction of the air against its lifting surfaces and whose free flight does not depend principally on an engine." SunDancer easily qualifies.
Here's further motorglider advice compliments of Jim Hanson writing for our friends at Midwest Flyer (see his whole article here but note most motorgliders he discusses are not LSA types):
"Unlike LSA aircraft, they are not restricted to altitudes of 10,000 feet." That's good since a soaring machine limited to 10,000 feet would be unnecessarily restricted. Note the photos the oxygen bottle aft of the seats.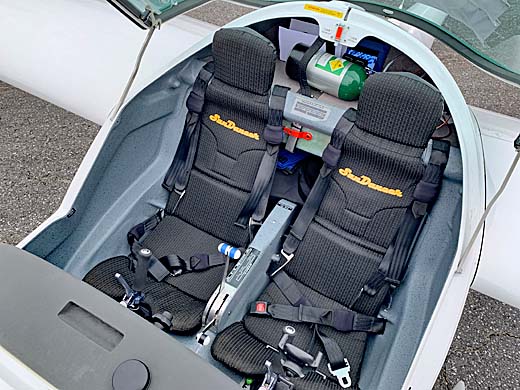 "With their large wing area, [motorgliders] offer low stall speeds, fast climb, and near-STOL capabilities. They usually employ glider-like spoilers or airbrakes for direct lift control and steep descents." Speed brakes offer both dramatic and precise lift control despite their relatively small size; one secret is the exact placement on the wing's chord. Their power and usefulness prompted Hanson to add, "Once you fly an aircraft with spoilers, you'll wonder why every airplane doesn't have them."
No question, motor gliders have their intriguing qualities and might deserve serious attention. Priced quite reasonably (definitely so compared to motor gliders like a Stemme S-12), SunDancer is a good value at around $135,000.
Here's a short video recorded at DeLand Showcase 2019. A more detailed video will follow later.
---