I found much to discover at Aero Friedrichshafen 2023 but in one exhibit space I found two wonderful surprises. Both are from AVI Aircraft.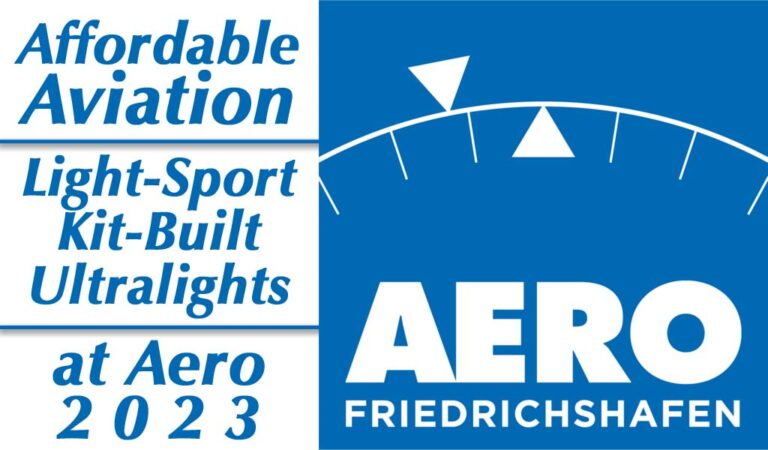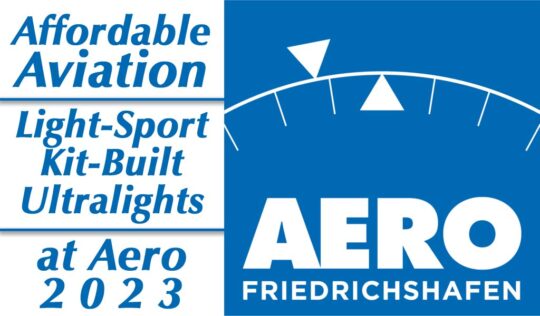 One was easy to pick out as new. The other initially fooled me. In the Aero event I missed last year due to Covid (and the prior two years that were cancelled due to government Covid restrictions), AVI developers have been busy.
New from AVI Aircraft
Dracula immediately caught my eye as it did for many Aero attendees. It was new. It was charming. It was sleek. And it still folds up small like its older sibling, Swan. More on that below. Yet Dracula distracted me from Swan, which I thought I already knew. The older model has also been brilliantly renewed.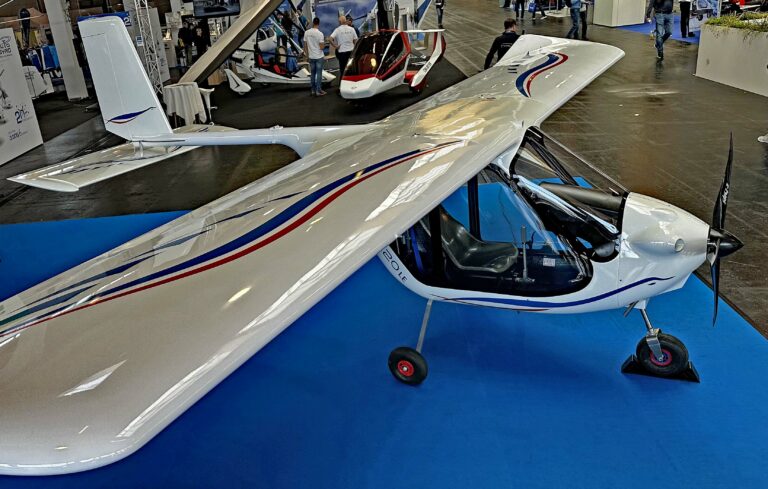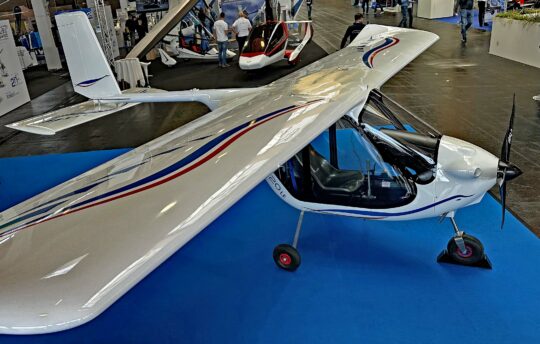 In addition to dashing lines, especially for a Part 103 ultralight, AVI Aircraft models are affordable. I am aware that word means something different to every pilot, yet in 2023 a ready-to-fly aircraft that looks like Swan in the low $30,000s* may appeal to wide range of budgets.
Swan and Dracula can qualify as legitimate Part 103 aircraft. Both can be fully enclosed. Both can be delivered either with a combustion engine or electric propulsion. Both can fit in an impossibly small trailer. Shall I go on?
Let's look at each of these models.
Redesigned Swan LE
I glanced again to notice Swan's nose was entirely new, and not simply with a new cowling. AVI Aircraft's team, led by owner Radu Berceanu, has moved the engine from the end of a large boom tube to fully enclose it in the nose.
Naturally, to accommodate a lower prop arc, designers had to raise the fuselage but entry remains easy. In fact, because you no longer need to lower yourself to get in, Swan LE may offer even better ingress and egress.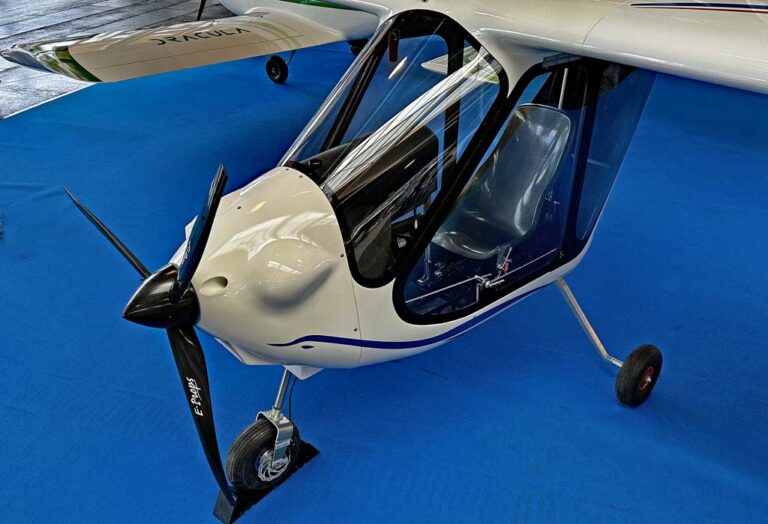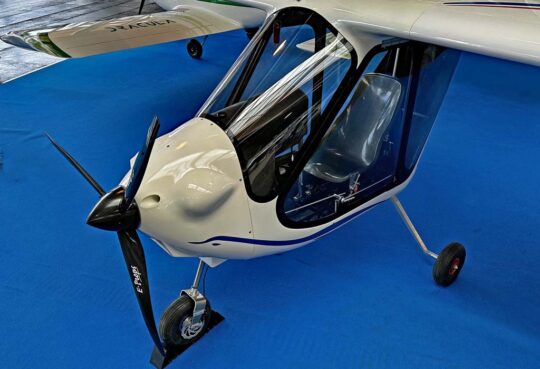 Under the cowling is… well, your choice. Both new AVI models offer the Polini 303 with 38 horsepower, making Swan lively and able to achieve short takeoffs. Or, you can have an equally powerful (28 kW or 37.5 hp) electric propulsion unit. AVI has offered electric for several years, time enough to work out the installation and operation.
Inside Swan LE looks the same except for the higher threshold. The helicopter-like, centrally-formed instrument panel allows generous forward and down visibility. Given its cantilevered construction, Swan LE doesn't need wingstruts that obstruct side visibility. The revised model retains that amazing fold-down capability (described in this article), allowing transport in the smallest trailer you can imagine.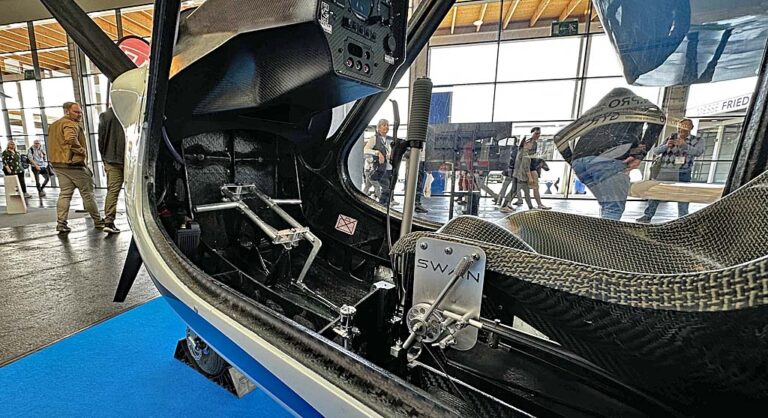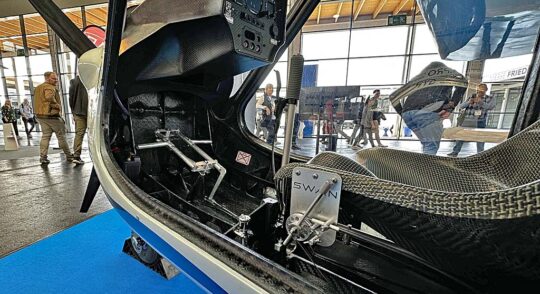 Swan at Aero was badged "Swan 120 LE" as it is approved under Germany's 120-Kilo Class. However, in our discussion, Radu stressed more than once that both Swan and Dracula can conform to U.S. Part 103 with minor changes, which he has already engineered and produced. The earlier boom-engine Swan has already proved itself capable of meeting Part 103, according to importer Tom Bartlett, AVI Aircraft's U.S. distributor (article from fall 2022). In America, I'd expect the name will be "Swan 103 LE" — LE stands for Lower Engine, said Radu.
In addition to handsomely upgrading the nose of Swan, what Radu did right was leave the rest alone.
Low-Wing Dracula
AVI Aircraft aims to please, said Radu. He heard from prospective customers that some wanted a low-wing version of the Swan. Since my last Aero visit (2019), AVI has completed all work on the new Dracula and kept many of the same features on Swan. That's not easy to achieve.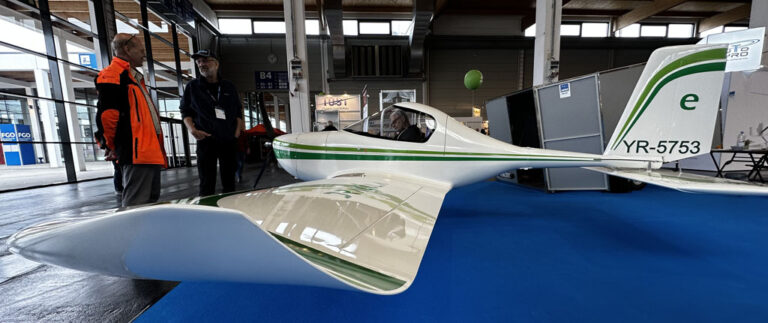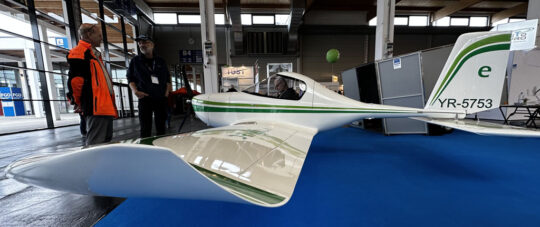 One example is the wing-remove, tail-boom-fold method of disassembling Dracula for transport. Radu indicated that Dracula would fit the impossibly-small trailer just as Swan LE does. Given significant waits for hangar space at many airports, a small trailer could be the deciding factor for some potential buyers. Towing this small trailer around, almost no one would believe you have an airplane inside. A small trailer is also lightweight so towing with a smaller vehicle should not prove challenging.
A single threaded pin is removed to detach the wings. The tail feathers also remove quickly. A hinge in the boom allows it to be folded forward, enabling the entire plane to fit in a space just 6 feet wide by 12 feet long by 6.5 feet high, which is the box size of a standard 6×12 enclosed trailer. "In turn, it can just as easily be reassembled and ready to fly in a matter of minutes with experience and a second pair of hands," said Tom. "We are working on a custom trailer that makes it easy to load, provides exceptional protection in transit, and allows for one-person assembly."
Aerodynamically, Dracula is sleeker than Swan and can fly faster. However, for the U.S. Part 103 market, AVI has made some adjustments including a longer-span wing and a different flap configuration. Adjusting the prop also helps contain speeds to 103's snug limits.
As to powerplants, Dracula again follows Swan LE with a choice of Polini 303 or electric motor.
As noted in the specifications below, Dracula matches Swan exactly; these figures are what AVI Aircraft was offering Aero '23 attendees. However, I encourage interested Americans to contact Tom Bartlett, while pilots in other countries can contact Radu directly.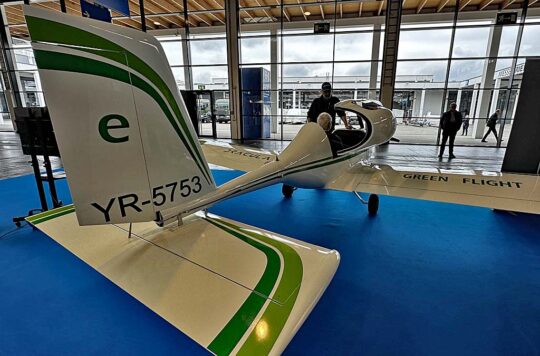 TECHNICAL SPECIFICATIONS:
AVI Aircraft Swan 120 LE and Dracula 120
both models share specifications provided by the factory
Maximum Takeoff Weight — 529 pounds (240 kilograms)
Takeoff roll on grass runway — < 295 feet (90 meters)
Maximum Crosswind — < 18 miles per hour (30 kilometers per hour)
Climb Rate — > 600 feet per minute (3 meters per second)
Cruise Speed — < 68 miles per hour (110 kilometers per hour)

*

Never Exceed Speed — < 93 miles per hour (150 kilometers per hour)
Limit Loads — +4, –2 G
Best Glide Ratio — 10:1 at 53 miles per hour (85 kilometers per hour)
Fuel Capacity — 7.4 gallons (28 liters)

**

Range — > 280 statute miles (450 kilometers)


*

slightly over U.S. Part 103 regulations but easily compensated


**

can be changed for U.S. Part 103, affecting range
Electric Propulsion Information:
Motor — 28 kW maximum power, 100 V, 102 kgs maximum thrust
Batteries — 4 X 2.66 kWh each
Charging — from 25% to 100% in 4.5 hours at 230V/16A
Duration — minimum 1 hour of flight with reserve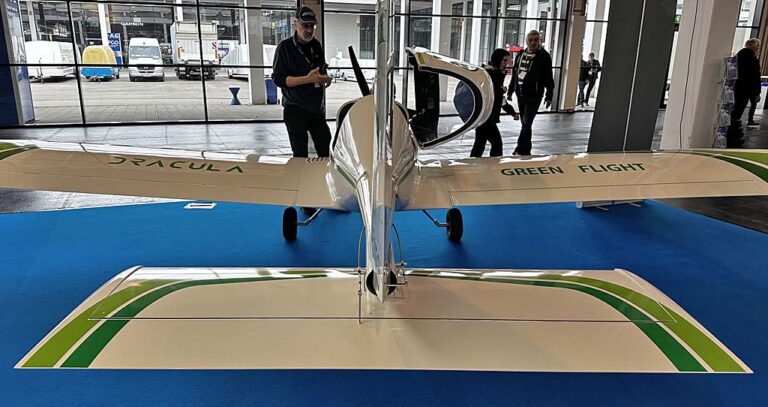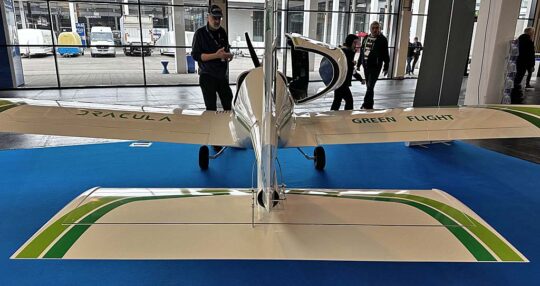 What else does AVI do? — Beside producing the Swan and Dracula aircraft in various forms, businesses using the AVI prefix produce a large range of composite products… from swimming pools to composite components used in the construction of trams, trains, subways, automobiles and the nautical industry.
VIDEO COMING — A two-part interview with AVI Aircraft owner Radu Berceanu will follow. He delivers a lot of info on both planes reported here. Until the new one is ready, here is a video from Midwest LSA Expo 2022 (does not include the LE engine change).
ARTICLE LINKS:
---
* Swan pricing in fall of 2022 was around $30,000, however, shipping costs remain extraordinarily high, adding to Swan's factory price (MSRP). Exchange rates can also affect pricing in dollars. Please use the links above to contact the company or its representatives for current prices and availability.