How about this? Among the loudest "buzz" at Aero Friedrichshafen 2022 was the introduction of turbine engines on Light-Sport Aircraft. At least three well-known LSA producers are experimenting with turbines.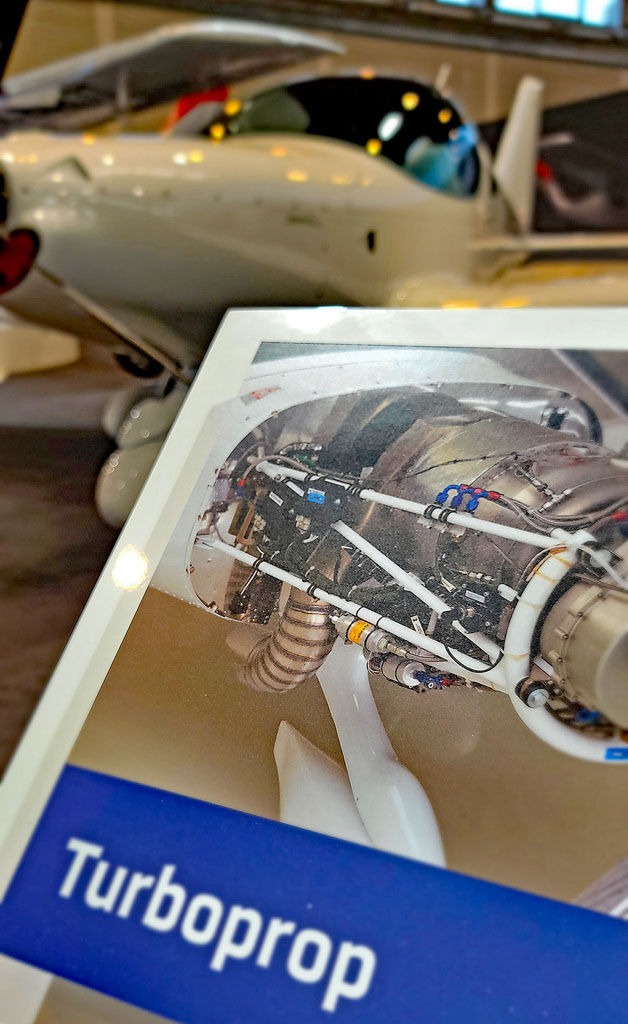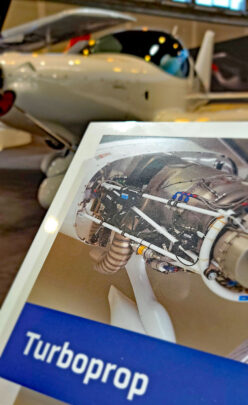 OK, I know turbines are not allowed on present-day LSA. Could that be changing as Mosaic slowly works its way through the FAA? We won't know until FAA releases their NPRM at this year's Oshkosh (I predict). However, some language provided by the agency to guide ASTM standards writers has suggested that the ban on turbines might not last.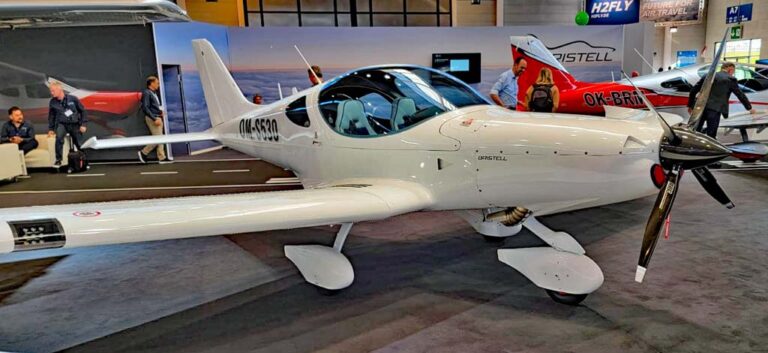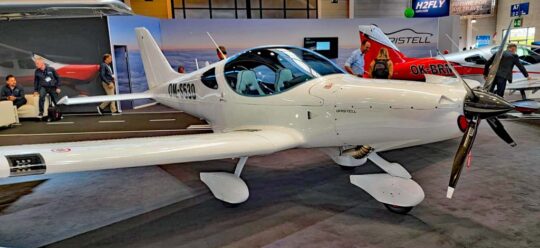 A irony to this possibility is that turbines were the specific reason why electric wasn't permitted. Uh… what?! Yep, in the effort to prevent turbines, FAA rule writers specified reciprocating engines only. That kept out turbines, alright, but it also scratched electric propulsion. Back in the early 2000s, government authorities weren't pushing electric vehicles so rule writers didn't feel the political pressure they do now.
Of at least three companies displaying turbine engines (all use the same supplier; see below), BRM Aero exhibited not one, not two, but three new innovations. Since Aero missed both its 2020 and 2021 events, I guess BRM boss Milan Bristell and son Martin chose to make the biggest splash they could as Aero returned to the show circuit.
In this article, I'll look briefly at BRM's turbine Bristell, their new B8 high wing model, and their electric propulsion entry.
Turbine First
A glance at the nose cowl on the Bristell Turboprop somewhat gives away the different powerplant.
The Turbotech TP-R90, capable of producing 120-130 horsepower yet consuming only 9 gallons per hour, is the selected powerplant for a couple of Europe's most impressive models. JMB was first to announce their turbine VL3. Then, at Aero 2022, BRM Aero, builder of the exquisite Bristell series, announced a whole flock of new birds. I'll look for more about JMB's entry but Bristell's U.S. representative, John Rathmell, was kind enough to send me news and photos.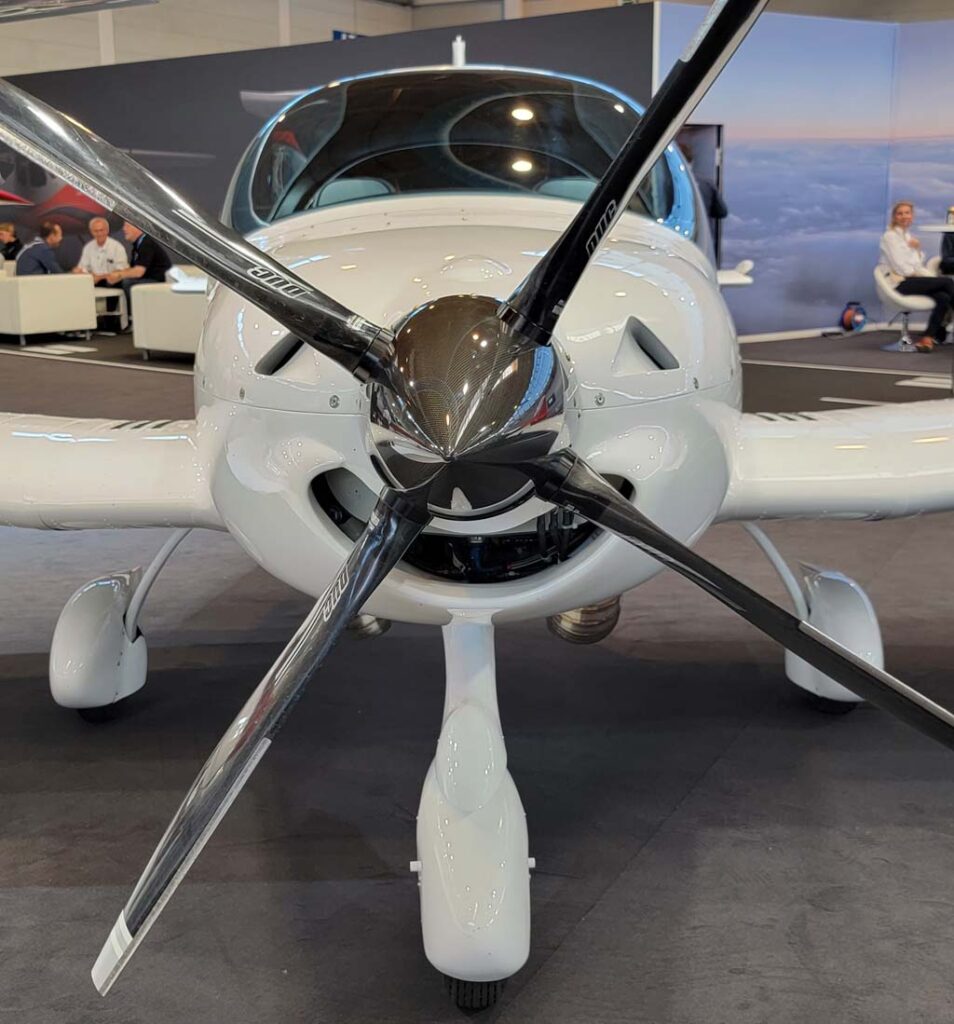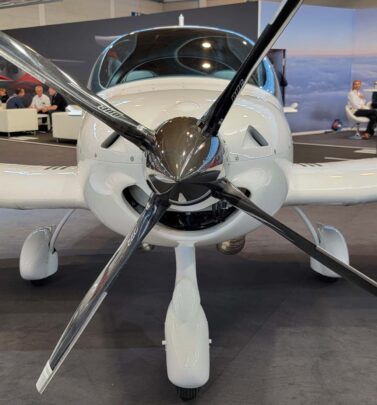 "Turbotech designed the regenerative turbine from scratch and it combines all the advantages of a turbine engine with very low fuel consumption, said the company. A regenerative turbine is a turbine engine equipped with a heat exchanger, "capable of recovering the heat normally wasted in exhaust gases and reinjecting it into the combustion chamber, leading to a dramatic fuel burn reduction."
Bristell USA representative, John Rathmell estimated the turbine engine may cost about three times what a Rotax 915iS does, or better than $90,000. Clearly, that won't work for all budgets but Bristell has already been selling as a high-end LSA model so some buyers may be attracted to the turbine offering. The product remains in evaluation at this time so performance numbers were not offered.
"With an expected 3,000-hour time between overhaul," John started, "reduced vibration, a fuel burn rate only a couple gallons an hour more than the 915, plus less frequent maintenance, the turbine engine has real appeal."
B8 High Wing
Milan and his Czech company have long concentrated on their initial product, the low wing B23 Bristell. That aircraft has seen variations, including a taildragger model (TDO) and a retractable model. It has been powered by the entire Rotax 9-series including the 141-horsepower 915iS; indeed, BRM was one of the very first to fly Rotax's most powerful engine.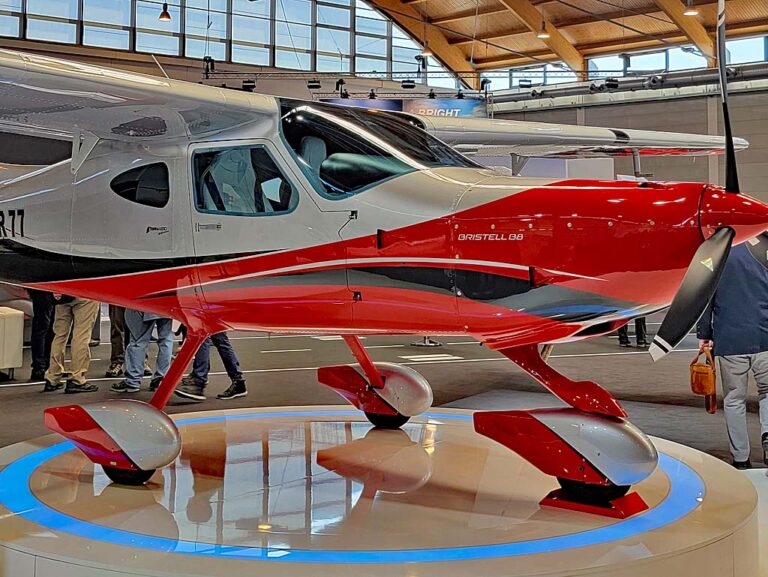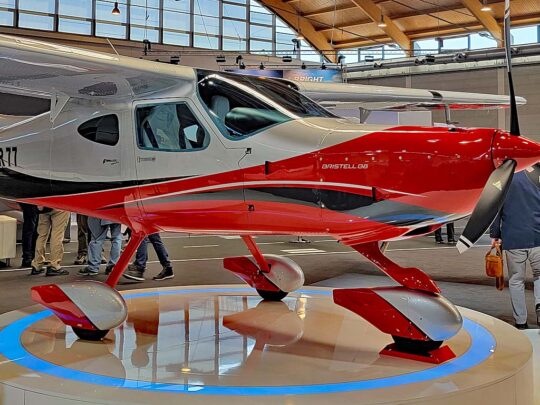 "Bristell B8 is an all-metal, high-wing [design] without struts and with a steerable nose wheel," said the company. Although it looks quite different from the low wing, B8's cockpit is equally spacious at 49.2 inches wide. Pilots and their cabin mates will no doubt find entry much easier than first climbing up on the wing. Generally, pilots identify as high or low wing enthusiasts and now BRM can offer them what they want.
While most of the aircraft is aluminum like the low wing B23 Bristell, B8's cockpit doors and the luggage compartment door are made from composite material. The landing gear appears to be the same as on the low wing B23.
The basic B8 model is powered by a 100-horsepower Rotax 912 ULS. At a later stage, BRM Aero "plans to develop options to fit the other Rotax engines, such as the 915iS."
"Bristell B8 will be certified in the Czech Republic in the [European] UL category with a maximum takeoff weight of 600 kilograms (1.320 pounds)," said BRM.
Bristell Energic
BRM took one of its clean low wing B23 models and fitted it with an electric motor supplied by H55, a developer/supplier based in Switzerland.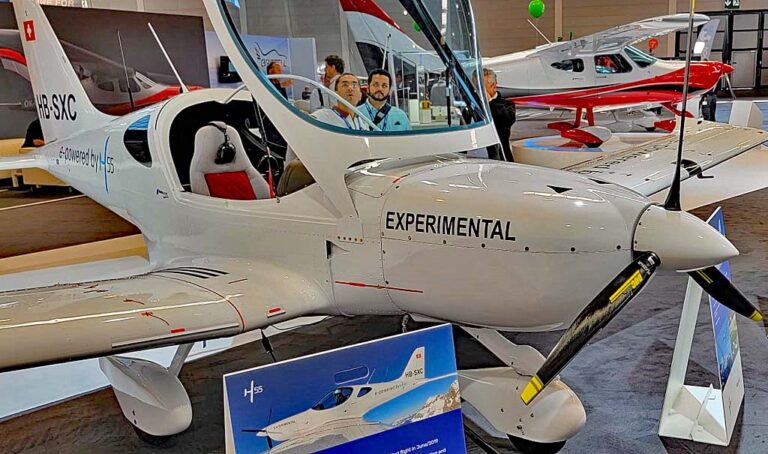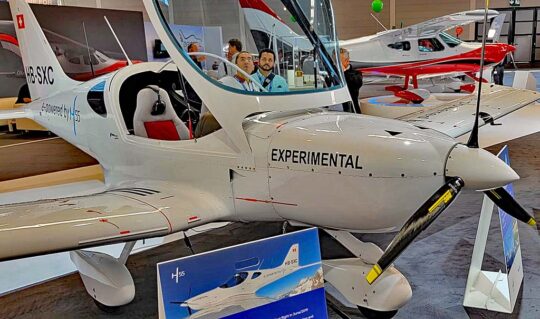 H55 is a leading enabler of electric aviation offering modular, lightweight, and certified electric propulsion and battery management solutions to the aviation industry as to make air transport, quiet, clean and affordable. "H55 supports its customers in integrating and customizing its technology solutions for a wide range of applications suitable for both existing airplane designs and future concepts such as VTOLs and e-commuter aircraft," said the Swiss company.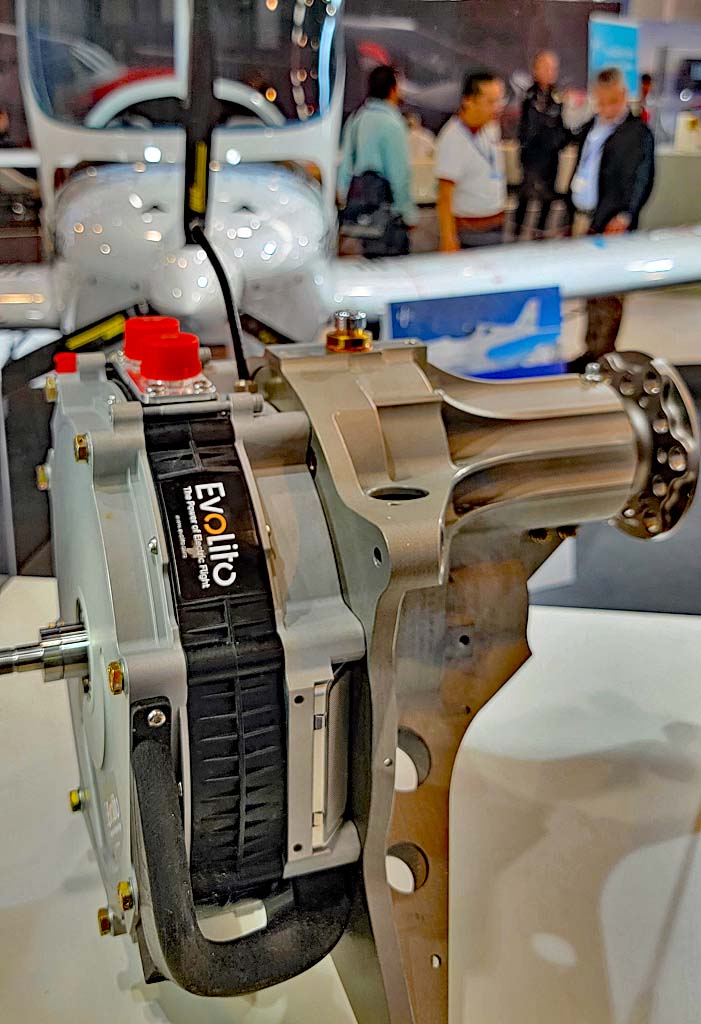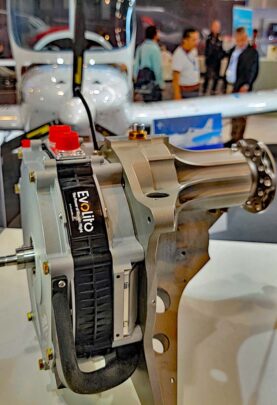 The result? An electric LSA-style aircraft with a 419-pound payload, an 1,874-pound MTOW, a climb rate of 800 feet per minute, and electric energy cost for a one-hour flight of $7.00. Charging time for normal operations is reportedly just one hour. BRM Aero expects to achieve CS23 certification by mid-2022. It should be available for flight schools as soon as mid-2022, the company said.
"With the B23 Energic, our company has become a pioneer of the next aviation revolution," said BRM Aero. That may be so, but I'll bet we see more interest in the B8 high wing or — for the best-heeled customers — the turbine Bristell.
BRM Aero, based in the Czech Republic, was established in 2009. With seven models available today, BRM Aero produces more than 100 aircraft every year. "Bristell has produced more than 670 LSA aircraft worldwide," said the company.
With a Little Help
from My Friends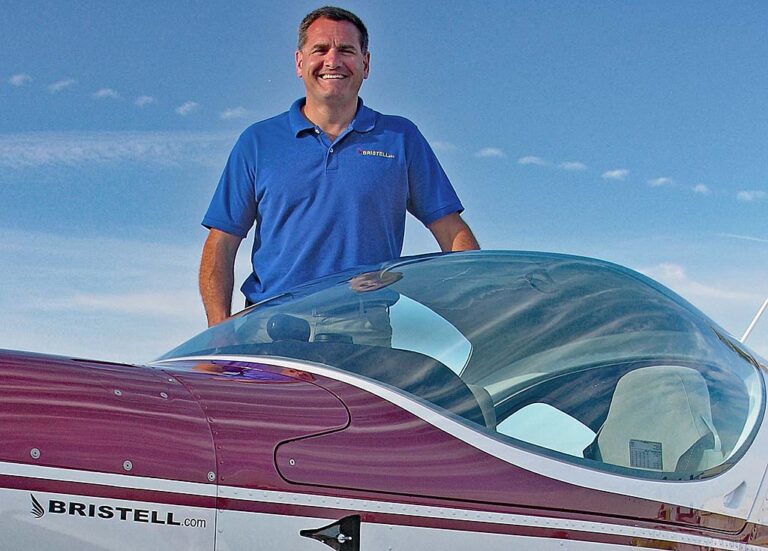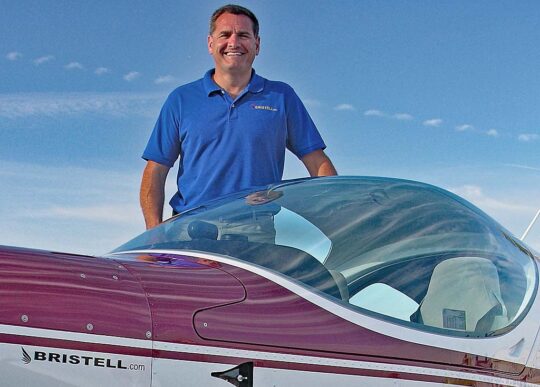 I elected not to go to what would have been my 27th visit to Aero because just two months ago, when I needed to make air reservations, Covid panic still gripped Europe. Officially in mid-February, the show could not even be held. It looked too questionable for me to go forward with costly tickets amid global uncertainty; I was unwilling to chance being quarantined for two weeks at my own expense. Challenges of obtaining the right Covid documents also proved difficult. Fortunately for the beleaguered Aero organizers, things opened up but now I'm missing one of my favorite airshows of the year. So, a big thanks to John Rathmell of Bristell USA! It's great to have friends onsite and you benefit as I can offer timely news from Aero. Stay tuned… more to come.


This promotional video from BRM shows the handsome lines of their new B8 high wing model debuted at Aero 2022. Note the forward sweep of the wings that should improve upward visibility from the cockpit.