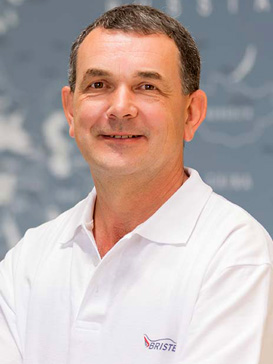 I believe you should applaud Milan Bristela. Now a veteran of the Light-Sport Aircraft sector, he has steadily built a successful aircraft manufacturing enterprise — BRM Aero — that recently rolled out Bristell #300.
With its first delivery to a customer in 2011, this represents an average pace of 50 aircraft per year, a wonderful business size for a LSA manufacturer. Every company starts smaller and grows, so assuming a spooling up of their production engine, BRM is now completing between one and two aircraft per week. Good job, Milan and team!
BRM Aero started in 2009 with two employees. Over the course of several years the team has grown to 50 employees, they report. When growth demanded, they moved into larger quarters but they've also maintained a family feel with father Milan and son Martin running the enterprise as partners.
The full name of their very handsome aircraft is Bristell NG 5 LSA. The "5" is a hint of this being the fifth generation since the first aircraft I know Milan to have worked on — SportCruiser, also for a time known as PiperSport. For that legacy company's rather brief entry into the world of LSA, this was the aircraft they chose …more correctly, an earlier, not as refined version of the Bristell.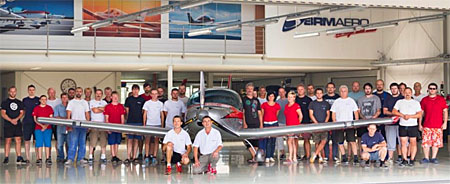 Back in 2003, when I was still involved with BRS Parachutes, I traveled to the Czech Republic. My contact was American Chip Erwin, then head of Czech Aircraft Works and now the man behind Aeromarine LSA and its super-affordable Merlin PSA single seater. As the new millennia arrived, Milan was employed by Czech Aircraft Works and he graciously took a day off to travel around the country with me as we visited parachute developers. I had no idea then that in just six more years Milan would become head of his own company making one of the LSA sector's most attractive designs. However, I easily perceived his skills, experience, and drive so I am not surprised by BRM Aero's recent achievement, reaching number 300 of his own designs delivered to customers.
The company began selling the first version of Bristell Classic in 2011, a fixed-gear aircraft. In 2012 Milan developed a Bristell RG retractable gear aircraft and in the following year Bristell TDO, their taildragger option (photo) that lends a very sporty look. BRM Aero acquired their own production facilities only five years after starting the business. Since moving, production capacity more than doubled over the next two years.
Today's Bristell Ultralight (the European regulatory description) and BRM Aero's LSA variation is offered in these three configurations that obviously pleases many pilots. A tricycle gear fixed undercarriage configuration is the right choice of aeroplane for use in flight training at flight schools, glider towing and for most recreational flying. Thanks to the solid performance, combined comfort involving thoughtful ergonomic design with and the largest cockpit in its category, and modern instrumentation, any of the Bristell models is an excellent choice for cross-country flights. A Bristell HD version offers heavy-duty wing spars, which make cross-country flights safer in stronger weather conditions.

In the USA, Bristell now enjoys a highly experienced and dedicated team at Bristell USA, lead by longtime industry expert, Lou Mancuso along with his team of dedicated and experienced professionals. BRM Aero also has representation in several other countries.
Take a short video tour of the BRM Aero factory (watch for the airplane elevator)…