CubCrafters now leads the field for Special LSA (see this report to learn more) thanks significantly to their early installation of the 180 horsepower Titan engine. Outback Shock is starting making waves in the sky with their impressive entry. Outback with Shock options is sold in America by SportairUSA.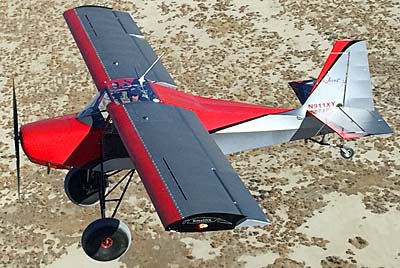 Both these companies are to be congratulated for advancing the light aircraft field, but one aircraft really lit this space on fire: Just Aircraft and their ground-breaking SuperSTOL. Just Aircraft went beyond vintage appeal by extending SuperSTOL ability with several distinctive features.
"The dual slatted wing significantly enhanced performance and slow flight control," said design engineer Troy Woodland. His SuperSTOL wing design incorporates self-deploying leading edge slats and wide span Fowler flaps to increase stall range. SuperSTOL also uses vortex generators to further stretch slow flight performance and handling (photo).
"This provides access to considerably more off-airport landing sites, making the SuperSTOL one of the most versatile backcountry machines out there," Troy added.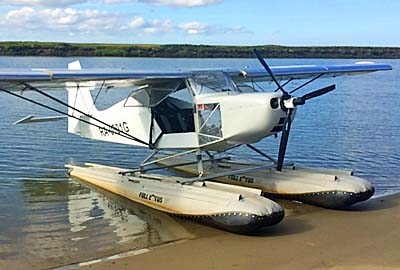 Thanks to those flight qualities, one was pressed into scientific survey service in a difficult environment. Russian biologists sought an aircraft to conduct surveys of wildlife populations along the Northeastern Russian Coast, above the Arctic Circle. George V. Kirtaev ordered a SuperSTOL kit from Just Aircraft in the summer of 2015. Russia allows homebuilts to be constructed, certified and flown in their airspace.
With more than 200 hours in his SuperSTOL, Kirtaev said, "It is possible to fly low and slow which is essential for counting and photography." The rugged design has proved to be good working aircraft. "There is a lot of space inside for gear and you can even spend the night in it," added Kirtaev.
Complementing the hardworking wing Troy created a landing gear system that takes full advantage of a hydraulic strut with a surprising long stroke travel. SuperSTOL's tail wheel also incorporates a hydraulic shock to lessen aggressive off-airport landings. You can read my experience with SuperSTOL and this amazing landing gear here.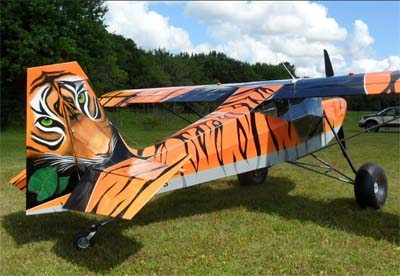 Wing slats combined with large surface area Fowler flaps allow the aircraft to be flown at extremely high angles of attack, permitting it to drop into small or inclined clearings. This provides access to considerably more off-airport landing sites, making the SuperStol one of the most versatile backcountry machines available. With the new wing configuration, Just Aircraft said the aircraft can cruise at 110 mph, land at 32 mph, and take off or land with as little as 150 feet of runway …or maybe a lot less.
Alaska pilot Robby Pedersen won first place in the LSA Class at the Valdez short landing and take off competition. He was aided in this task by Beringer brakes and Alaskan Bush Tires on his SuperSTOL.
SuperSTOL can be a workhorse but you have to bring the flying machine to a stop. About his Beringer brakes, Robby said, "They were perfect! I could not have had the shortest landing of the day without them. They are smooth and easy to regulate providing perfect control."

Just Aircraft offers several SuperSTOL engine options including the original Rotax 912. Those seeking the ultimate in how power will elect Titan's X-340 engine on Just Aircraft's stretched SuperSTOL XL.
Thanks to a redesigned crankshaft, Titan develops 180 horsepower with elevated torque levels according to Continental Motors' James Ball. He added, "Essentially, the engine started out life as a 160 horsepower Lycoming, but original developer ECi (purchased by Continental in 2015) reconfigured the engine to have a larger displacement resulting in more power."
Hear Just Aircraft's Troy Woodland and Gary Schmitt discuss the Titan-powered SuperSTOL in this video.