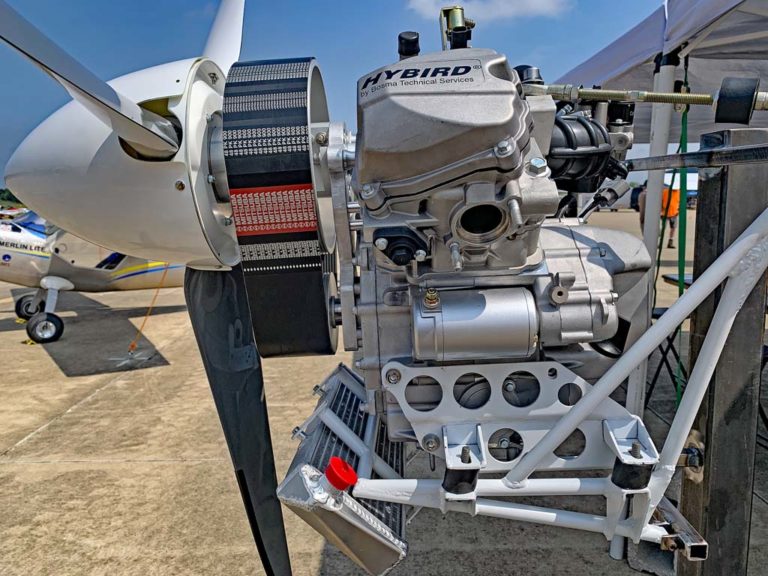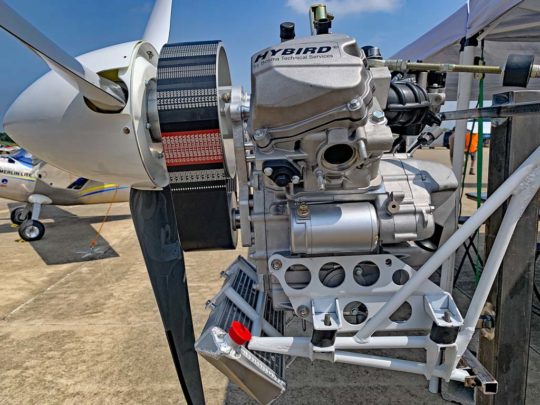 A new engine was debuted at Midwest LSA Expo 2020 for light aircraft from Aeromarine-LSA. Paired as it is with a new engine-specific prop, this is a refreshing bit of news for ultralight enthusiasts and other single seat light aircraft lovers.
It's called Hybird… and, no, I did not spell that incorrectly. As you'll hear, the new powerplant has some possibility to be a form of hybrid (this time spelled as you expect) but it is different in that respect, too.
Since HKS decided to exit airplane engines — although our favorite datastician, Steve Beste reports he can still get parts for his HKS — the light aircraft industry has had an ear to the ground for a new four stroke replacement. It appears Chip Erwin has what many are seeking.
HyBIRD, not Hybrid
As those who know him realize, Chip does not just go out and find components for his airplanes and then adapt them to his designs. He actively works the project. He's done that with Hybird V-Twin, too. For example, this engine has a custom-designed prop made expressly for his Merlin.
No, not Merlin Lite as debuted at Midwest 2020. That Part 103 entry uses the Polini Thor two stroke but for the larger sibling simply called Merlin, the more powerful, four-stroke entry is a perfect replacement for HKS.
"Aeromarine-LSA's new Hybird V-Twin is a 60-horsepower, liquid-cooled, four-cycle, 800-CC, 80-degree Vee, fuel-injected, electronic engine, with electric start," said Chip. "This engine incorporates state-of-the-art technology with decades of reliable history and thousands in service."
"Our matching reduction drive, custom CAD-designed and matched propeller results in the perfect power system for the Merlin aircraft at an excellent price," stated Chip.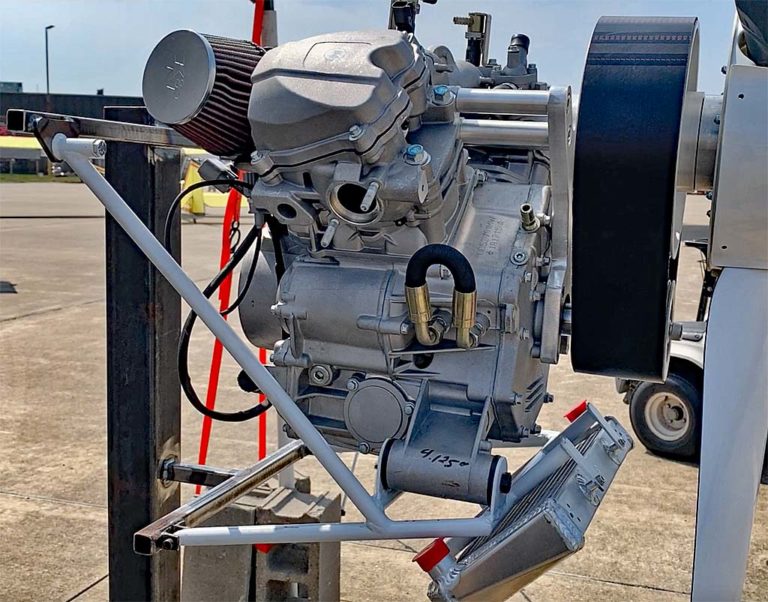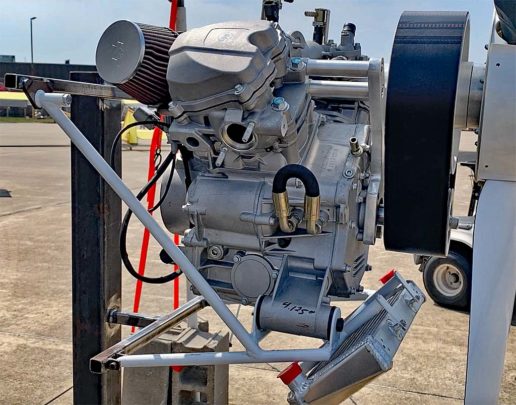 He quoted an introductory price of $7,500 for Hybird used on Merlin, the somewhat bigger brother to Merlin Lite. Hybird for Merlin includes an engine mount, custom cowl for Merlin, the freshly-developed Aeromarine carbon propeller and spinner, radiator, and all fittings.
"There is no TBO (Time Between Overhaul)," Chip bragged! "Our engine replacement price is lower than the cost of most overhauls, so it is cheaper to buy a new engine." A run-out Hybird could still be overhauled, of course, but if that costs close to as much as a new engine, the decision to skip the overhaul time and expense sounds easy.
"We adapted a proven belt reduction drive to this engine and designed a custom engine mount, exhaust, and wiring harness," Chip explained. "We even arranged with a PhD-qualified prop designer to create a custom carbon propeller made to match this engine's torque and power curve."
An Airplane Engine?
Although companies like Viking, Aeromomentum, Corvair, and AeroVee have converted automobile-based engines very successfully for aircraft, some pilots question if this type of conversion is satisfactory for airplane engines. It's a reasonable concern for pilots accustomed to very reliable engines such as Rotax's ubiquitous 9-series.
I see two aspects to this inquiry. The first is about dependability of the engine, specifically it is up to the task of operation the way most pilots will use it? The second refers to alternative ways to use the engine.
Regarding dependability… Hybird V-twin is what Chip describes as "red-neck proven." Hundreds of thousands of this engine have been manufactured and put to the test in ATVs. "These four-wheel vehicles are run hard in extreme off-road conditions. They have proven themselves to be very durable and reliable," Chip said. "Plus, this engine is very modern, with electronic ignition and fuel injection." He added that V-Twin was expressly designed to be run at high power settings.
Regarding alternative uses… the Hybird hybrid is not merely using a gasoline engine to charge up a bank of batteries. Instead, Chip is springboarding from an earlier project between Rotax and Flight Design where a 912 was joined to an electric motor for takeoff boost or emergency power …although the older project was not intended for electric-only propulsion. Here is a similar but different project I wrote about in 2015.
As the nearby image shows, Chip is planning with colleagues to provide an electric motor for added power, with juice supplied by the engine rather than a series of heavy batteries. This is a most engaging idea. I was excited by the Rotax development but that got shelved.
One idea is that an electric motor, in combination with a minimum battery set could provide a short-term boost of power to get you to a landing site without combustion engine thrust. The same arrangement could add power to get you out of a short runway. Additional uses might be forged but simply these two make the idea interesting to me.
Hear directly from the developer, Chip Erwin, about his plans for Hybird V-Twin engine.
---