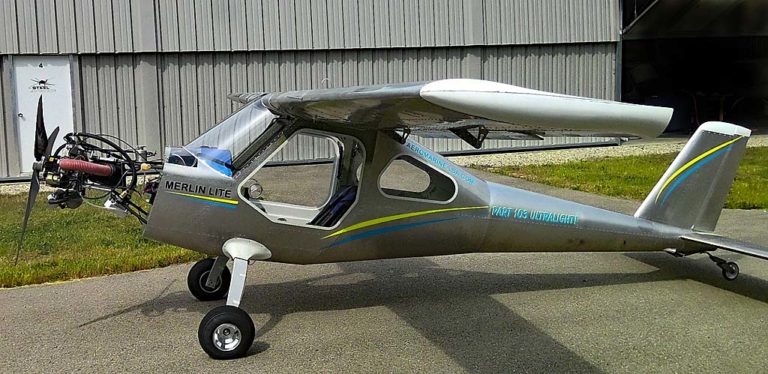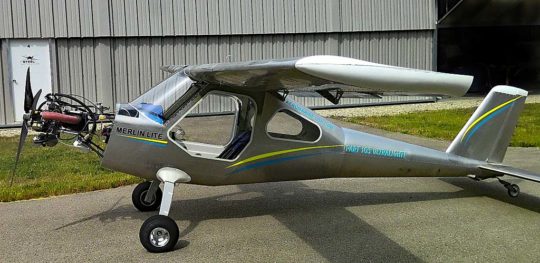 Are you looking for an affordably-priced airplane? On this website, you can find many choices of aircraft that qualify, with something to fit the budget of almost any pilot.
Using the Search bar at the top of the page, you can look for any text anywhere on this website. Have you tried it? More on this below…*
In this article, let me introduce a new aircraft to you …and, no, this is not Merlin PSA.
Merlin Lite Delight
Among affordable aircraft, Part 103 ultralights have a solid position, both as fixed wing aircraft or alternatives like weight shift, powered parachutes, and gyroplanes.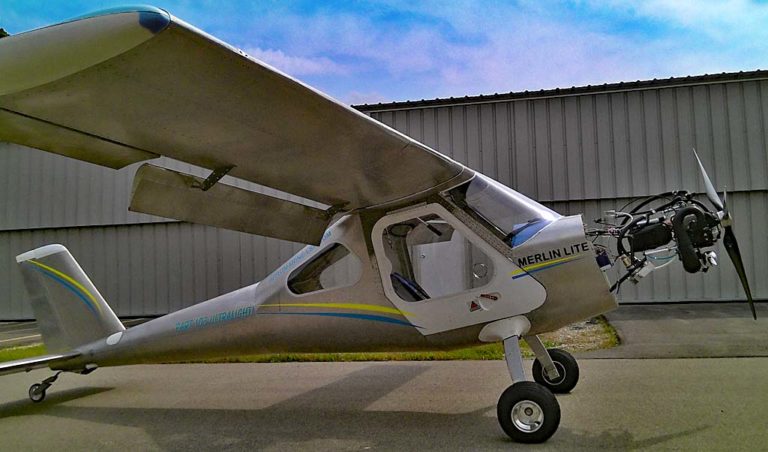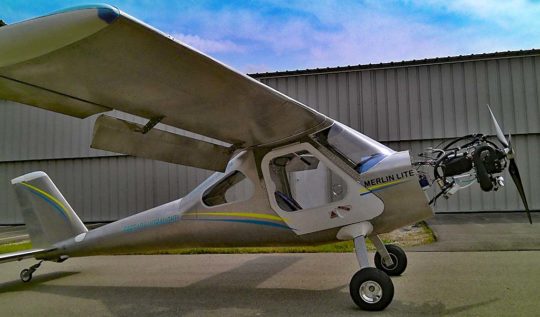 However, such "alternative aircraft" may not be what you had in mind. Many are open cockpit and pilots trained in a Cessna or Piper can feel uneasy being out in the open (even if behind a pod and windscreen). Also, weight shift trikes, powered parachutes, or gyroplanes handle differently from stick (or yoke) and rudder.
Other pilots may want an aircraft that can cope with the elements better. Metal can offer better endurance. Aeromarine LSA boss Chip Erwin is offering a full enclosure on his newest and Merlin Lite can make Part 103 numbers, if you use an emergency airframe parachute and make other appropriate equipment choices.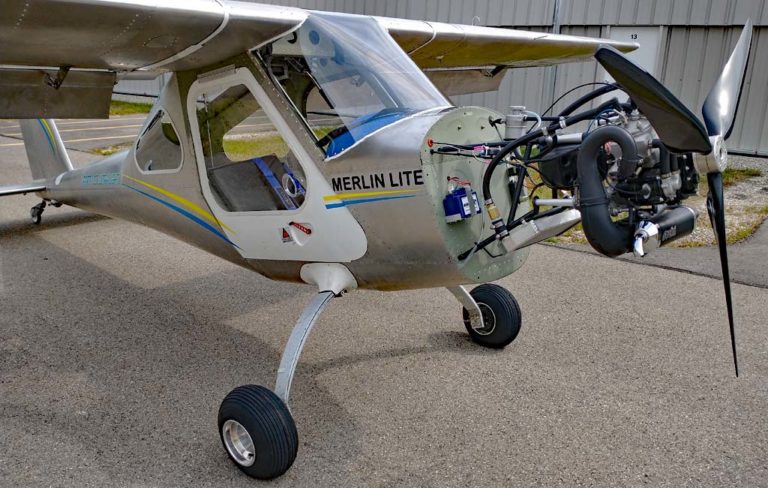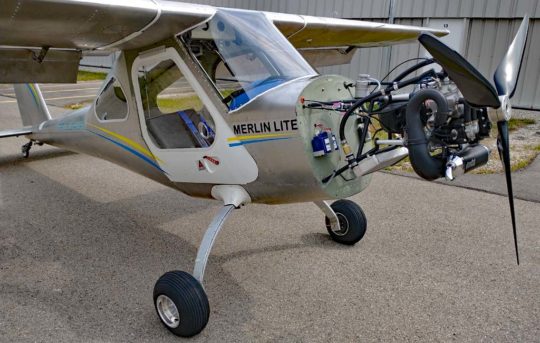 Chip believes his new Part 103 "magic" ultralight is truly revolutionary.
"This is not your 1980s ultralight," claimed designer Chip. "I know, I was there. Our new Merlin Lite has real aircraft features and appeal: seven windows, a cockpit door, decent baggage capacity and space, an instrument panel with an EFIS and GPS. And the list goes on."
Merlin Lite is available with either tricycle gear or taildragger, Chip reported, and features all-aluminum construction, dual independent hydraulic brakes, tundra tires, five-position flaps, pushrod controls with bearings, and substantial aft cabin area with the CG envelope to use it. "Deep deploying 50-degree Fowler flaps and tundra tires with independent dual brakes make the Merlin Lite an ultralight bush plane," he added.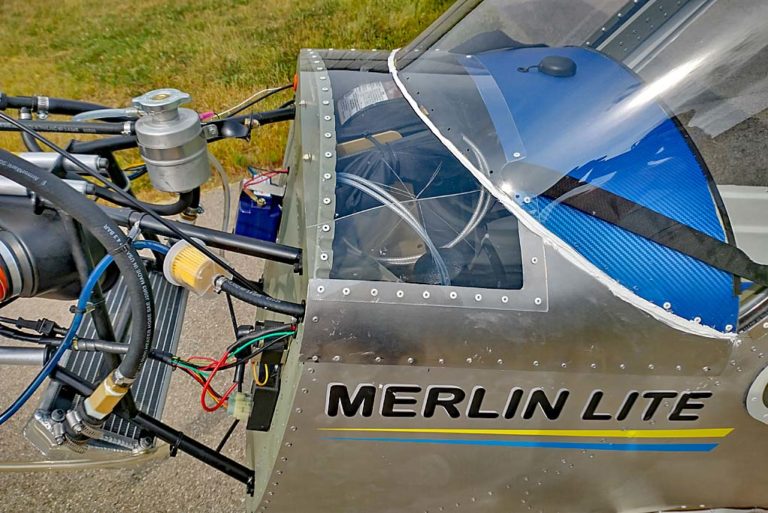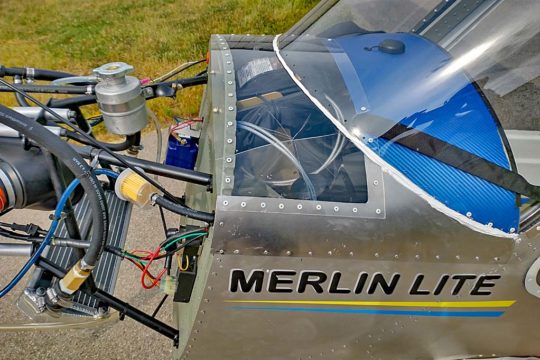 "Based on Merlin PSA, a popular single seat personal sport aircraft that costs less than $40,000 and cruises at 120 mph, Merlin Lite's cockpit is almost as large as the Merlin's, but the powerplant is scaled down and the 3-D tapered wing aspect ratio is increased," said Chip.
Merlin Lite is available completed and ready to fly away, or can also be built as an Experimental and flown with a Sport Pilot ticket, or even a glider certificate, flying Merlin Lite as a motorglider.
"Its cantilevered high wing means no lift strut," explained Chip, "making Merlin Lite quite easy to get in and out, a feature with increasing importance. Plus, the large baggage area can carry a full-size airline roll-on bag, camping gear, or even your favorite pet."
In addition to the enclosed cockpit with a proper door, air vents, and multiple windows, other "magic" features included in this true Part 103 ultralight are electric trim, an EFIS with artificial horizon and GPS, a dual-ignition, liquid-cooled, and electric-start engine with an EMS. The 12VDC system also includes a USB charger outlet for a phone or iPad. Options include cabin heat and defroster, Temperfoam seats, and long range fuel tanks (when building an Experimental Amateur Built version).
"We are offering an introductory price of $35,500 for a ready-to-fly Merlin Lite that includes a BRS-500 emergency airframe parachute system. The order book is now open and current waiting time (depending on configuration and options) is five months.
When configured as an ultralight, Merlin Lite meets the FAA's Part 103 rules, which means no license, medical, registration or certification is required.
The first public display will be at the Midwest Light Aircraft Expo in Mt. Vernon, Illinois beginning September 10, 2020. For further information Aeromarine LSA or e-mail Chip.
Is Merlin Lite
Affordable for You?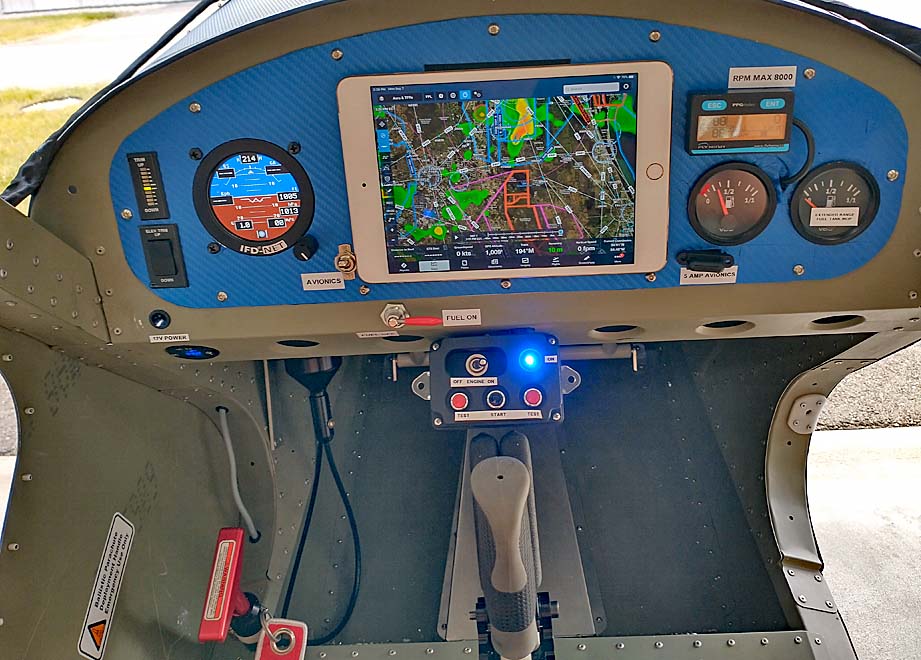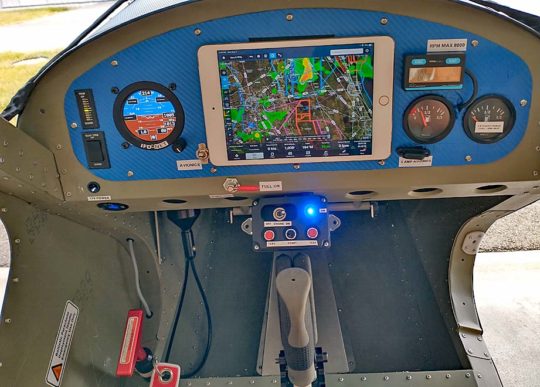 Merlin Lite finished and ready-to-fly — $31,000 equipped with electric-starting Polini 250DS two-stroke engine, carbon propeller, tundra tires, airspeed indicator, electric trim, hydraulic brakes, 12-volt power supply, engine instruments, fuel gauge, air vents, EarthX lightweight battery, and 4.15-gallon wing tank that "still gives 3.5 hours endurance, " said Chip.
To qualify for Part 103 a BRS-500 is required (FAA allows additional weight when so equipped), priced at $4,500
If you don't care about Part 103 privileges and want some options, here is what is available:
3.125-inch EFIS with GPS — $950
Second wing tank — $600
Painting — $2,500
Cabin heat and defroster — $450
Temperform seats — $350
Tricycle gear — No additional charge
Speed wing — No additional charge
Freight to USA — $2,000
Packing / crating — $500
If you want to save modestly and come to know your airplane more intimately, you can build it. Chip stated that Merlin Lite's airframe is "100% finished. A builder only need do the engine and panel."
Merlin Lite Quick-Build EAB airframe kit — $22,000
Polini 250DS engine and firewall-forward package — $7,000
Freight to USA — $2,000
Packing / crating — $500
Add it all up and you get a ready-to-fly price of $38,000 in the USA. Paint it and load it with options and the price may be about $42,000. Or choose a kit and save $31,500 base price or $36,000 with BRS parachute.
---
* More About Search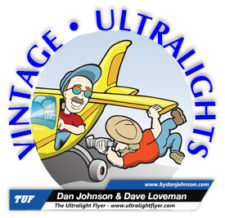 To find truly affordable aircraft, for one example, search for "vintage ultralights" you will be lead to our April 2020 series on ten super-affordable airplanes, all of which are available second hand for less than $10,000. You may not know that Search can be more specific. After you use Search, a page shows you whatever is found but you can drill down further — click "Try our advanced search option."
After your initial search, you will see, "Not finding exactly what you expected? Try our advanced search option." Click on the "Try our advanced search option" link and you can narrow the search to: 1️⃣ specific brands of aircraft manufacturers, 2️⃣ specific aircraft models, or 3️⃣ FI.R.M. List companies, meaning products and services that do not make airframes or engines. This Advanced Search is quite powerful to sift through more than two million words or hundreds of different aircraft reported on ByDanJohnson.com.
---
See Merlin Lite for the first time anywhere at Midwest LSA Expo 2020 in just a few days. Until then (or for those who cannot attend), here's a video review of the Merlin PSA.