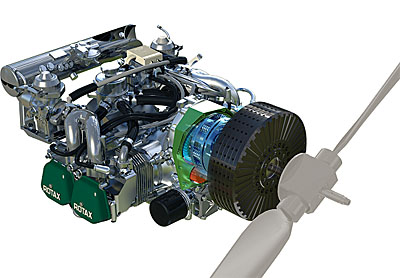 With our friends at the prestigious Flying magazine putting Airbus' E-Fan on their July 2015 cover, flanked by a major story inside, it seems everyone is following electric propulsion ever more closely. We've been doing it for a while as light aircraft are clearly the first place where electric power is best applied. Airbus may be planning an electric airliner but I don't expect to see that anytime soon. Meanwhile the giant builder of airliners is indeed pushing forward with a two-and four-seat E-Fan.
However, I see another use of electric motors that strikes me as very compelling, and in the very near term. I wrote about a Spanish project earlier and here is another.
Many years ago when I was a young flight instructor, I dreamed up an idea called JERA, the Johnson Emergency Rocket Assist, born out of a small rocket engine that some gearheads were applying to go-carts on steriods. My idea was to offer just a few minutes of thrust to allow a troubled airplane to find a safe emergency landing somewhere nearby. Like so many ideas, I never executed so you never heard of it, but the idea of emergency power remains desirable much like emergency airframe parachutes.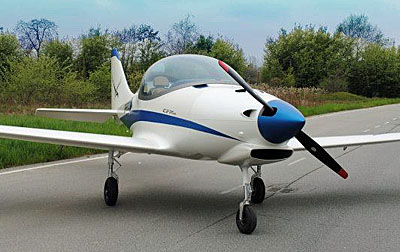 Israel's Ashot Ashkelon, Italian hybrid propulsion specialist Efesto joined with Italian light airplane manufacturer CFM Air, to develop a new Hybrid Propulsion System (HPS). According to the development team, "The system was designed for several aviation uses [among them] enabling additional flight time to prepare for an emergency landing."
Reportedly designed as a retrofit kit for the Rotax 9-series engines, HPS incorporates a new gearbox developed by Ashot, a new propeller shaft, a power converter, and controller. Hybrid propulsion elements provided by Efesto also include a high-capacity lithium-polymer battery with power management system for power storage. The whole system adds about 30 kilograms (66 pounds) in net weight, more than an airframe parachute but possibly adding sufficient safety value to justify a reduction in payload.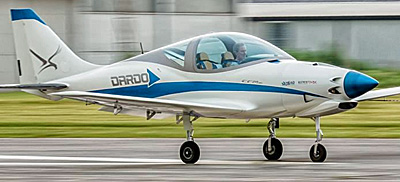 CFM Air develops and manufactures light planes such as the Dardo seen in the nearby photos. The company's chief test pilot is astronaut Maurizio Cheli, who trained together with the late Israeli astronaut Ilan Ramon and is also a fighter pilot in the Italian Air Force.
Some of the main benefits of the Hybrid Propulsion System are a significant additional power for launch and climb rate enhancement. Operating both engine and motor simultaneously increases the power available, shortening takeoff run and safely clearing obstacles at the airport.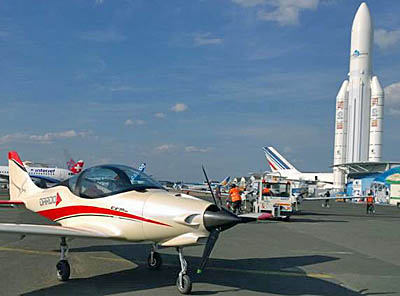 However, developers seem primarily focused on emergency use of HPS saying it adds, "a significant safety element in case of [primary engine] failure by providing extra flight time using the electric motor, also as a replacement for the Safety Parachute." Based on many years working with BRS Parachutes, I am certain HPS will not always "replace" the airframe parachute, for example, after a mid-air collision. Nonetheless, using HPS to solve engine failure or fuel starvation would be much less exciting than firing a ballistic parachute.
Safety is good, of course, but other uses can come with electric. For example, the Israeli/Italian team observed, "In addition, there is the thrust reversal mode for propellers using the electric motor, which makes it possible to stop quickly to shorten landing roll and extend the lifespan of the brakes, and the ability to charge the batteries and save energy."
On landing, they say the electric motor can be operated in counter-rotation mode, providing thrust reversal for shorter landing runs. The electric engine can also be used as an alternator for battery charging and as a starter for the main engine. Electric propulsion can also be used in the air, providing active vibration damping for smoother, low-level flight.
Developers said HPS provides the pilot with six minutes of critical flight time after engine failure, which they believe should be sufficient in which to find an emergency landing site and set down safely operating on electrical power only. HPS is currently offered for the Rotax aircraft engines used by some 200 light aircraft types worldwide.
My JERA might have been lots lighter (if a tad more dangerous with rocket fuel). Yet it never made it to market while the Hybrid Propulsion System is something you can actually consider.