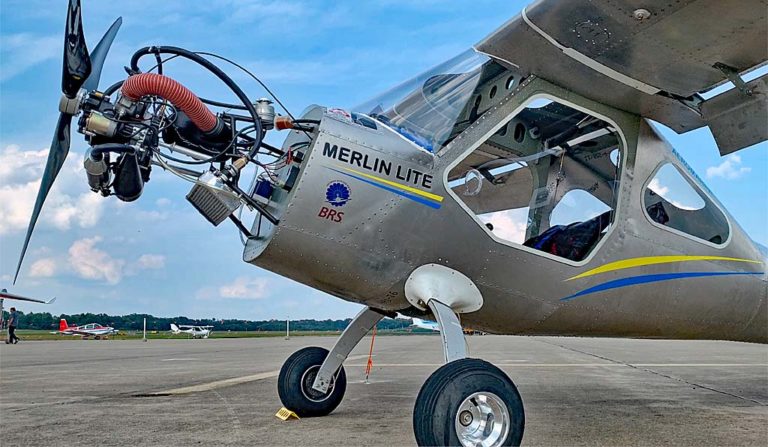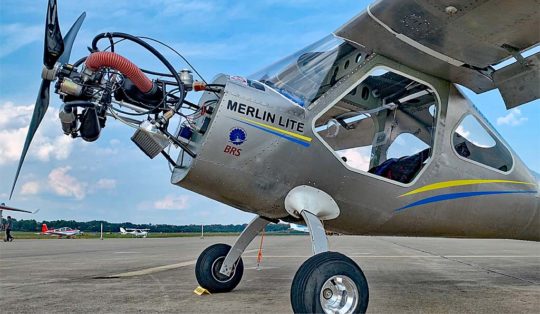 The most popular article of this crazy year — when people have been visiting in record numbers — was about Aeromarine-LSA's Merlin Lite. Tens of thousands of you devoured this article within days of it being posted.
The word sensational is vastly overused in modern American society but in this case the word fits the intense interest in Merlin Lite. For the back story, see the article in this link.
Despite obvious enthusiasm for this new Part 103 entry, many of you were skeptical. No wonder. An all-metal, fully enclosed aircraft does not closely resemble many of the other Part 103 aircraft that are selling briskly over the last few years. If you were among the doubters this post — and the video below — may serve to allay one of your concerns.
Weighing Merlin Lite
Developer Chip Erwin came to 2020's Midwest LSA Expo prepared to tackle the hesitation in pilot's acceptance of Merlin Lite as a legitimate Part 103. He brought six bathroom scales plus a fish scale to the show.
On opening day, I jumped at the chance to prove to myself and readers that Merlin could actually make weight.
To be thorough, weight is not the only consideration. Merlin must also make the speeds of Part 103: a 55 knot level flight maximum speed plus a maximum 24 knot stall. As you will hear in the video, Chip needs to tweak the configuration slightly to assure Merlin Lite does not fly nor stall above limits. He referenced 75 mph cruise speed and a slow speed of of 30 mph. Both are too fast, though just slightly.
In a longer video interview to follow, Chip states that he sees no problem in meeting the speed. Not going too fast can be controlled by the right prop setup, especially since the design is already close; top speed can likely be governed by a two-blade, pitch-oriented prop or other alteration.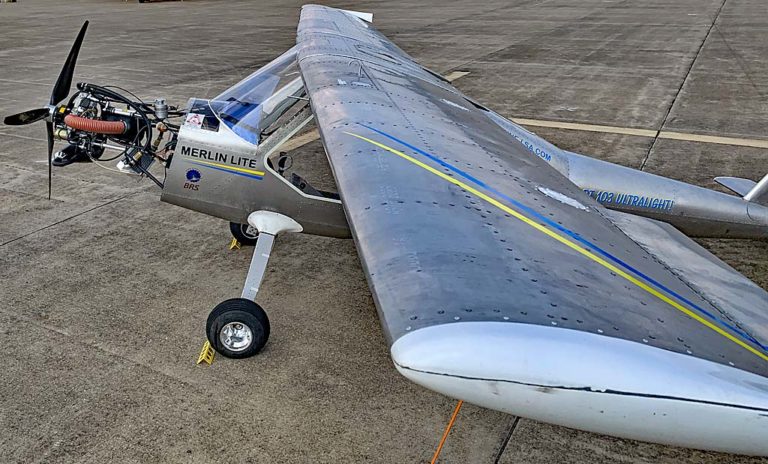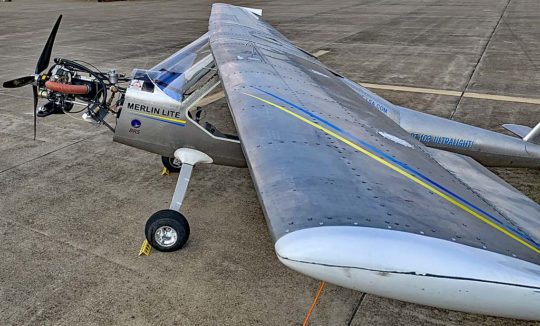 Getting stall down to 24 knots (27.6 mph, where Chip saw "30") is tougher but with full flaps, it will be closer; he reported using deep but not full flaps ("32°" when 50° is available). However, a surer way to achieve the right speeds may be a longer wing that is already built and has flown; see the engineering drawings (below video). Weight from a longer wing may require that the pilot fly without the door, but Chip believes room still exists to lighten Merlin Lite enough for buyers to have it all — full enclosure including door, engine cowl, and most or all of the options seen in the photos and video.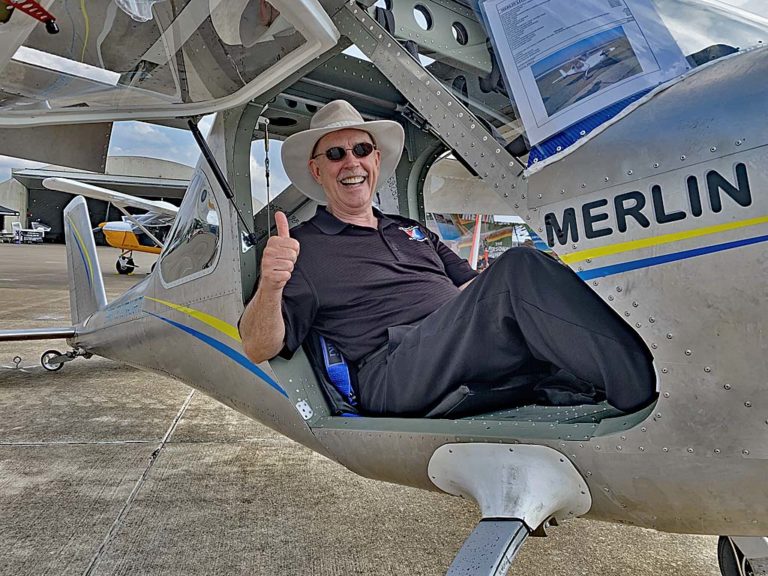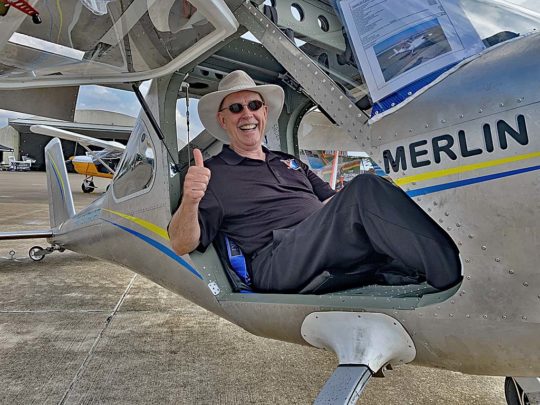 The video documents the weighing action conducted inside a hangar that Mt. Vernon airport manager, Chris Collins generously provided so Merlin Lite was not affected by wind. Although I witnessed this using bathroom scales, I checked these with my own weight to see they were within one pound or so of one another (about one-half of one percent deviation). However, Chip will shortly perform a formal weighing using certified scales and an official observer. He's confident Merlin Lite will still qualify and based on what I saw, I agree.
Flying Merlin Lite
Within a short time of returning to his base of operations, Chip took Merlin Lite aloft for its first flight. The video below captures this and shows the aircraft performing well with its Polini Thor 250 engine.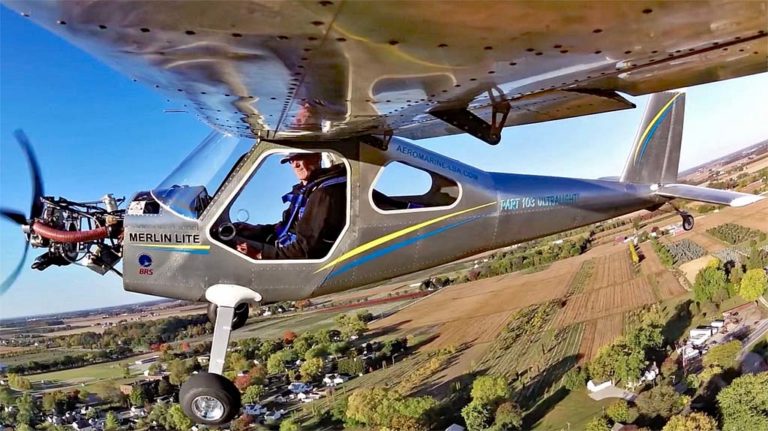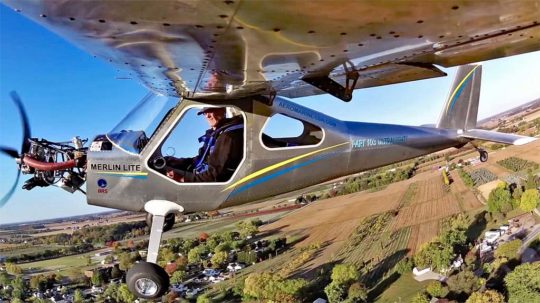 Thor 250 outputs 36 horsepower from a single cylinder that Evolution Trikes boss Larry Mednick describes as a smooth running engine that rivals Rotax's 912. That's a big statement but it appears this Polini powerplant dominates the market for the lightest aircraft. Evolution's Rev uses this same engine.
Powered paragliders embraced the engine years ago and the company sells thousands of engines every year. Here is a page of full specifications on the Polini line from Miami-based Aerolite.
The video spells out some detail in the weighing exercise at Midwest 2020 and provides several clips of Chip's first flight in Merlin. Enjoy…!
---
This video show views of the Merlin Lite but also the weighing of the aircraft, proving it can make Part 103 weight.
---