As everyone on the planet knows by now, aviation has nary an airshow in sight. Even AirVenture Oshkosh — still planned at this writing — is hedging their bets amid the uncertainty, saying they will make additional decisions in the weeks ahead. Most of us who love (and rely on) these aviation events certainly hope OSH'20 can go on as planned. It will be wonderful to get back into a familiar routine.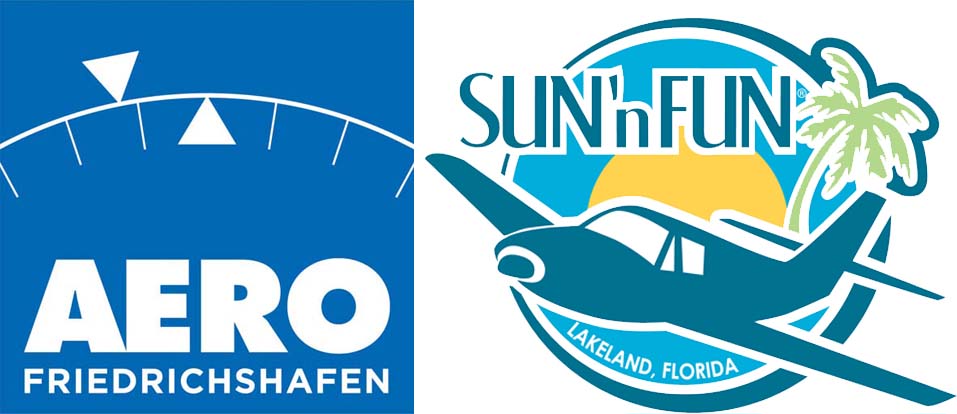 Meanwhile, I have been producing more content here on ByDanJohnson.com so everyone sheltering-in-place can at least fantasy fly their favorite flying machine. I will also continue with the "Virtual Aero" or "Virtual Sun 'n Fun" articles. In fact, next up after this one will be a post about new aircraft you would have seen in Lakeland, Florida in May …before Sun 'n Fun regretfully* called it off until 2021.
One company, Flight Design ga, offered a "virtual press conference." The company said, "As all airshows are postponed, we chose this way to inform you regarding the current developments at Flight Design. We are also available for individual phone calls." In America, contact Flight Design USA or Airtime Aviation.
CTLS 2020
CTLS 2020 is a balanced combination of the well proven CTLS with technical and aerodynamic upgrades along with a new exterior and interior look.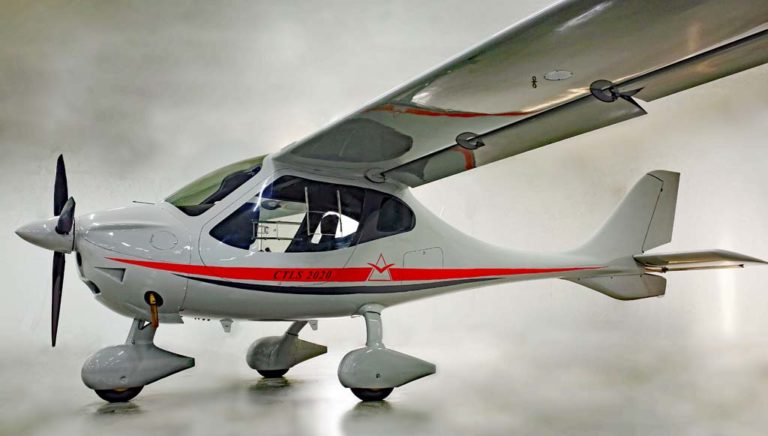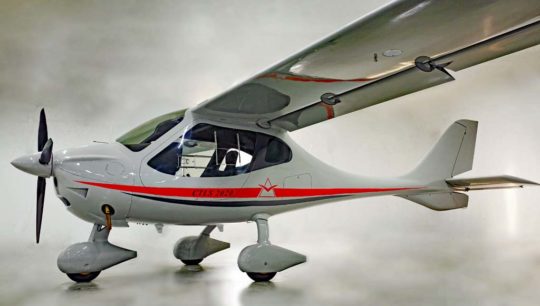 Changes for 2020 include a reshaped and longer cowling, Blackline propeller with new spinner, fully integrated landing light, and an additional NACA inlet to improve cooling. Other aerodynamic improvements include new landing gear legs with internal brake lines and new low drag wheel fairings. This all leads to significantly reduced drag and an increase in maximum speed. The company reports, "[These] aerodynamic modifications have made the CTLS 2020 nearly 10 knots faster!"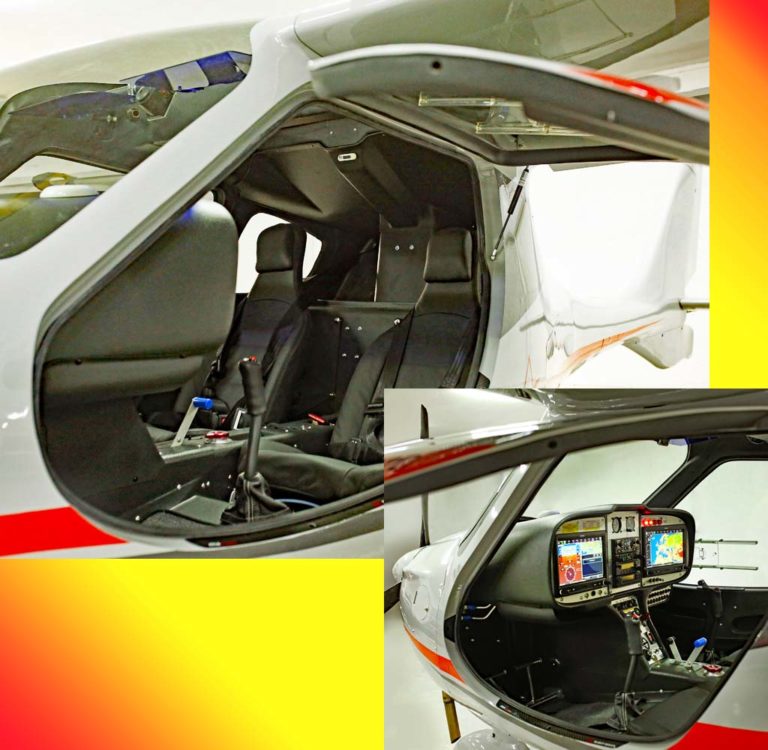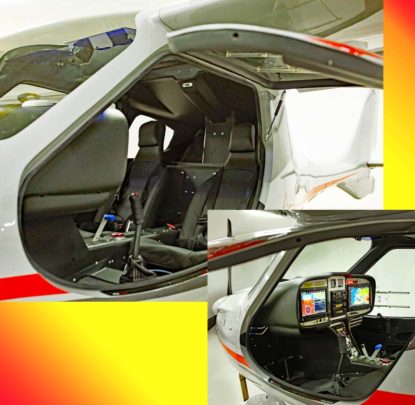 A new Garmin G3X avionic suite with a more powerful Garmin radio and transponder, gives increased situational awareness. Combined with the Garmin GMC 507 autopilot and its pilot assistant function, additional safety is available for regular flight operations.
The interior of CTLS 2020 has also been upgraded using a Garmin GMA 245 audio panel with USB charging port, Bluetooth connection and Garmin's "home theater" top-end quality sound makes flying more comfortable. Flight Design's new "Royal Black" interior treatment coordinates with a new "jet-gray" base paint on the exterior. All previous CTs used a white base paint with graphics overlaid.
F2 and F2e
I previously reported on the German manufacturer's new F-series aircraft. Here's a short video review.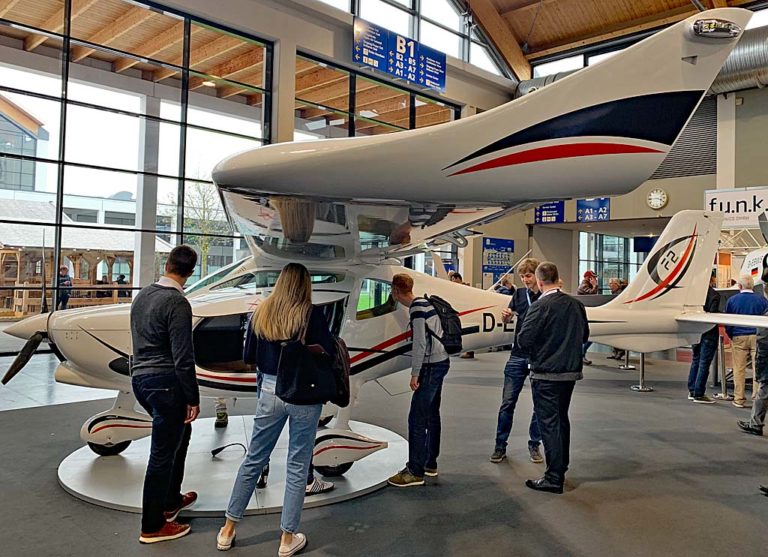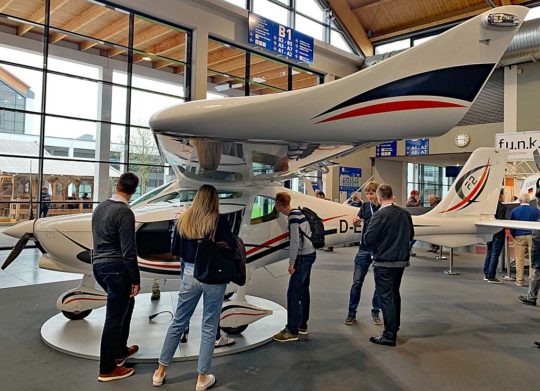 "Our F2 Light-Sport Aircraft model is fully ASTM-compliant after fine tuning," noted the company. "Our first airplanes will be delivered to customers in June 2020. Careful engineering allowed us to bring this complex airplane under the maximum allowed take-off weight (of 1,320 pounds or 600 kilograms)."
For European consumption, Flight Design is pursuing CS-23 approval (similar to FAA's Part 23) for their two seat F2, however, this model will be able to fly at 650 kilograms (1,430 pounds) of maximum takeoff weight when it is granted a CS-23 certificate. "We think this will be ideal for modern flight schools and private pilots," the company stated.
Construction of Flight Design's newest uses a new composite supplier, Hexcel.
More than 2,000 CT-series aircraft are flying today. The German producer has always relied on vacuum-pressured, wet-laminate carbon fiber structures to reduce airframe weight.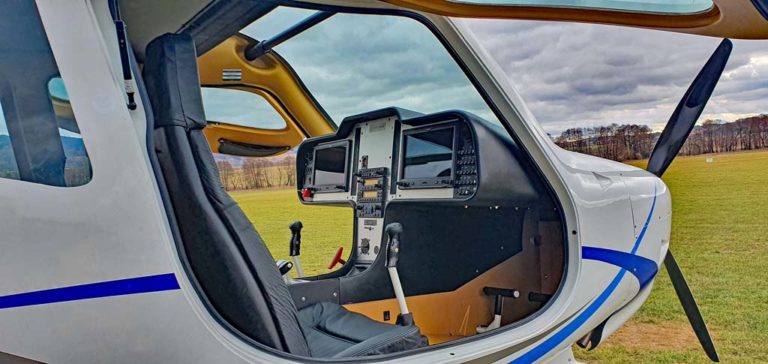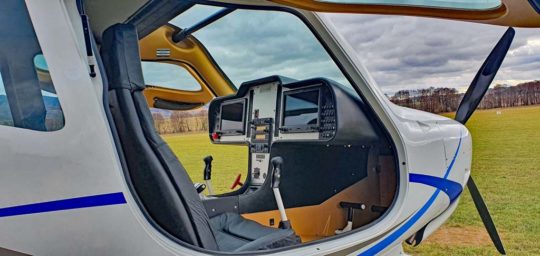 Late in 2017, a Flight Design review concluded that prepregs could deliver a more consistent final product by ensuring constant material quality and processing parameters and could produce a lighter and stronger aircraft at a more competitive overall cost. The low-temperature cure could be done outside an autoclave. The latter reduces tooling costs and can boost build rates. Following careful analysis, the company went with Hexcel. Prepreg materials — "pre-impregnated" composite fibers have an epoxy material already present — were first used for the F2 prototype.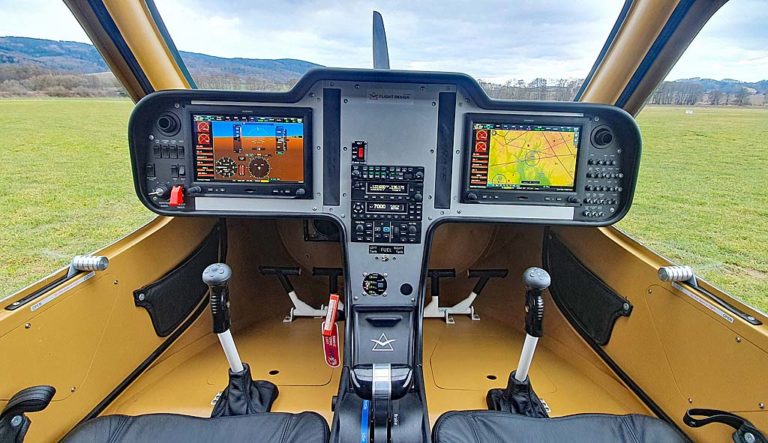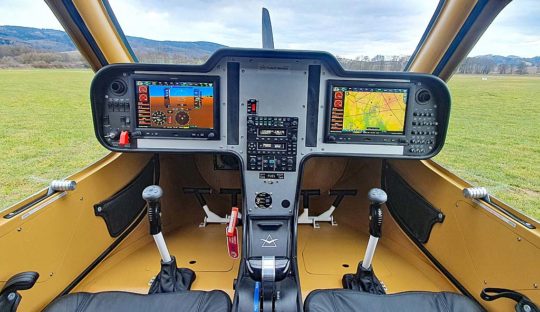 Flight Design began to review the market for available material options with a key part of its strategy to find and qualify a prepreg system that is not traditionally used in higher cost autoclave production for aerospace applications.
The German airframe maker said, "Hexcel has been a major supplier of advanced composite materials to the aerospace market for more than 70 years including for Boeing's 787 and Airbus' A350 XWB. "We chose Hexcel as our key supplier, adopting one of the company's low-temperature-curing prepreg products for our aircraft production."
Carbon Offsets Program
Being particularly keen on reducing carbon in the atmosphere, Flight Design bosses wanted to take strides to further their goals in this regard.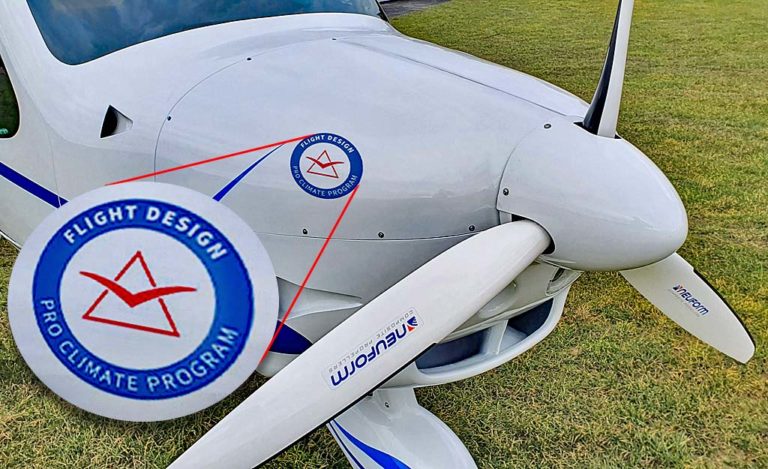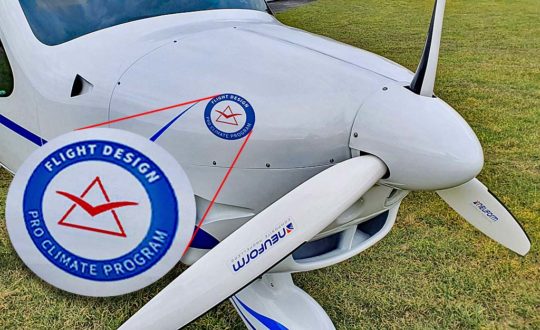 Already in operation since March 1st, Flight Design will "offset" the carbon emissions from the fuel burned by their airplanes  during the first 2,000 hours of operation. They'll do this by employing the Rotax 912 iS Sport engine that uses much less fuel per hour than older GA training models powered by legacy aircraft engines.
Beginning in 2021, their two-seat F2e ("e" for electric propulsion) will allow professional flight-schools to build a hybrid fleet with advanced CO2 compensated and pure electric flight aircraft.
For their conventionally-powered four-seat F4 in development, Flight Design has switched from an older, less efficient engine to the new Rotax 915iS.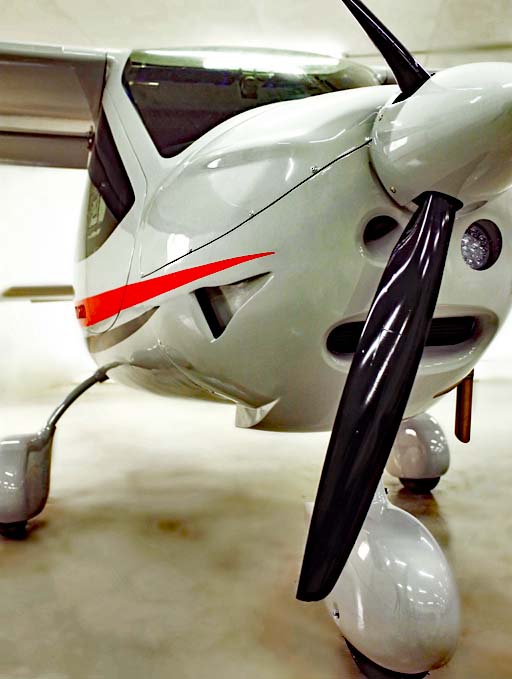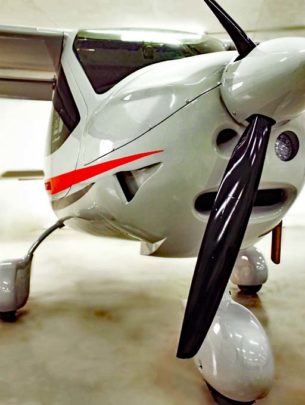 Offsets will come from cash contributions by Flight Design to programs that meet internationally-accepted standards. Funds will be deployed to planting more trees and other actions that consume CO2.
"We understand that the percentage of carbon emission by private flying of small aircraft is not very much," Flight Design said, "and we know people still discuss the real influence of CO2 emissions but taking responsibility is our way to enjoy flying without any regrets."
Flight Design credited help from Rotax to their goals. "Carbon emission offsets will be based on tests made by Rotax. These tests will continue until BRP-Rotax confirms the final results. Afterwards the procedure will be validated by an international testing organization. We are very grateful to BRP-Rotax for assisting the aviation community with reliable data to enable this program."
---
* for events like Sun 'n Fun and Aero — as with most organization-sponsored airshows — their big annual events provide a substantial share of their yearly budgets so cancelling is something they do with great trepidation and only after very careful consideration. We hope for the best for these vitally-important events and hope they can make their finances work going forward.