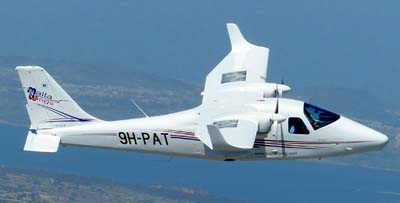 Italian company Tecnam has been a leading producer of Light-Sport Aircraft since the beginning of this newest aviation sector. Early distribution arrangements proved less than optimal so, like any progressive company, Tecnam retooled … and retooled again. In 2014 it appears they finally dialed in the correct lock combination. While keeping their friends at former distributor Heart of Virginia Aviation, they installed a factory presence at the top of the pyramid. A new factory-operated facility at the Sebring airport was announced at Sun 'n Fun 2014. At the same time Shannon Yeager was hired to run the Florida center. As the year comes to a close, I called Shannon and asked for a summary of how things are going for Tecnam U.S. Inc. In particular I wanted to know how their 10% down program was working. When I first reported this, I found it a compelling answer to the concerns many American buyers have regarding the common need to send many tens of thousands of dollars overseas for an extended period of time. Tecnam proposed to significantly change that, asking buyers only to put down 10% of the purchase price with no balance due until the airplane was in the USA with N-numbers and FAA airworthiness certificate, test flown, and completely ready for delivery. I though it a game changer but how's that working?
Short answer: Based on a ten month track record, Tecnam forecasts U.S. deliveries of 34 airplanes in 2014. Shannon reported sales were split evenly between the P2008 LSA and the Part 23 approved Twin. By any measure in the post-2008 recession period, that is a reasonable performance and one likely to accelerate next year. Shannon noted that while interest is very keen, none of the new Astore LSA models were among those counted for their Sebring operation sales. The company debuted their sleek new low wing LSA at Sun 'n Fun, however, it went through a few final design changes so American deliveries of Astore are "just now beginning," said Yeager. Aircraft like Tecnam's Twin aren't the focus of this website and cost half a million dollars, but the model sports two Rotax 912 engines very familiar to all of us and it has secured a place in the market. At roughly (and amazingly!) half the price of a loaded Cirrus SR22 turbo, Tecnam's Twin represents quite a value. Shannon noted that Cessna 182 owners trading up to Twin get the same or better fuel economy with twin engine safety plus a bit more speed; cruise is about 150 knots in the light twin. About half the GA models are involved in leasebacks.
Tecnam's strongest LSA seller is the handsome part-composite, part-metal P2008 but I was surprised to hear that 80% of those Light-Sport models are being delivered with the Rotax 914 turbocharged engine. This noticeably bids up the price over the carbureted 912 ULS but it delivers higher power that remains steady even as density altitude increases. "For those flying in more demanding environments (locations with high heat, humidity, or elevation), the 914 provides steady boost," according to Shannon. "We state ground roll at 300-400 feet and climb at 1,200 fpm." He observed they remain very pleased with the performance for the 912 ULS and for buyers holding to a budget that engine remains the most economical choice. (Those on the leanest budgets should be pleased to hear that Tecnam offers a very modestly priced Echo Classic Light LSA for around $80,000.) "Add about $10,000 for the fuel injected, fuel miserly 912 iS Sport," said Shannon, "or another $15,000 for the 914 turbo." In addition to performance numbers, Tecnam models have earned a widely accepted reputation for good handling.
As we spoke, I directed Shannon back to what he calls the "10/90 plan," the payment method I thought could be a game changer. People like it and indeed, why not? You select a Tecnam model; they have a large range from which to choose. Let's say it retails for $150,000 so you plunk down $15,000 and wait. They guarantee you won't wait more than 180 days or you can get your deposit back. "We have skin in the game," explains Shannon. "We have to spend much more than the 10% to build a plane, put an engine on and install avionics, plus ship it to Sebring. Therefore, we are committed to delivering your airplane." The engine alone costs Tecnam more than the deposit you pay, so Shannon is right; buyers have less at risk than Tecnam. The company has to deliver the airplane to make a profit but buyers need send only a smaller fixed amount to Italy while their airplane is built. You probably won't wait the guaranteed maximum of six months. "The norm has been four and a half months," said Shannon. So, by my reckoning, this company is playing their best game yet in the U.S. market and 2015 may be a breakout year for Tecnam U.S. Come to their home field for the Sebring Expo and check out the company and their facilities for yourself.