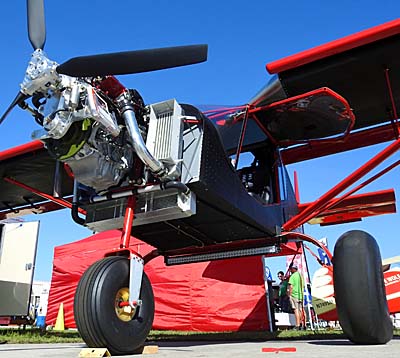 On a single day of recording several videos at Sun 'n Fun 2018, Videoman Dave and I came across two light kit aircraft designs operating as STOL — Short Take Off and Landing — aircraft. By itself that is hardly unusual. STOL designs are plentiful and popular.
However, when you hear that two STOL-focused airplanes will be flying from Florida to Alaska, that's something else entirely. Flying from one corner of a big country to its diagonal opposite is a fairly significant undertaking. Depending on routes chosen, this is well beyond a 4,000-mile flight. Let's see — at 80-90 mph an hour …well, suffice it to say, that's a lot of flying, 40+ hours, each way, would not surprise me.
Viking 180 Horse on Zenith Super Duty
At Sebring 2018 Zenith Aircraft showed their Super Duty version of their CH750 high wing, a STOL airplane equipped with a large engine and tires to match. Zenith's show example grosses at 1,900 pounds.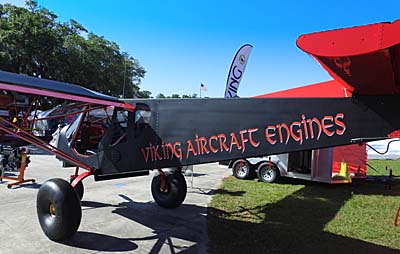 Viking Aircraft Engines takes a Honda block and sets it up as an aircraft powerplant. Many homebuilders have installed them since the company reorganized in 2010. Their powerful engines have done well at STOL competitions at the Zenith factory, so principal Jan Eggenfellner decided to increase the tempo.
The Florida company is promoting its 180 horsepower version today. To more dramatically show what their engine can do, Viking built their own Super Duty kit, painted it distinctively in red and flat black, and installed one of the big powerplants paired with giant Alaska tires. Even the nose wheel is a very large tire.
"We're taking it from Florida to Alaska and will participate in the Valdez STOL competition," said Jan. "We are not going [expecting] to win but we want show what our engine can do."
He and his staff have been planning the long trek that will begin mere weeks after Sun 'n Fun 2018 concludes.
Belite Aircraft Chipper STOL
On the other side of Sun 'n Fun 2018, Belite Aircraft main man James Weibe has concentrated his efforts on his latest Chipper side-by-side design. This configuration may be his most successful yet with a reported 19 kits in construction and another dozen in purchase process, according to James here in Lakeland, Florida.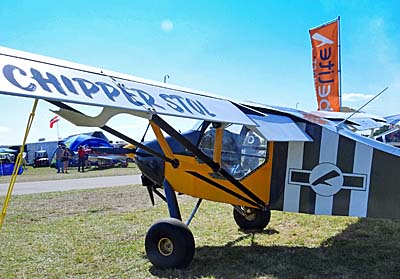 He has altered the wing to be all metal with a bonded adhesion that leaves the metallic upper surface as clean as a composite wing. Fat tundra tires fitted to the show example gave the taildragger a gutsy appeal.
Chipper STOL is powered by an 80 horsepower Rotax 912 UL that has provided great performance for the lightweight machine (600 pounds empty).
However, James has added components from Edge Performance of Norway (U.S. dealer) to boost power to 114 horsepower.
Equipped with added power, a more efficient wing, and leading edge cuffs, Chipper may be able to give a run to aircraft in its class in the Alaska contests.
Weibe will first return to Wichita, Kansas before setting out for Alaska. That cuts off a long leg but he will still have quite an adventure flying all the way to Anchorage and Valdez.
Alaska Airshows in May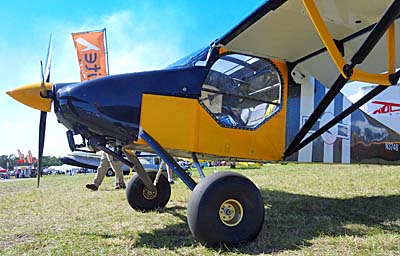 The events triggering the long distance migration by Viking and Chipper are the Alaska Airman show in May— held in the cavernous FedEx hangar plus outside displays — plus the Valdez STOL competition.
Now in its 21st season for 2018, the Great Alaska Aviation Gathering is Alaska's premier aviation event with nearly 300 exhibitors and 25,000 attendees. "Alaska is the 'flyingest' state in the union [and can boast] more pilots and aircraft per capita than anywhere in the world," say organizers. It will occur in 2018 on Saturday and Sunday, May 5th and 6th.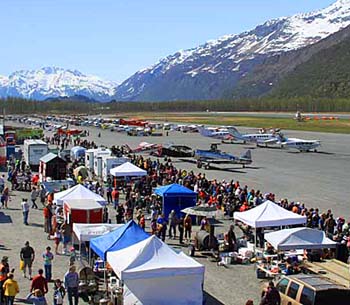 One week later comes the Valdez Fly-In and Air Show, Friday, Saturday, and Sunday, May 11th, 12th,  and 13th. In the 2017 running of Valdez, approximately 200 airplanes flew in and more than 2,500 people attended the event on Pioneer Field in Valdez for the 14th Valdez Fly-In and Air Show. EAA spokesman Dick Knapinkski was quoted saying, "Alaska is the epicenter of STOL activity."
I attended the Alaska Airmen's event some years ago to find the state southern regions emerged from winter. Days are long — I went out to go fly a trike on floats at 11 at night and flew for 45 minutes landing just before midnight with plenty of light to do so safely. Since transportation in the vast state is utterly dependent on aviation, a very high percentage of state residents are pilots and I have never seen so many aircraft on floats …or skiis if you're brave enough to stick around until fall when winter again arrives.