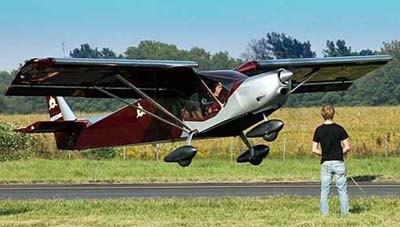 Engine suppliers must love Zenith Aircraft, perhaps as much as their many airframe owners. For 23 years, the kit company based in Mexico, Missouri has supplied about 200 kits per year to buyers all over the country and around the world. That is a selling performance any light airplane company would like to boast. One reason for their success is their support of a variety of engines, no small feat considering each engines has special qualities to be considered when installing and using them. Good for Zenith for going the extra mile. One of the many engines they support is the Viking Aircraft Engine from Edgewater, Florida on the Atlantic side of the Sunshine State. Zenith also supports engines from Rotax, Jabiru, UL Power, and Continental. See the video below covering the short field takeoff and landing competition on a pretty, sunny day at the Mexico airport.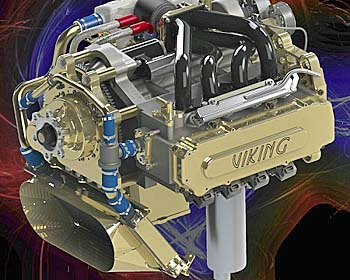 Zenith reported, "Winning performance by Jan Eggenfellner flying a Zenith STOL CH 750 powered by a Viking 110 engine." To win the competition you had to do well at both takeoff and landing, an appropriate way to show off the potential for Zenith's high-lift CH 750 STOL. Jan won the contest with a very impressive 219 feet, comprised of a takeoff at 110 feet and landing in just 109 feet. Of course, as an engine producer this was very satisfying as he flew a handsome burgundy CH-750 powered by one of his Viking engines producing 110 horsepower. As do other powerplant providers, Viking works to assist buyers with is often called a firewall forward package, sometimes containing a nose cowl that encloses the engine that can help performance. Despite some challenges beginning this company (see last paragraph), Viking has successfully installed engines on several aircraft types (nearby photo). At the Missouri Open Hangar Day event, four Viking-powered Zenith models attended including three that made the lengthy trip from Florida plus another from Ohio. Three CH 750s were joined by a low wing CH 650.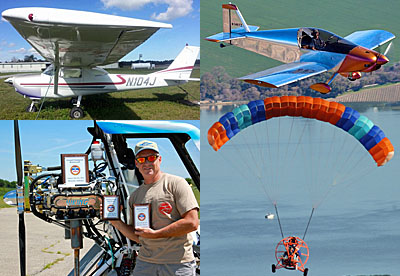 Viking offers a bit more power than the Continental or Rotax engines that lift so many Light-Sport Aircraft in the USA and around the world. UL Power can provide several engines with even more power but Viking prides itself on the performance achieved by their attractive powerplants. The Florida company reported that a Cessna 150 using a Viking engine with a custom cowling can cruise at 135 mph even without wheelpants. That's impressive. I once owned a Cessna 150 with a 150-horsepower Lycoming engine that didn't cruise that fast (though it did empty the standard fuel tanks in a couple hours). One builder of a Van's RV-12 sent airspeed indicator photo proof of cruising 145 miles an hour with the Viking, though we didn't hear the atmospheric conditions at the time. A Sonex reportedly can achieve 170 mph in the speedy, low-cost design from Oshkosh Wisconsin and a Just Aircraft model likewise sent a photo of his ASI showing 115 mph. On the other end of the spectrum, at least one powered parachute operator fitted the Viking … but speed isn't a factor. Powered parachute speeds are dictated by the canopy wing, not engine power. The Florida engine maker reports fitting 32 air frames in their five years of existence. See our video for more details about Viking.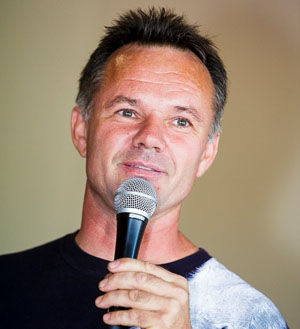 Jan Eggenfellner (photo) is the designer of  the Viking Aircraft Engine. For 15 years, from 1994 to 2009, he built and sold aircraft powerplants based on Subaru engines. His goal was to hold down the cost of engines, which as any homebuilder knows, can be a significant investment. By his own telling, a low profit margin and a worsening national economy drove him to bankruptcy in 2009. He wrote, "Some customers lost money. I personally lost everything, providing refunds until no money was left." In 2010, he restarted his engine business based on a Honda block and remaining Subaru parts. "Some interest was gained by showing the engine at a local airshow for Light-Sport Aircraft," he wrote. "An initial cost of $9,900 brought enough customers onboard to form a new company." The Viking engine project was started and financing secured. Today, Jan reported, "Viking Aircraft Engines, LLC is a sound company with 11 people actively working to produce engines in Florida." Reflecting on the earlier enterprise, he admits, "I am sorry that my previous company was unable to survive. I have some critics." He requests that potential customers "ask any Viking Aircraft Engine owner" and to that end, he provides comments from buyers on his website.
Catch the STOL competition fun in this video from Zenith Aircraft.