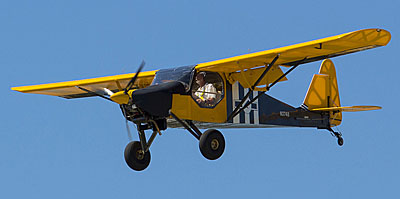 Belite entrepreneur James Weibe has successfully used his tech industry background to raise interest for his latest project, this time his first two seater called Chipper. (It was named Pipper but that apparently energized the anxieties of Piper Aircraft lawyers so James altered the name.)
James has informed his Facebook and email readers with continual updates. After making initial flights fairly recently, he has judged the aircraft able to make a cross country flight.
Chipper uses power from the 912 Rotax, but rather than the more common 100-horsepower ULS model, James is using one of my favorites, the 80-horsepower, regular-autogas-burning version. I like it because for lighter aircraft, such as Chipper, this 912 has plenty of power and it is about as trouble-free as any aircraft engine I've ever flown.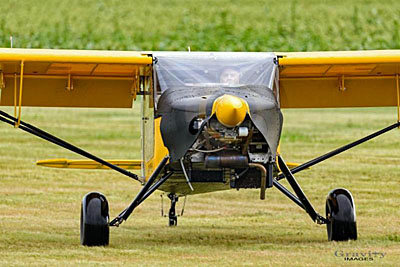 "I flew Chipper to Angel Fire, New Mexico," James exclaimed. "I flew nonstop one way (960 miles roundtrip) from Wichita, Kansas to Angel Fire, performed flight tests, and then returned to Marion, Kansas before the sunset." Now that's a good day's flying.
"Angel Fire is the fourth highest elevation airport in the United States at 8,322 feet above sea level," James reported. "Density altitude was 10,400 feet." Three conditions can degrade aircraft performance at altitude: higher elevation, higher temperature, and higher humidity. The latter is not much of a problem in desert-like New Mexico but all affect aircraft performance. (Humid air, made up of water vapor, is less also dense.)
In my experience, operating at more than 10,000 feet density altitude causes a Cessna 150 or 172 to take significantly more runway to get airborne and climb performance can be sharply reduced.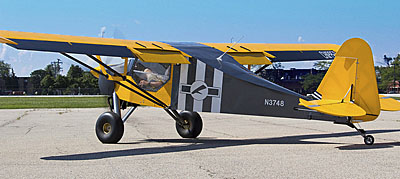 "Chipper's takeoff roll length was 600 feet," said a proud James. "Why did they make the runway 8,900 feet long at Angel Fire," James wondered with a twinkle in his eye?
"Climbout was greater than 200 fpm," he added. Now that's not nearly as fast as a 80-horsepower Chipper would perform at sea level but it's better than a Cessna 150. "Everything in the pattern was normal," James continued, "it just took longer to climb."
For his evaluation, Chipper's test weight was 950 pounds. He observed that a normally-aspirated (carbureted) 80-horsepower Rotax develops 52 horsepower at Angel Fire's pattern altitude.
Interested in Chipper?
Not only are Belite's performance numbers for the Chipper shaping up well, the purchase price has also remained within the "affordable aviation" range. Here's a few figures:
$10,495 — taildragger airframe kit (1,000 pound gross, 80-horsepower max)
$11,995 — taildragger airframe kit (1,200 pound gross, 100-horsepower max)
$2,595 — taildragger finishing kit (1,000 pound gross, 80-horsepower max)
$2,995 — tricycle gear finishing kit (1,000 pound gross, 80-horsepower max)
$3,195 — taildragger finishing kit (1,200 pound gross, 100-horsepower max)
$3,695 — tricycle gear finishing kit (1,200 pound gross, 100-horsepower max)
This pricing is locked in with your $500 deposit, but you must take delivery this year.
5 gallon fuel tanks —" $900 per pair
14 gallon fuel tanks — $1,400 per pair
Any Radiant instruments with purchase of a Chipper kit — 25% discount. James said, "This does not include the radio, transponder, or ELT, but you can put together a very nice Radiant panel for less than $1,000."
Belites recommend Oratex fabric (see video) and DUC Hélices propellers.
Some items, such as engine cowls for either Rotax engine or engine mounts will be determined later.
Prices do not include: engine, propeller, mount, cowl, instruments, fabric, paint, glue, etc.
See our Sun 'n Fun interview with James Weibe below…
Learn more about Oratex aircraft covering fabric in this video: