Videoman Dave and I never left Paradise City's exhibits in our first day of video interviews. Yet we found several airplanes worth reviewing that fit comfortably into the affordable aviation space this website reports.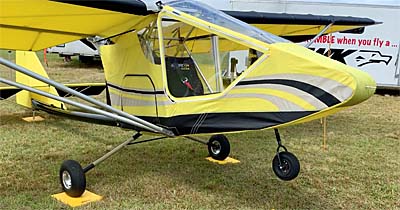 Hawk Ultra — Despite some speculative rumors, all is well with the dual CGS Hawk project involving two-seat Hawk specialist and primary components fabricator Terry Short paired with the father and son team of Bob and LB Santom handling the single place Hawk 103, Hawk Ultra and Hawk Plus.
Hawks developed a strong following in the U.S. and several countries with more than 2,000 flying. As the design emerged in 1983, it was only single place. Once Part 103 aircraft were growing and need for a two-seat trainer became apparent, the Hawk Arrow series debuted in several variations. With one or two seats, Hawks won a place in the hearts of many aviators and that continues unabated to this day.
In our interview with Bob, he related that the example pictured nearby flew into Paradise City's grass strip and they are ready to launch into production of the modestly-priced aircraft.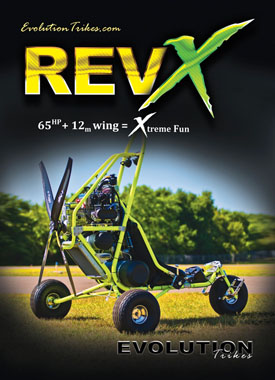 RevX — Evolution Trikes has now broadened their line to four trike models: Revo, the top-of-the-line deluxe cruiser; Rev, a Part 103 entry that folds up compactly and securely for trailer transport; Revolt, the tough two-seater to bridge the expanse between Revo and Rev; and now, the newest, RevX, a powerful single seater.
Even with most desirable features delivered as part of the base package, RevX is a relative bargain at around $33,000. Multiple positive qualities suggest RevX could be a big seller but perhaps the real value is how well it performs.
A Rotax 582 with 65 horsepower gives RevX a very short launch roll and steep climbs but it may be the smaller 28-foot-span, 12 square meter wing with its higher wing loading that leaves Evolution factory pilots grinning from ear to ear after a flight.
Given its weight with the beefy Rotax, RevX must be delivered as Experimenter Amateur Built but Evolution offers a Builder Assist operation to help do the job quicker and better.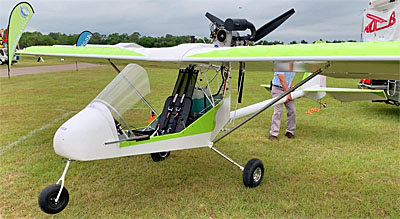 Trifly — As is the case for other producers of Part 103 aircraft, Kolb Aircraft boss Bryan Melborn reported strong business with Firefly, the long established airplane manufacturer's leading model. Like nearly all Kolb Aircraft, Firefly is a taildragger …although the company's models represent some of the easiest-to-handle taildraggers you'll find in all of aviation.
Cool as taildraggers may be, the fact remains that most pilots trained in the last couple generations have overwhelmingly learned to fly in tricycle gear aircraft. Most have zero experience with taildraggers but they've heard stories about ground looping and other challenges of handling taildragger designs. To address potential customers telling him they were unsure about their success with a taildragger, Bryan engineered a tricycle-gear version of Firefly. He inventively calls it Trifly.
In truth Trifly also comes with a tailwheel; Bryan reports you can definitely perform a three-point landing (main gear touching down in concert with the tailwheel) in Firefly. Or, if you prefer, land Trifly like any Cessna; that works well, too. Kolb's Trifly can be delivered as a kit or ready-to-fly direct from the manufacturer.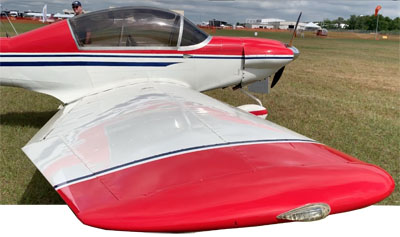 CX5 — From dedicated designer David Thatcher comes an established and familiar design, the Thatcher CX models 4 and 5. Displayed at Sun 'n Fun was the tandem seating CX5.
Using Revmaster's 85-horsepower VW-derived-but-further-developed four stroke engine, Thatcher CX5 can get in the air for a sum in the $30,000 range. Able to hold two large Americans and fly better than 100 mph very economically, this proven design has attracted enthusiastic supporters.
Carefully designed to be an easy build, CX5 rewards the builder with an elegant wing featuring a tapered, upward-angled outer wing with dual taper trailing edge and inboard tapering ailerons.
Lastly, while we did not interview U-Fly-It boss Dennis Carley, a conversation with him brought the news that his DeLand, Florida company continues to run at full capacity building bargain-priced Aerolite 103s. Contrary to so-called conventional wisdom, the highly affordable world of Part 103 ultralight aircraft appears to be thriving. Budget conscious pilots, rejoice!
Home page sunset photo beyond the LSA Mall photo taken by Randee Laskewitz.