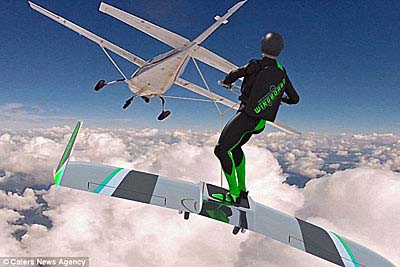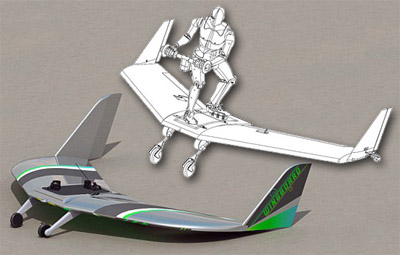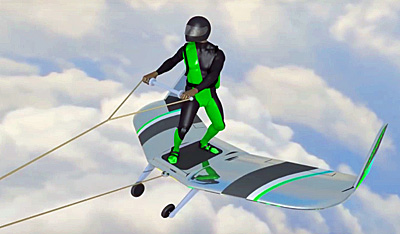 For my weekend posts, I often like to check out something out of the ordinary. From the photos you see nearby, you can see I found a qualifying topic. However crazy as this activity — involving the name "WingBoard" — may look, it appears grounded in reality.
If you think of wingsuit sky diving as just "edgy," then Aaron "Wyp" Wypyszynski's Wingboard could seem relatively tame.
Watching all his videos, I'd say Wingboarding was more akin to sky skiing, as in water skiing behind a boat, except a wider use of three dimensions than you get on water.
Start with the following video which gives a decent explanation of the project from the developer's point of view.
Aaron "Wyp" Wypyszynski began flying full-scale aircraft at age 13, soloed at 16, and remains an active pilot (photo below). He was inspired by a cartoon, saying "Kit Cloudkicker [was seen by] millennials who grew up watching "TaleSpin," and dreaming of carving through the sky like Kit on his airfoil." Funny how something we experience as a very young person can stick with us our whole lives, eh?
Aaron went on to more conventional flying but was drawn back to Kit and his board. Having acquired real world skills, he was driven to try designing a real wingboard. You can ponder if this was crazy or inspired.
Look, I know it's highly unlikely that you would ever try this but the idea is engaging. Sky divers do stuff somewhat like this all the time. Jetman inspired many with his stunts. BASE jumpers show incredible daring do. Maybe not you, but somebody will think this is the neatest invention ever, and it is actual flying, not like riding along in an automomous air vehicle.
The project has progressed through several stages from miniature to one-sixth scale to 40% scale (in December 2015) where the "pilot" — itself a pretty nifty bit of engineering — parachutes away from the board for landing. The wing has its own parachute. Let's check it out further.
According to the WYP Aviation website, "WingBoard works through a close coupling of the rider, tow rope, and WingBoard itself. The best analog is to look at the WingBoard as a wakeboard [operating] in three dimensions."
Staying true to his childhood fantasy Aaron WingBoard's "rider" — he uses this term instead of pilot but it clearly involves piloting skills — "…stands in an upright stance, similar to a wakeboarder, allowing him or her to lean and twist in all directions, while still maintaining a stable stance to brace against the tow forces." Aaron continued, "The rider is attached to the board via a binding, similar to a snowboard biding, providing a flexible connection to the board."
If flying a WingBoard sounds a bit nuts to you, how about standing on it while doing so?
As a longtime hang glider pilot I can tell you this is not so very different than modern ultralight-aircraft-tow-launched hang gliding, except the hang glider wing is above the pilot not below him and you fly prone rather than standing. Yet essentially these are very similar and hang gliding enjoys an excellent safety record. A good friend, Malcolm Jones, has operated a hang glider tow park called Wallaby Ranch in central Florida for nearly 25 years. They have done several tens of thousands of tows with very few incidents.
How does Aaron plan to tow his WingBoard?
"A key design feature is the tow rope connection," he wrote. "A single tow rope [splits into a Y-shape] approximately 10 feet in front of the rider. A lower line connects to the WingBoard, while the upper line goes to a tow bar, which the rider holds. The tow bar is then connected to the rider in a manner similar to a kite surfer, alleviating the loads the rider must bear."
The hang glider tow crowd learned the hard way to use things like weak links in the tow line to keep pressures from getting too high." Before a loss of control, a weak link triggers a release under tow, however, this makes me wonder how Aaron will cope with practical problems like this especially when it happens before parachute height.
"WingBoard is controlled via two methods. The primary control input is the rider's position. Leaning forward and backward changes the angle of the tow rope triangle, thereby altering the WingBoard angle of attack, vertical position behind the tow plane, and amount of lift generated. The rider also leans and rotates to the side to place the board at that angle, using a side component of the lift vector to pull out to one side or the other of the tow plane. In addition to the rider's position, force sensors in the foot bindings and on the tow bar allow the rider to input additional roll commands. These commands further aid in rolling the WingBoard to the side and also allow for spectacular aileron rolls."
Aaron seems to have considered safety carefully. He is surely aware of some important things to work out about initial launch but he reports a cadre of high-time test pilots with backgrounds in piloting, skydiving, and wakeboarding.
As Aaron's team prepares for manned flight, they figure to start with a helicopter-deployed rider and WingBoard. "The helicopter will allow for sufficient height to be obtained before starting testing, allowing the rider to detach and deploy their parachute at any time during the testing should need arise," explained Aaron. As he learns more, he'll proceed to fixed wing aircraft of varying description.
Here's a link to their Phase 3 manned flight plans if you want read further. And if you're so inspired you can help with crowd funding.