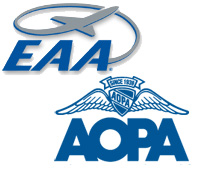 "I'm of mixed feelings over this," express many Light-Sport Aircraft industry participants who have caused my phone to ring regularly since late September *. That's when EAA and AOPA came together to address requests from some members for a driver's license "medical," which would allow aviators with certificates beyond Sport Pilot to fly GA aircraft with clearly defined limitations without the need for an FAA medical. *** In the weeks that followed the announcement, numerous LSA professionals have expressed dismay with the initiative. A dozen cancelled sales have been reported and that is not likely to represent the whole picture. A common complaint is the industry was unaware of the plan announcement until just before it was made; no discussion occurred between the member organizations and the LSA industry. *** For the record… work to formulate a written proposal to FAA is underway; a date for presentation to the agency has not been announced. Many Light-Sport business people appear concerned that the initiative challenges head-on the most compelling sales tool for LSA sellers, specifically, the lack of requirement for an FAA medical. While Light-Sport Aircraft have many other positive qualities that will aid sales — lower prices, lower fuel use, less noise, roomier cockpits, modern technology, etc. — nonetheless losing the #1 selling reason has caused considerable angst among those who have invested years of their time and substantial amounts of money to build the LSA industry. While many are conflicted, others are just confused. *** One intriguing question that just arose regards a new Sport Pilot who may wish to fly a four-seat GA aircraft (with no more than two persons on board, among other limitations). Does the Sport Pilot presently in training have to get a medical (part of the Private Pilot application process) to be able to solo a Cessna 172 or equivalent? Also, the Private certificate demands night and instrument training even though neither kind of flying can be done under the EAA/AOPA proposed initiative. Must a Sport Pilot pay for training to acquire those skills even though they cannot use them (without a medical)? *** These questions and more might be asked of EAA president Rod Hightower, who has agreed to come speak to LSA professionals at the Fifth Annual LAMA Dinner at the Sebring U.S. Sport Aviation Expo (the LAMA Dinner is not open to the public; only to people in the LSA business). The timing should be good as the Sebring LSA Expo is moving swiftly toward a full engagement. On a recent Sebring visit with new Director Jana Filip, we observed only six aircraft display spaces remain available with two months to go. The event appears in good health as it prepares to launch the 2012 calendar year.
Update 12/5/11 — For more info on the subject of the EAA/AOPA proposal, I invite you to listen to AvWeb's podcast. —DJ
* The mixed feeling comes as many LSA pros generally believe FAA ought to relax the medical requirement (as do EAA and AOPA members, according to the associations). Most agree that having to obtain a medical adds another barrier to student starts without substantially helping safety. Yet after businesspeople invested significantly in creating an LSA industry, a successful EAA/AOPA plan could install a major obstacle to LSA sales. Neither organization is guaranteeing success with their initiative, though they have addressed reasons that caused it to fail on several earlier attempts.