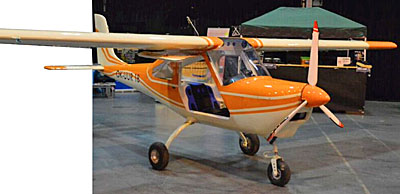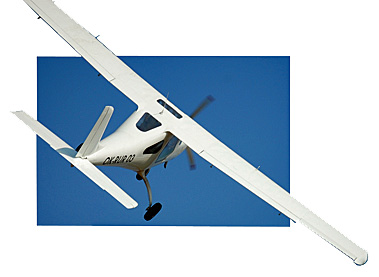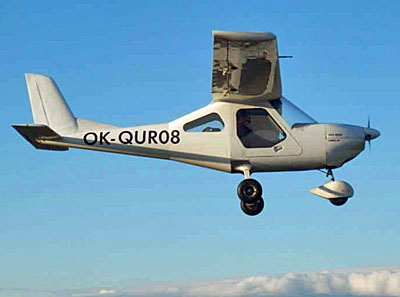 Are you intrigued by an affordable yet well-performing single-seat Personal Sport Aircraft? In a time when so many claim light aircraft have simply become too expensive, one aircraft is coming to challenge that belief. Some rather grudgingly acknowledge that, yes, you can buy a low-cost aircraft but that it won't satisfy your desires … that it will have an open cockpit, or is too slow, or uses an engine you don't know, or that it lacks the right instruments, or it will be a weight shift aircraft or a powered parachute … or something that disqualifies it for them.
Well, even our friends at Flying magazine — thanks to popular writer Pia Bergqvist, who also covered such aircraft as Quicksilver's wide-open Sport 2 SE — gave recent prominent coverage to what importer/developer Chip Erwin is doing with his Merlin PSA.
Does the name Chip Erwin ring a bell? If you've followed his work, you know his ambitious background but for others it may only have a vague recollection or was perhaps merely a conversation reference. The familiarity comes from his LSA-pioneering work to develop the airplane Piper Aircraft once adopted as "their" Special LSA. Chip was the man behind the original SportCruiser that continues to do well today, thanks to steady support from U.S. Sport Aircraft, based in Texas.
Today, Chip operates Aeromarine LSA based at the South Lakeland airport, just south of Sun 'n Fun. This business offers the Zigolo and the coming Merlin PSA.
"[Merlin PSA] is the aircraft you did not know you were waiting for," said U.S. assembler, Chip in his common manner of turning a phrase somewhat differently. Americans will soon get a look at this handsome single seater. (Don't confuse it with Glasair's Merlin, aimed at the two seat SLSA market.
Merlin PSA is an all-aluminum aircraft with a cantilevered wing, 112 mph cruise speed and ample cabin and luggage space for less than $35,000. This certainly-modest price tag includes the entire airframe kit, the engine, and a builder's assistance program in sunny Florida. Has Chip got your interest yet?
Let me be up front. This is a single seat aircraft. For some that's a deal killer but I love to cite a long-repeated statistic from AOPA. Year after year, their surveys showed that the average occupancy of a general aviation aircraft was 1.6 persons. Since the large majority of these are four seat airplanes, for the average to be only 1.6 persons on board meant that these aircraft were very often flown solo. Therefore, why not a single seater? If you need to carry passengers, rent or borrow a GA or LSA aircraft and do so.
Chip recently announced that his Merlin PSA is now available as a quick-build EAB (Experimental Amateur-Built) aircraft. "Merlin is a very modern design made with 3D CAD/CAM equipment, which results in a very quick and jigless matched-hole assembly. Build time is measured in days not months or years. Enjoy a couple of weeks in Florida and fly home in your new Merlin PSA." Chip added, "Merlin fits [the parameters of] LSA, which means a pilot needs only a Sport Pilot certificate and no medical required to fly the Merlin."
Those who love water flying but also fret over the cost of a seaplane should consider this: "Amphibious floats are available now for less than $10,000," said Chip. Those who wish amphibian capability can own the Merlin Personal Sport Aircraft on floats for less than $50,000. By any measure that is a solid value.
Merlin was first introduced at Germany's Aero show in 2009. (See our coverage of several single seaters at that event, including Merlin here.) Chip advises that tailwheel and tricycle-gear configurations are available and buyers can choose from three powerplants. "In addition to two- and four-stroke engines, a fully electric-powered Merlin is now in development. The best known of these is the Rotax 582 that has earned ASTM approval.
Chip expressed a few interest points for Merlin PSA:
112-mph cruise speed
All aluminum construction and cantilevered wing
Amphibious floats available now
"More cabin space per person than a Beechcraft King Air 200"
$100,000 less than most Light Sport Aircraft
"Merlin PSA and our all new 800 amphibious floats will be officially introduced at the US Sport Aviation Expo in Sebring beginning January 20th," Chip advises. All y'all come on down.