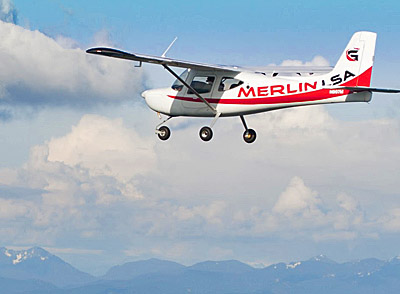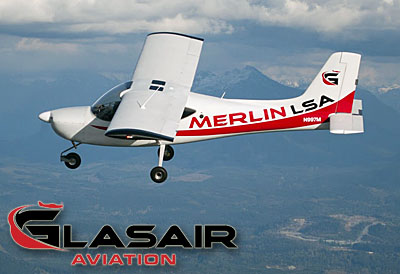 What an amazing day! I heard of — count 'em — no less than three first flights. I don't ever recall getting that kind of news in such a batch, but hooray! More airplanes to report on and more for customers to consider for their flying enjoyment. First up is the Glasair Merlin. I looked at the mockup of this new design at AirVenture 2014 (see video) and now she's flying.
Glasair Aviation announced that their new Light-Sport Aircraft entry named Merlin "took its first flight through the skies above Arlington Municipal Airport Tuesday, April 7, 2015." After many months of development work, the company put the new two seater through a regimen of preflight validation testing that included engine run-up, high-speed taxi, and ground roll lift off. Having completed this important set of tasks the team at Glasair watched as Merlin departed the surface with test pilot Grant Smith at the controls. Merlin's first flight lasted 57 minutes. Grant put the plane through a full test flight profile covering engine reliability, flight control characteristic exploration and conducting standard flight maneuvers.
"While nothing can replace the sheer wonder of witnessing the birth of a child, the introduction and maiden flight of a new airplane design is a close second," said Glasair Development Manager Ted Setzer. Also observing Merlin's first flight was Glasair Aviation engineer, Chuck Hautamaki, and the Glasair Aviation team (photo). "Flight testing will continue throughout the coming weeks," the company said.
Merlin is a composite high-wing, tricycle gear aircraft designed to gain FAA acceptance based upon ASTM standards. Using a Rotax 912iS engine with Dynon's Skyview glass-panel avionics, Glasair designed Merlin to adapt an optional BRS parachute system. The SLSA will also be the company's first FAA-approved aircraft; it does not require kit assembly as do all other Glasair designs.
"Our goal was to design an LSA with exceptional flying characteristics, performance, great visibility, aesthetically pleasing lines with easy access," said Chuck Hautamaki. Merlin's cockpit is a 45 inches wide with side-by-side seating. As I saw in the mockup visibility forward and to the side is very good. "Merlin has one of the largest windshields in the entire LSA fleet," said Glasair.
"Merlin LSA fits perfectly into our product line, rounding out a rich history of successful product launches that started in 1980 with the revolutionary Glasair," said Ted Setzer. More recently, Glasair has brought Sportsman and Sportsman Diesel to join the original Glasair speedster. The company was founded in 1979 as Stoddard-Hamilton Aircraft and has been a world leader in kit-plane manufacturing for 35 years. The company was acquired in 2012 by Hanxing Group based in Jilin City, Jilin Province, China.
Congratulations to Glasair's whole team for getting Merlin airborne in a few months of work since we saw her first debuted as a mockup at Oshkosh last year.
Readers will want to return soon as I report two more important first flights. I bet you can't guess what they are but you will know very soon.