Somewhere, it seems like a group of light plane developers must have held a meeting and decided that low wing manufacturers needed to broaden their line to include high wings. A batch of new models has been unveiled or announced this year. (Article updated 2PM – 7/29 Fri — new image of the gorgeous taildragger; see below)


Did these builders not notice the industry already has a whole slew of popular high wing models? Some, like Flight Design's CT series, has been a market leader since the beginning. Companies in the list below didn't follow the leader then? Why now?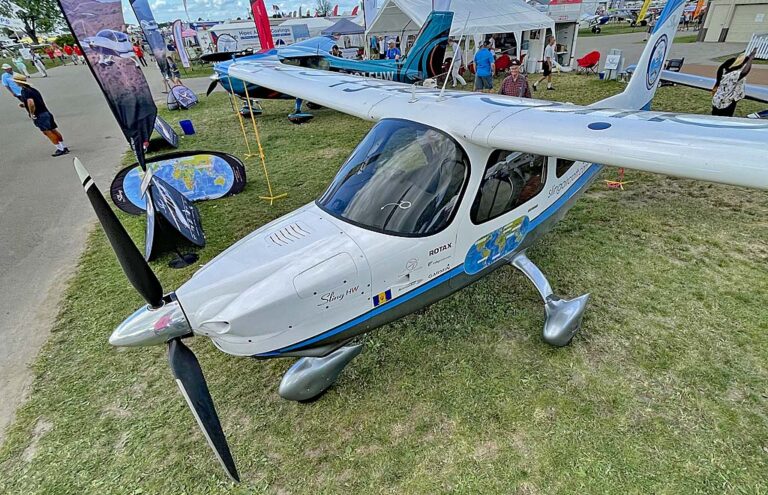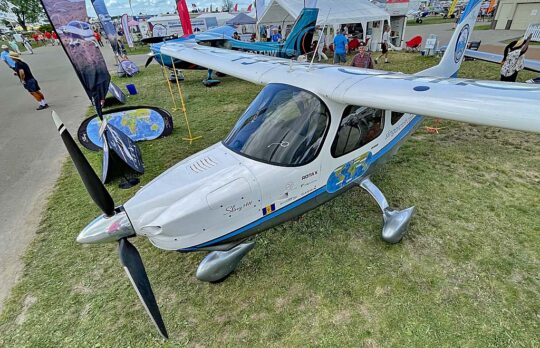 Of course, no such industry agreement happened. Each company examined their lines and chose individually to go forward with their designs. Honestly, they've all come out so recently they could not have coordinated such a broad launch in a single year even if they tried.
Nonetheless, here they are, one after another. I like it. I'm a high wing guy. To each his own but my single greatest joy aloft is looking down, watching the landscape unfold ahead of me. High wings offer the best downward visibility.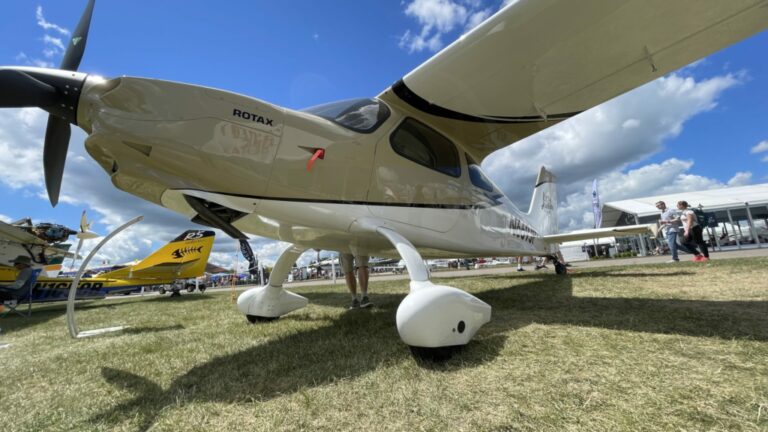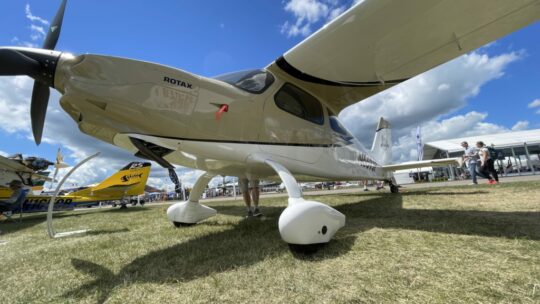 Then consider entry. No question — while low wings models have a sexy look, a shape that people equate with modern aircraft, they are much more challenging to enter. Given that LSA buyers are often in their 60s or older, ease of entry is a selling point.
Companies entering the high wing market in 2022, after previously producing only low wing models:
BRM Aero — Bristell B8
The Airplane Factory — Sling HW
Van's Aircraft — RV-15 (prototype flying)
Sonex — Unknown? (still in early design)
The new high wing designs add to those from Flight Design, Tecnam, Pipistrel, Zenith, Rans, Kitfox, Just, Icon, Jabiru, Vashon, Aerotrek… plus many more. To see a whole list, go to PlaneFinder 2.0 and check the correct box.
Made for Mosaic?
These new low wing producers also seem to be preparing for the new Mosaic-induced market to come. Why do I write that? Because the first three in the list above are also rather large aircraft. Sling HW explicitly says that it is a four seater. The RV-15 from Van's certainly looks similarly (it's big), although because its a first prototype, the company could change the design as they progress. BRM Aero may be thinking similarly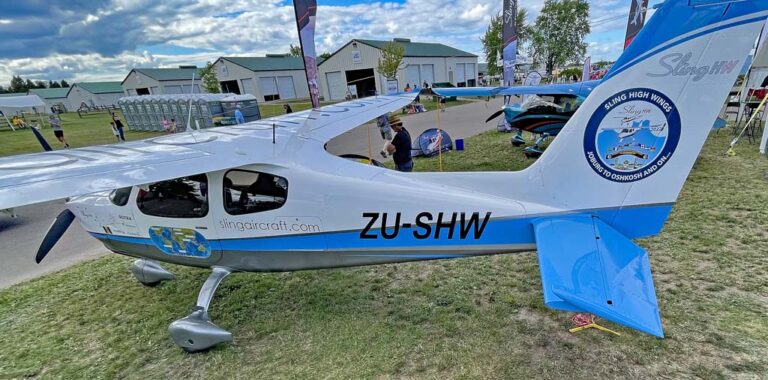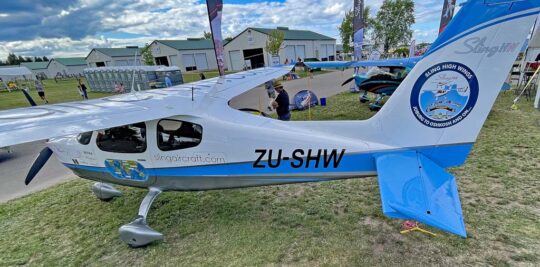 I remember when Rotax first held a press conference in Oshkosh 2017 showing a display version their previously-announced 915iS. As soon as the company speakers concluded their remarks and their staff assembled behind a display-only 915iS on a stand, one man bolted out of his chair and began examining the then-new powerplant very carefully. That man was Mike Blythe the founder and chief designer at The Airplane Factory (TAF). It was immediately clear he had a design in mind and this engine fit the bill.
As you can see, Sling HW is cantilevered, further enhancing that downward visibility while also making outback flying more predictable by not have wing struts to catch bushes or other obstacles. Yet the wing structure does not intrude into the cabin as the wing is mounted above the cockpit.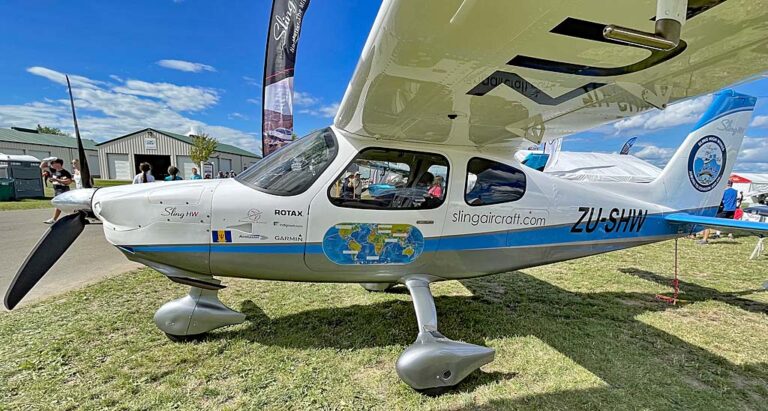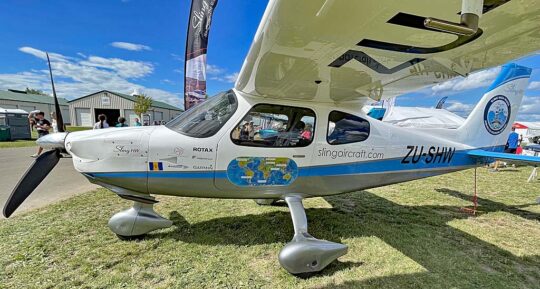 The Airplane Factory is enjoying a nice run with their Sling TSI (pilot report), another four seater but in low wing configuration. TSI also uses the 915iS engine but a similar airframe was already in production (Sling 4) so perhaps the new high wing design was forming in Mike's mind. Four years later (half of those years troubled by Covid), we see Sling HW in ready-to-sell form.
Not only is the high wing Sling on display in AirVenture Oshkosh, it flew all the way from South Africa to attend the show. Actually, two are on display at AirVenture and both flew across the Atlantic. While that sounds like and is quite an accomplishment, it is merely another day on the job for Sling pilots. On several occasions they have created a new design and promptly flew it around the globe. They've done such immensely long flights so often, it almost appears routine. It's not. A load of preparation and aircraft modification go into such epic voyages (see nearby image with special antennas fitted; these are not intended for standard production aircraft).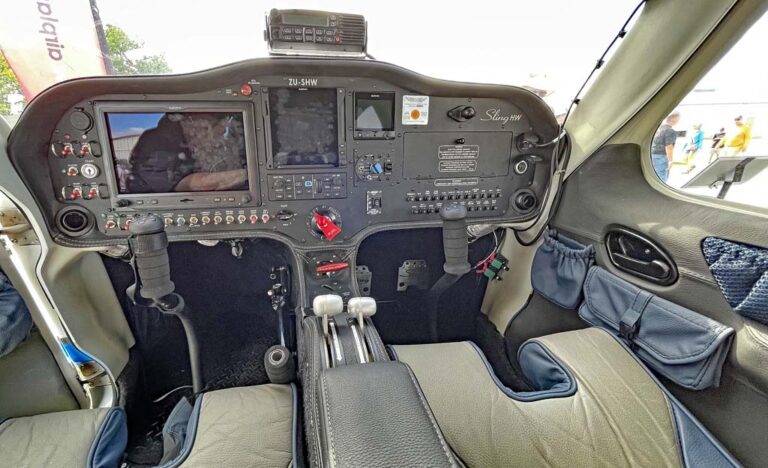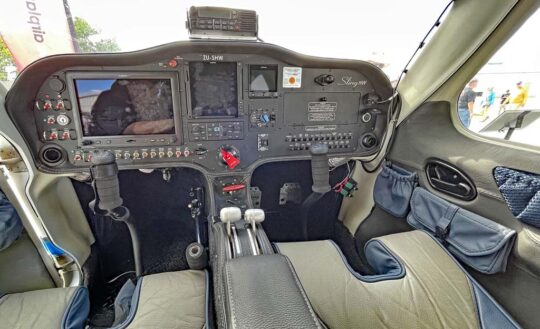 "Sling handling characteristics combined with the inherent stability of the classic high wing design," said Mike Blyth. "Added to this, all the latest modern-day design safety features, including ballistic parachute recovery system, low workload Garmin glass cockpit, efficient and 141 horsepower Rotax 915 iS turbocharged powerplant and Airmaster constant speed propeller."
"The extra-large cabin features wide, easy-access doors, superb four-place ergonomics and best in class comfort and quality," he contnued. "The removable rear seats increase the already generous baggage area providing for a great utility platform."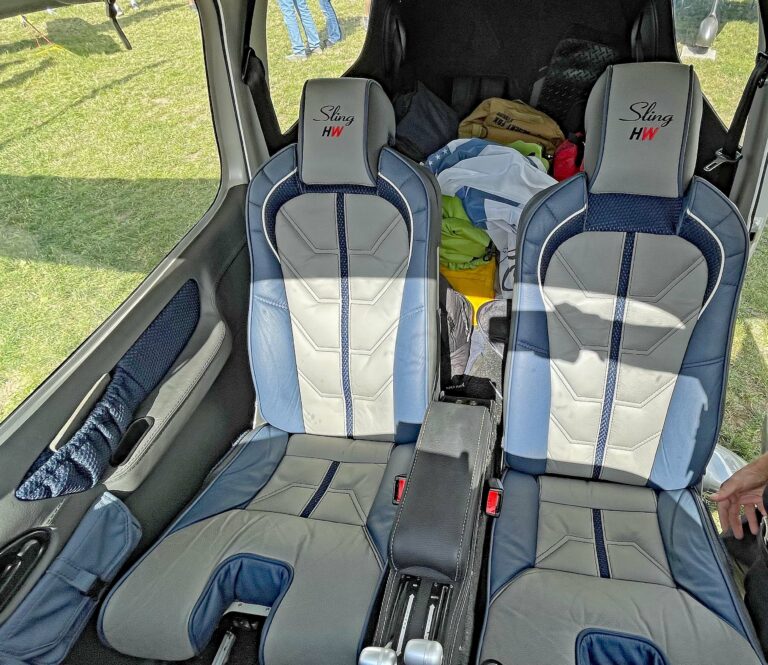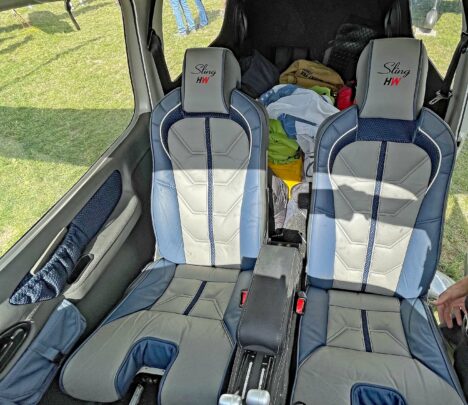 "For the first time we have a substantial portion of the aircraft, being the center fuselage, produced in composite fiber," wrote Mike. "This has allowed us to design an aerodynamic aircraft which is beautifully shaped, light and extremely strong."
The company explained, "For the first time we have a highly versatile aircraft that has a large useable cargo area. Remove the unused seats and controls quickly and easily, then fill it up with any kind of cargo. Sling High Wing can also be flown with the doors removed for photographic work or for use as a parachute jump ship."
How Much?
As regular readers will probably recognize a large, four-seat, 912iS-powered aircraft will not be inexpensive. Sling HW sells for $93,306 with a airframe kits and will take 1,400 hours to complete. Buyers can pay $31,995 more for a Quick-Build kit that saves 500 hours of work.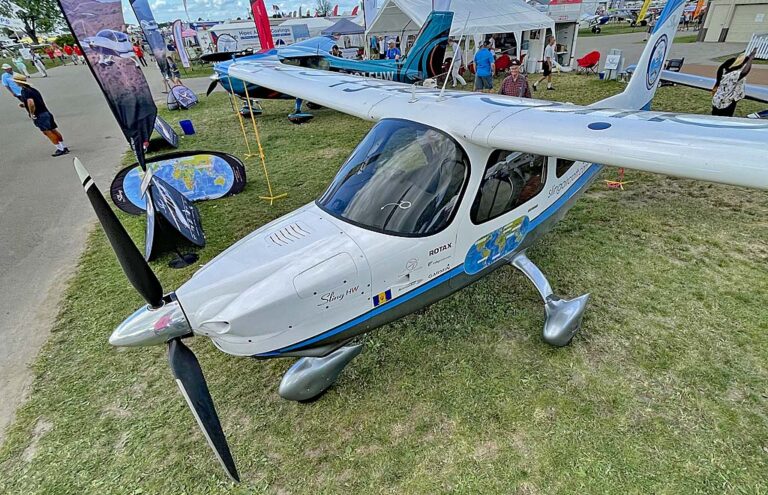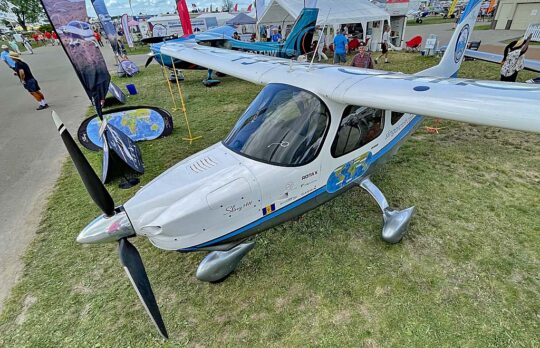 With the premium Rotax 915iS engine, constant speed prop, and avionics (each rather expensive), the kit sells for $192,306 or a Quick-Build for $224,301. So Sling HW is certainly not cheap but it can easily compete with — and in numerous ways exceed — a new Cessna 172 at twice the price. Naturally, such pricing will not work for everyone.
To my eyes Sling HW is a comparison to deluxe American pick-up trucks that are loaded and have prices to match. Sling HW has such carrying capacity and modern equipment that it carries an appropriate sticker price. TAF noted, "[Sling HW's] interior is leather upholstered with an option of full leather, the carpets are soundproofed and [the model has] a cabin heating and ventilation system. Seats are adjustable, as are the pedals [and] a luggage extension [is available] to accommodate longer cargo items such as skis, golf clubs, and surfing equipment." Perhaps Sling HW is more a miniature version of Cessna Caravan than its Skyhawk.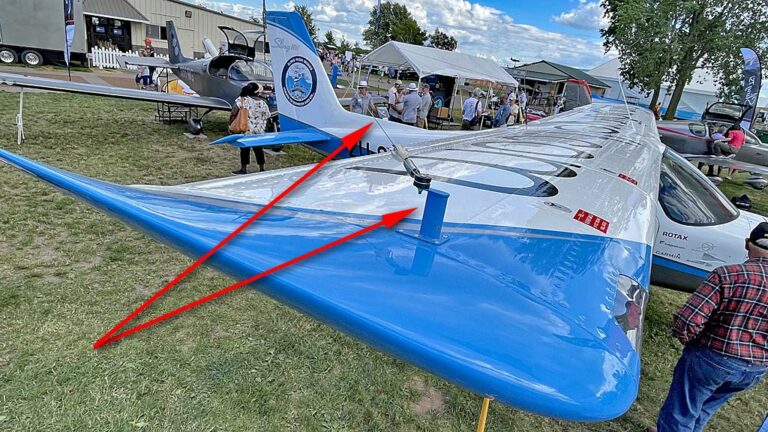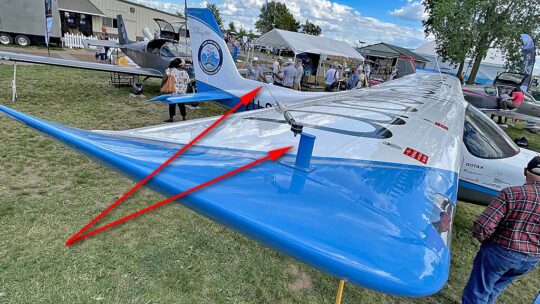 Under U.S. regulation Sling HW has to enter the U.S. as a kit-built aircraft  although a few fully-manufactured examples can enter the country to help with marketing and educating the pilot population. But when Mosaic becomes reality, perhaps by early 2025, TAF will be able to sell you a Sling HW fully ready-to-fly.
The Airplane Factory
Sling HW High Wing
TECHNICAL SPECIFICATIONS
all figures provided by the manufacturer
Wing Span — 31.3 feet
Wing Loading — 14.8 pounds per square foot
Fuel Capacity — 50 gallons
Maximum Gross weight — 2,314 pounds
Empty Weight — 1,279 pounds
Useful Load — 1,035 pounds
Payload with full fuel — 735 pounds
Seating capacity — 4
Cabin Width — 46 inches
Baggage capacity — 77 pound
Cruise Speed — 145 knots TAS (167 miles per hour)
Maximum Climb Rate — 900 feet per mnute
Stall Speed — 49 knots (56 miles per hour)
Range at 75% power with 45-minute reserve — 880 nautical miles
Endurance — 8 hours
Takeoff Roll — 720 feet
Landing Roll — 590 feet
LINKS: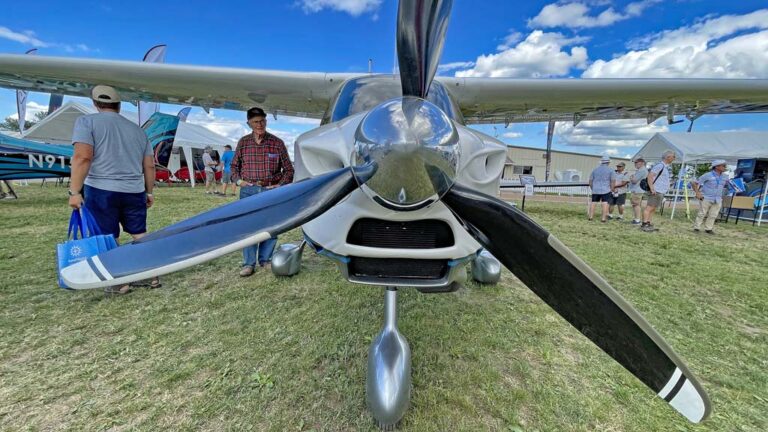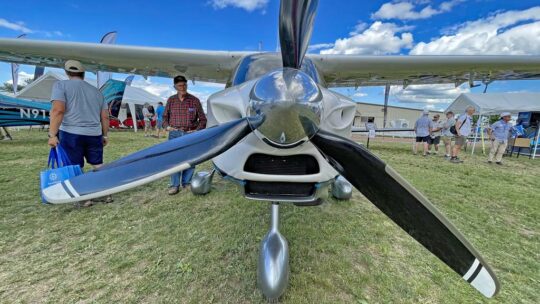 ---
COMING SOON!
More stories will follow AirVenture Oshkosh 2022. Today (Friday-July 29th) is my last day on site but more articles will follow a short break, including:
More from FAA — including an announced date for the Mosaic NPRM
Van's RV-15
Vee-Twin four stroke lightweight engine
FAA's annual safety briefing summary
Icon's latest A5 and their deluxe travel/storage trailer, and
more news from AirVenture's Fun Fly Zone, where the ultralights and more live.
Plus, I'll be uploading several short videos. Give me a few days to decompress and I'll be back on the job. Thanks everyone for reading this week's articles. Your response has been record breaking and I sincerely appreciate it.