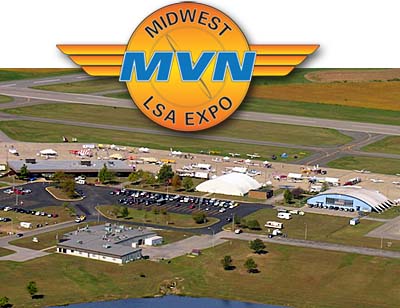 Article updated…
Stuck as I am in Florida preparing for the onslaught of Hurricane Irma… with great regret, I am missing for the first time the Midwest LSA Expo in Mount Vernon, Illinois (about an hour east of St. Louis).
Yet the good news is that some airplanes for which I expected to do Video Pilot Reports will still be in attendance even if I am not. My ever-present videographer Dave Loveman is also onsite, coming all the way from Canada, so those cross country flying efforts will not be in vain.
Traveling from Arizona is Ed Ricks and the Paradise. Flying even a bit further from California is the Aeropilot L600. Those of you able to attend Midwest LSA Expo 2017 this year can examine those aircraft and a ramp full of other top brands that have so faithfully attended this event (see the layout and exhibitors here).
Update: You can also watch the Mt. Vernon scene for yourself using AirportView, just installed by good friend and aviation entrepreneur, Jacob Peed on behalf of the growing AirportView network. Check this out!
"We feel the Midwest LSA Expo is the most convenient and affordable of its type in the country," said host and extremely well-liked airport manager, Chris Collins. He observed, "Mt. Vernon and the airport are within an 8 hour drive for 50% of the entire U.S. population!"
Sure, it's nothing like EAA's AirVenture Oshkosh with its massive throngs nor as large as Sun 'n Fun with its dizzying array of aircraft of all types. It also lacks the airshow both of those major events stage. However, the reason to come to Midwest LSA Expo is precisely because the lack of those grand features means you can actually spend quality time talking to the representatives of various aircraft and you can go take a demo flight within literally a few minutes. By sharp contrast, going for a demo flight at Oshkosh can tie you up for half the day and that means not many folks get the privilege.
That is one of the main reasons why I have attended eight in a row, missing only this Ninth Annual MWLSA.
It is also the reason Videoman Dave and I encourage airplane vendors to make the trip, so we can attach our collection of seven Garmin VIRB video cameras all over an airplane, inside and out, to give you the very best look at an aircraft while we flight evaluate it. The success of Dave's YouTube channel proves we capture this segment of aviation better than anyone. I'm unhappy I could not be present this year but the show will go on. I hope you can make it.
Paradise has been absent from the U.S. scene for a few years but Ed Ricks assured me yesterday that the brand will be back and, after some reorganization in its home country of Brazil, Paradise Aircraft is in fine business shape, as he reported after a weeklong visit. He and new partners will be representing the all-metal, yoke-controlled, three-door P1NG and other models starting at Midwest. They also plan a major splash at Sebring in January 2018, Ed promised. If you can't make Midwest, please plan to see them at Sebring.
Our newest supporter, Aeropilot USA took our advice after Oshkosh and brought their also-yoke-controlled L600 — the one that looks uncannily like a Cessna 182… by design — directly from Oshkosh to Midwest. The ever-graceful and always-helpful Chris Collins housed the new LSA for Aeropilot boss Deon Lombard to save him the long flights from Wisconsin to California and back to Illinois.
You won't see me if you attend — darn it! — but you can get an eyeful and take some demo flights if you attend Midwest LSA Expo 2017. I hope you make it!