When AirVenture Oshkosh ends, you can almost hear a national sigh as if to denote the flying season is over. EAA's magnificent summer celebration of flight leads to Labor Day and into fall.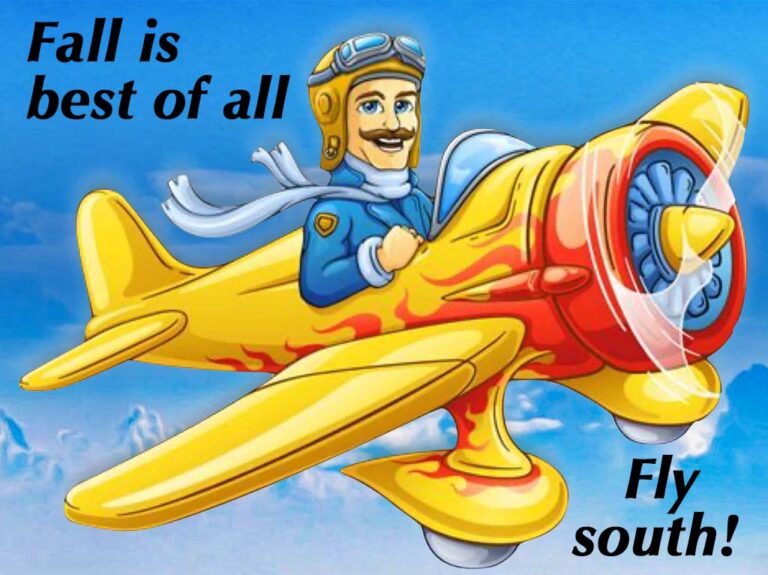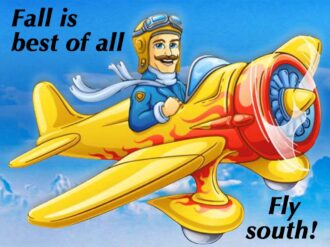 Fun flying in northern climates might begin to slow but in the southern half of the U.S., flying for fun is entering its best season.
As if to prove the point, coming up soon:
15th annual Midwest LSA Expo,
Zenith's 32nd Annual Homecoming event follows the Expo, with even larger crowds,
Aero Showcase's second event is scheduled and being promoted, and
down under — where Australis is exiting winter (yeah, weird, huh?) — big changes for Jabiru
Midwest 2023
I've taken to shortening the event name to "Midwest (Year)" because I say or write it so often. This show — as you might expect, in the Midwest USA — has become a foundation of my aviation calendar. I only missed one year due to a hurricane in Florida where I live.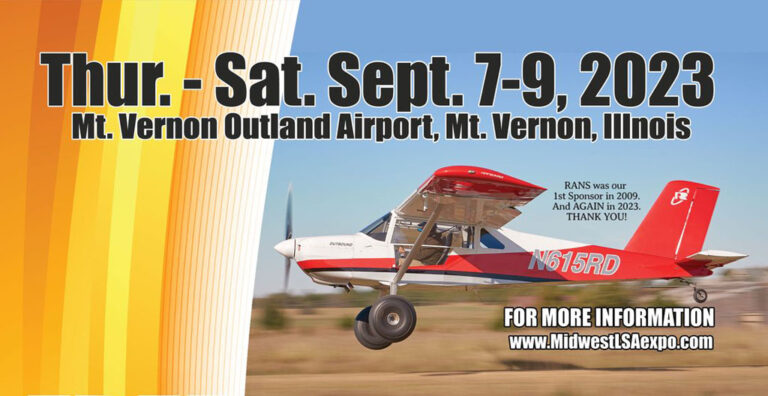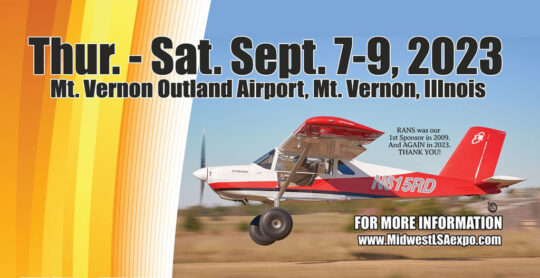 In Mount Vernon, Illinois, 2023 will be the 15th running of the Expo, and I have zero doubt it will happen again in 2024.
At that time the Midwest LSA Expo in Mount Vernon (KMVN) will become the longest-running of all sector-specific shows. The previous granddaddy of such events, also the first, was Sebring, but that production shut down after it had accomplished its goals (article & follow-up).
A lot of credit for Midwest's leadership goes to airport manager, Chris Collins, but he would be quick to state that there is a team behind him that supports the effort. He adopted the color orange and today when you attend the event, you can easily tell a volunteer because they are brightly garbed.
After several years, Midwest has found all the right buttons to push to put on an intimate event that draws well year after year. Pilots love it because they can talk to aircraft representatives without a long wait and for as long as they want plus they can go for demo flights as easily as any place I've ever seen. Vendors love it because they can get those pilots up in their aircraft, which can often lead to a sale. Smiles on both ends.
I will be giving not one but two talks on the new Mosaic regulation. I'm deep in work studying this large document and putting slides together. For those that cannot attend. I plan a video to follow. However, if you can attend, I urge you to join me in these discussions because I want to hear from you more than you want to hear from me.
Zenith's 32nd Homecoming
For years the leading kit producer in the light aircraft space, Zenith has hosted an event called "Homecoming Open Hangar Days & Fly-In." For its 32nd year, Homecoming will happen a week after Midwest on September 15 & 16 at its factory at the Mexico Memorial Airport (KMYJ) in Mexico, Missouri. It actually draws more attendees than Midwest, though they're naturally focused on Zenith aircraft.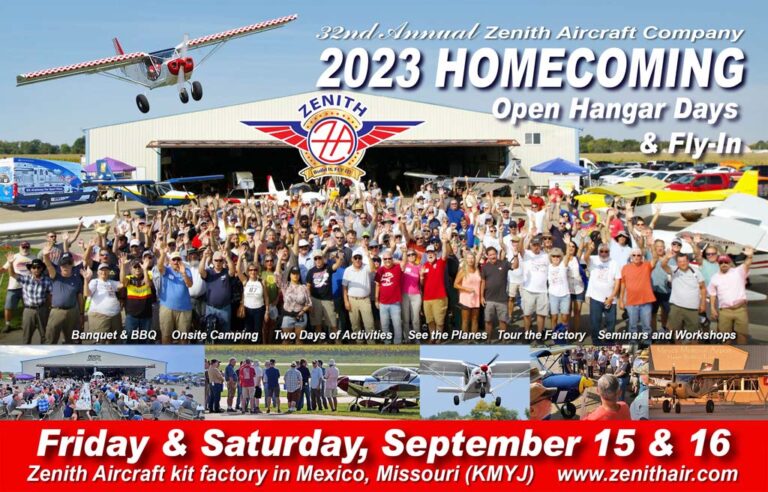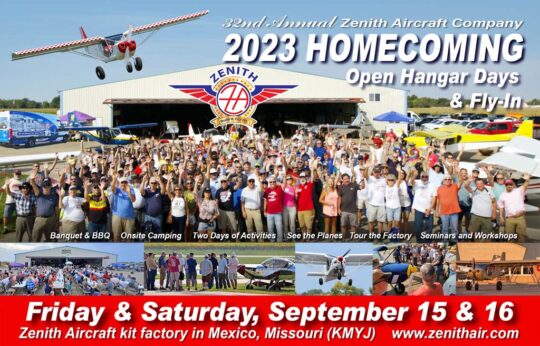 Activities include two full days of educational seminars and workshops, an aircraft show, contests, social activities, as well as a Zenith barbecue dinner on Friday evening plus a fried-chicken dinner with awards presentations on Saturday.
On September 15, educational seminars begin in the morning and take place throughout the day featuring various airframe, engine, and avionics seminars by suppliers such as Dynon and Garmin avionics, Corvair and Viking auto engine conversions, and more.
EAA Director Charlie Becker will speak about government issues affect sport aircraft owners and builders, including MOSAIC, task-based phase 1 flight testing, LODA, BasicMed and fuel issues. Representatives from the insurance industry (Avemco and Sky Smith Insurance) will be on hand.
Zenith Aircraft produces kit aircraft for the DIY (do it yourself) sport aviation market, with short take-off and landing capabilities demonstrated by the STOL CH 701 and STOL CH 750 models, as well as economical two-seat cross-country cruisers, CH 750 Cruzer and the low-wing CH 650.
"The annual Zenith Open Hangar Days have proven to be a great way for Zenith Aircraft's customers to meet with each other to share their love of building and flying," said Sebastien Heintz. "Visitors can get to know the factory staff, while also learning about building, maintaining, and flying Zenith airplanes."
DeLand Showcase 2023 Announced
Last year, 2022, Aero Affinity — a collaboration of several brands — hosted Aero Showcase at DeLand Municipal Airport (KDED)and the team is pleased to announce that the Aero Showcase Deland is ready to roll in 2023 again over November 3-4, 2023.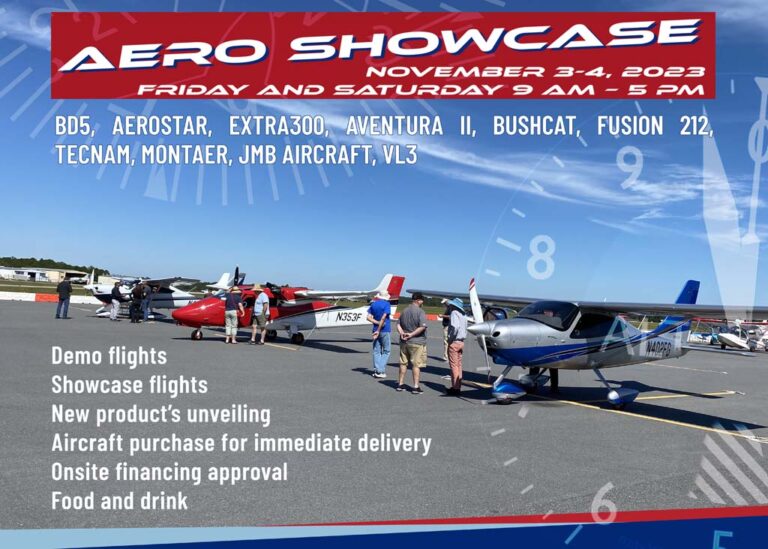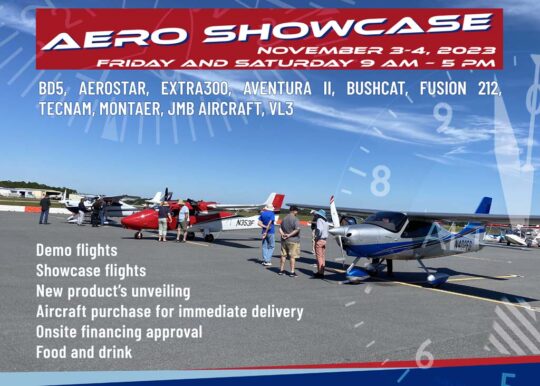 This year Aero Showcase will broaden its focus from only Light-Sport Aircraft to include general aviation brands to offer a wider scope of aircraft and products.
"You can be sure to see new and existing brands on the market from several popular manufacturers and companies," stated Aero Affinity directors Alex Rolinski and Doma Andreka. "Come examine aircraft you have never seen up close during our event."
Aircraft already committed to display at Aero Showcase 2023 include: Tecnam models, Aventura II, Scalewings Mustang SW-51, Fusion 212, Montaer, Bushcat, JMB, Aerostar, BD5, Bristell Aircraft, Extra 300, Heron Engines and more.
See and enjoy aircraft demonstrations at a very sport-flying-friendly airport plus enjoy sky diving throughout the day. DeLand is one of the world capitals of sky diving and it is very active place yet one that meshes perfectly with airplane operations after decades of experience. Longtime airport manager John Eiff is very supportive.
"We will have aircraft for immediate purchase, so you can fly home after the show," said Aero Affinity. "Onsite financing approval, maintenance services, and pre-buy inspections are also available."
DeLand has not one but two good restaurants including one located directly adjacent to Aero Showcase. "We'll also have an ice-cream truck and refreshment options as well," added Aero Affinity.
New Boss at Jabiru Australia
U.S. Jabiru representative Scott Severen advised of news from down under in Australia where that country and New Zealand are now exiting their winter months. Founded in 1988 by Rod Stiff and Phil Ainsworth, the company is extremely rare in producing both airframes and engines under its brand.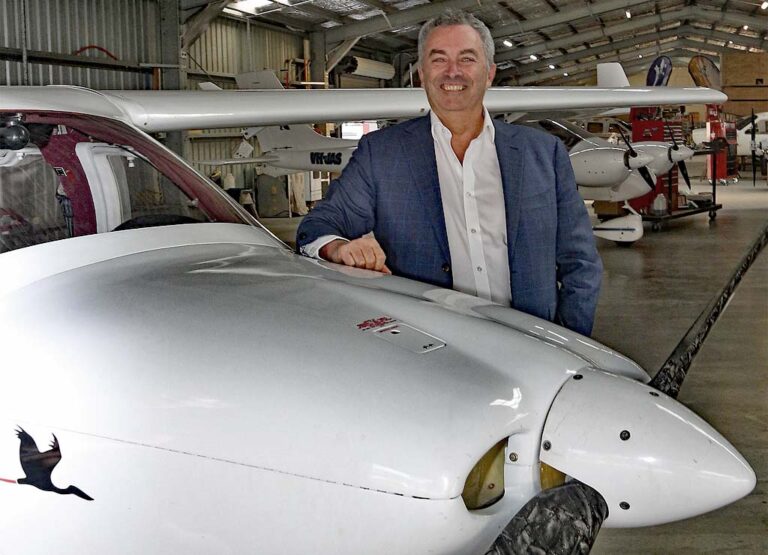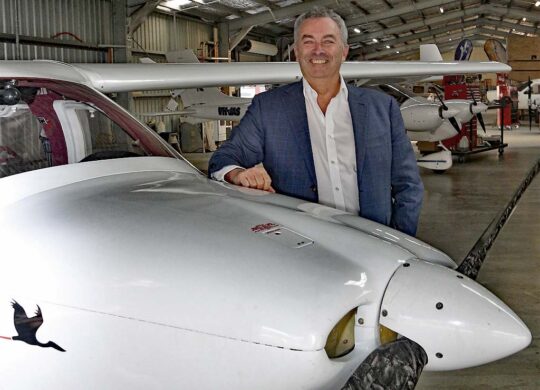 "Rod bought Phil out in 2005 and continued the adventure at Jabiru," wrote Mick Halloran, now Executive Director of Jabiru. "After thirty-five years of inspiration and perspiration, Jabiru stands as Australia's premier aircraft manufacturer, with one of the world's best affordable touring aircraft and even more remarkably, one of the few light aero engines in continuous production. Rod built a team that has delivered (at the time of writing) 2,124 aircraft and 7,223 engines, has a customer list that spans the world and a complex international supply chain." Mick summarized, "It's a global enterprise run from a couple of sheds in Bundaberg (Queensland, Australia, on the country's east coast)."
"Rod is responsible for the design of an original aircraft, an original engine, and has run an aircraft manufacturing company for 30+ years," Mick continued. "Any one of those, would in itself, be an incredible achievement. All three is quite extraordinary."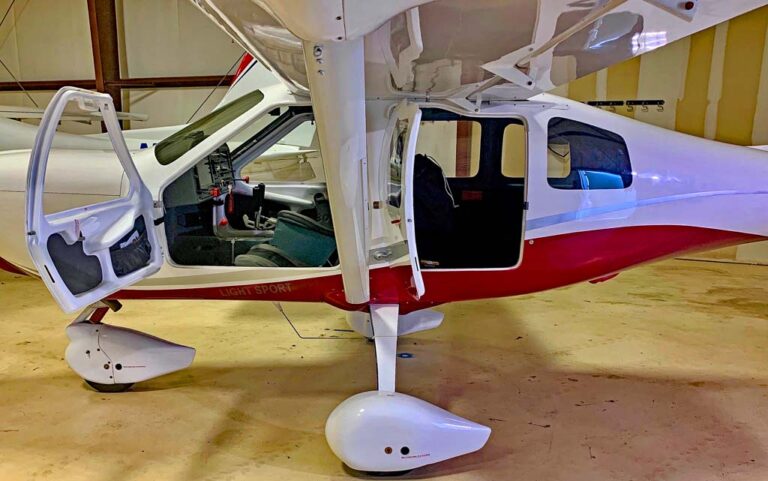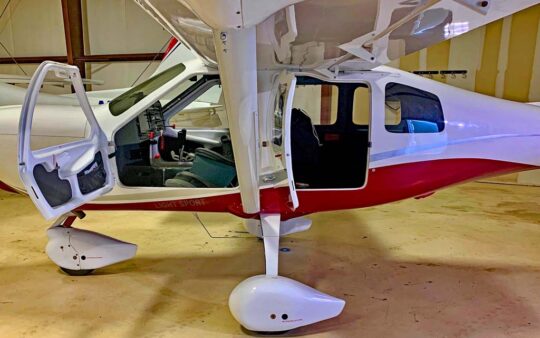 "Two months ago, I took over the business," he wrote. He reported previous roles in the "big corporate world," at companies such as British Aerospace and Lockheed Martin. He worked in the USA and Europe as well as Australia, "on everything from the original design of the Joint Strike Fighter."
"The last few years have left [Jabiru] with a mature design in the Gen4 engines and a timeless aircraft design with the J430/230/170 series." Scott Severen is working with Jabiru to prepare for Mosaic aircraft as the J430 has long been a four seat design in Australia.
"Jabiru is one of the great Australian success stories. My job is to eventually leave it better than I found it, which is no small challenge given what Rod and the team have achieved," concluded Mick. "I am looking forward to the challenge, but most of all I look forward to meeting all of the good people who are the buyers, flyers, and fixers of Jabiru."
ARTICLE LINKS: