One of the fast paced developments I've observed has been Aeromarine LSA's new Merlin PSA. "PSA" stands for Personal Sport Aircraft and the Florida company may be truly onto something interesting.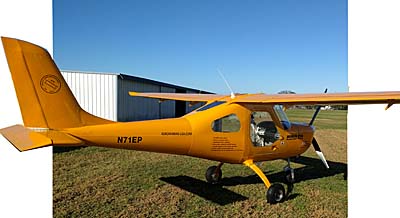 While recognizing they are very capable airplanes, many lament the cost of carbon fiber speedsters with glass cockpits and autopilots. Aeromarine LSA perceives an opening.
Introduced at the U.S. Sport Aviation 2016 event in Sebring last month, proprietor Chip Erwin said Merlin PSA drew questions: "It only costs $35,000?" and, "That price really includes the engine?"
A longtime entrepreneur in the light aircraft manufacturing game, Chip sees a way to attract buyers with a very modestly priced aircraft that is fully enclosed, made with all metal construction and with interesting powerplant choices.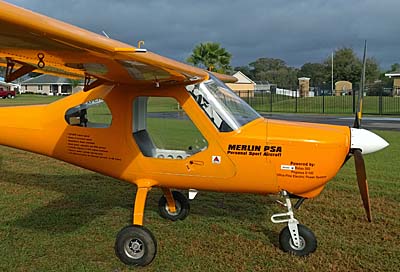 The first U.S. Merlin PSA is powered with the 65 horsepower Rotax 582 that provide outstanding performance for such a light aircraft. Alternative powerplants have been part of the plan all along.
Chip Erwin did not design or "invent" the airplane he now calls Merlin PSA but he has considerably advanced the project using his long experience. When I saw this airplane at Aero five years ago, it was underpowered with an unfamiliar engine and it was not assertively marketed. That is changing.
Chip's Merlin PSA is powered by the Rotax 582 that makes it perform most energetically but he has other powerplants in mind. One is a lightweight four stroke that might generate great appeal. For those many who are intrigued with electric propulsion, Chip is well ahead of that game, too, with a motor and system he has been developing for many months (see video). Four stroke and electric are coming, he reported, but if a low-priced, modern-looking airplane with a very well established engine sounds good, you have no need to wait.
"Merlin PSA brings the sport back into sport planes with a power-to-weight ratio about 50% higher than most LSA aircraft." Plus, he added, "It will be perfect on our new amphibious floats!"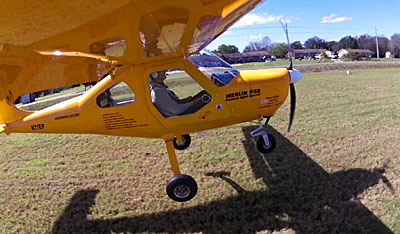 Licensed as an Experimental Amateur Built aircraft Merlin PSA easily fits within the LSA parameters of weight and speed. Therefore, it can be flown with a Sport Pilot certificate — or by a higher certificated pilot exercising the privileges of Sport Pilot, meaning no medical is needed.
A complete kit including Aeromarine-LSA's builder's assist program is only $34,900. You need to invest some labor hours but you will be guided and the effort is said to be quite rapid. An all-aluminum design, Merlin PSA is available as a quick-build kit. Because it was created using 3D CAD/CAM equipment, Merlin offers easy-to-build, matched-hole assemblies that require no fixtures. "Build time is measured in days rather than months or years," said Chip. "Builders can enjoy a couple of weeks at our Builders' Center in Florida and fly their new Merlin PSA … not 'taxi.' Fly." That's some promise.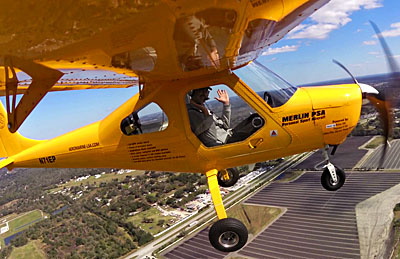 As debuted at Sebring 2016, Merlin PSA is nicely equipped with a digital EFIS/EMS, GPS, radio transceiver, an ADS-B out-equipped Mode S transponder, BRS parachute system, electric trim, and the new TruTrak ECO autopilot. The price? "Around $50,000," stated Chip. At the show, Chip had not yet flown the eye-catching aircraft. That changed recently.
"The first USA Merlin PSA is flying," Chip exclaimed! "Acceleration and climb rate are exhilarating." His blog reported that he rotated in 3-4 seconds using less than 200 feet of takeoff roll. See more impressions here (video tour of the airplane and in-flight views also available).
"Flight conditions were less than ideal with gusty winds and choppy turbulence but the Merlin handled these conditions perfectly," observed Chip. "The pilot sits right on the longitudinal axis and the wing loading is higher than the average LSA so it is quite comfortable to fly all day long." He reported seeing cruise speeds over 100 mph and climb rates of 1,500 feet per minute.
For those looking for something different, Merlin PSA is flying in Europe in taildragger configuration using tundra tires. "This is an available option," said Chip.
"The next step, after flying off the test program, is to install the amphibious floats," he said. Amphibious floats are finished and the gear is operating perfectly using the remote wireless Bluetooth phone app for actuation. He demonstrated this to visitors at Sebring.