When I look at Dingo from Future Vehicles, I see a fascinating blend of designs combining the looks of Aviad's Zigolo Mg21 and Mike Loehle's former Easy Riser. Yet Dingo isn't some mashup of old designs. It's been created by experienced engineers building with conventional construction but to Part 103 parameters.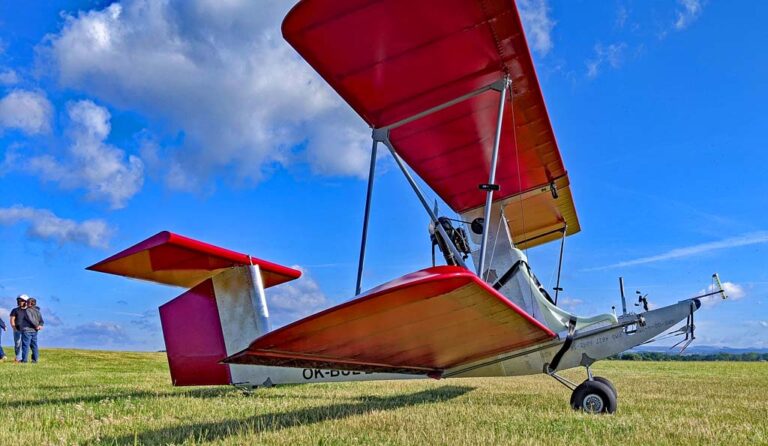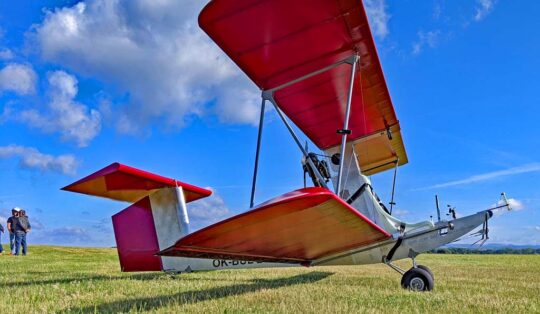 Biplanes convey a vintage look but they also make for good hangar mates since their wingspan is usually shorter. Dingo is surprisingly compact with wings not even 22 feet wide.
Biplanes also fly slowly so complying with Part 103 speeds is not difficult.
Let's learn more about this new entry from design engineer Marek Ivanov, a name alert readers may associate with a completely different design called Song (image below). Marek does engineering work for other aircraft producers as well. He leads "a team of experienced professionals with more than 20 years of experience in the aviation industry; they have participated in the development of more than 30 types of aircraft from ultralights to Part 23 (GA) aircraft."
Maiden Flight of Dingo
On June 22nd 2022, Dingo took its maiden flight flown by test pilot Jan Jílek at the Jaroměř airport (LKJA). Future Vehicles is based in Hradec Kralove, a city in the Czech Republic 70 miles to the east of the internationally famous city of Prague. With a sport aviation focus, Jaroměř airport is also home to TL Ultralight, maker of the Sting, Sirius, and Stream LSA.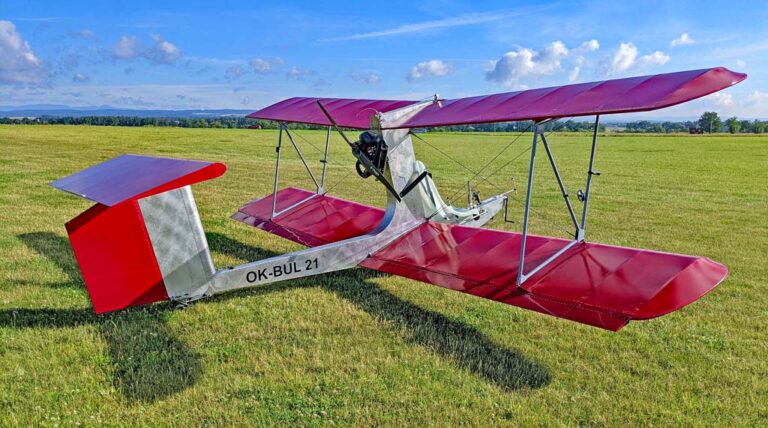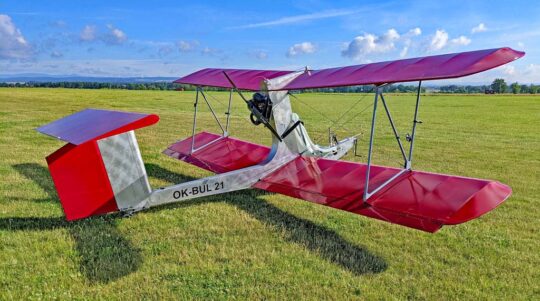 Comments from an early pilot outside the company included, "The first day was very windy [yet Dingo] handled it really well." The next morning, calmer conditions allowed low passes and further exploring of flight qualities prompting an enthusiastic assessment, "Dingo is a real joy to fly and very well built."
"It's been a dream of mine for a long time to build something like the Hovey Whing Ding because I like it," said Marek, "but a little bigger so I can fly it." Inspired by the Hovey Whing Ding, an early ultralight-like experimental aircraft design from the 1960s, the name Dingo is an homage to the original.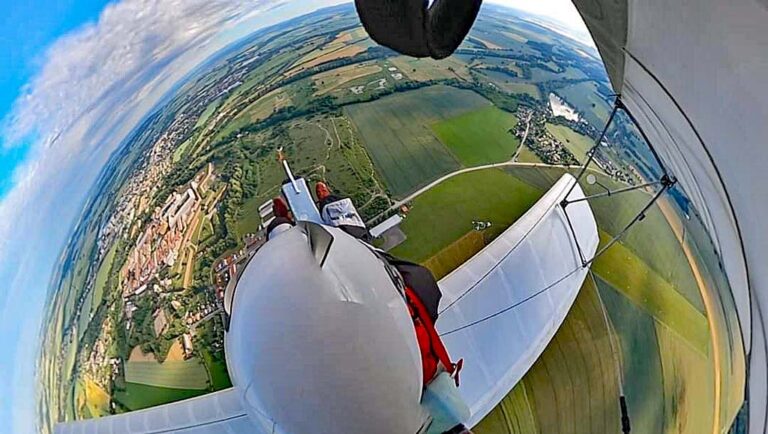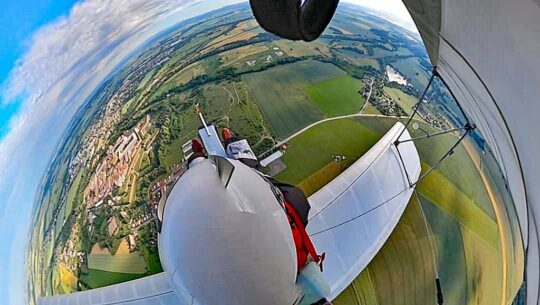 Along with engineering partners Tomas Trojanek and Jan Jilek, the design was initiated by Marek in early 2021. After the first 3D images were shown to the Future Vehicles team, they decided, "Something like this has a place in the sky!"
Dingo can fit into England's SSDR (single seat deregulated) category, America's FAR-103 ultralight vehicle category in the USA, Germany's 120-Kilo Class and similar regulations in other countries. In the Czech Republic, Dingo is registered as a light aircraft.
While waiting for delivery the engine, Marek, Tomas, and Jan completed their structural load test regimen.
Describing Dingo
Dingo is a pusher with conventional (tail wheel) gear, a biplane design with a positive-stagger wing. It is built with an all-aircraft aluminium, pop-riveted structure and it is covered with Stits Polyfiber-type covering. The pilot sits atop a rigid, structured keel in a molded fiberglass seat with a four-point pilot harness.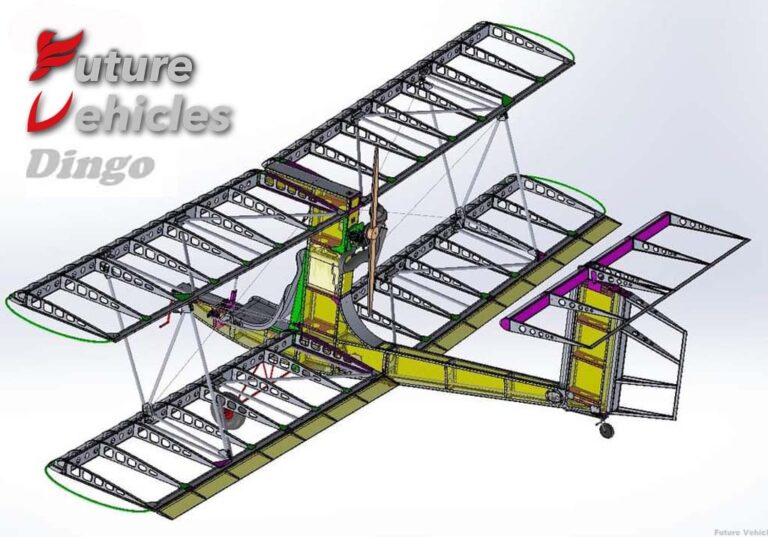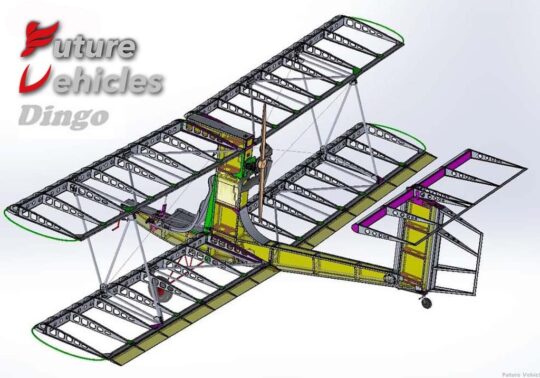 The control system features beautifully machined components (nearby images) connected to a control stick and rudder pedals with a unique foot stirrup up front. Full-span sheet-aluminium ailerons are mounted on the lower wings and a full flying stabilator is mounted on top of a T-tail. Dingo is flown with a right-hand joystick and left-hand throttle, similar to many tail draggers.
The main landing gear is a welded steel assembly using the tires as a primary suspension component. A lightweight tailwheel is fitted.
The Dingo prototype is currently powered by a two-stroke 27 horsepower Vittorazi Moster engine with 185-cc displacement and air-cooling as is commonly used on powered paragliders, The Vittorazi features a manual pull starter, an intake silencer and well-designed muffler system. A prop reduction unit is a multi-grooved belt with centrifugal clutch for torsion vibration relief and smooth idling. Dingo is currently flying with a carbon fiber eProp from France. Marek and team will next test a more powerful, liquid-cooled, 33-horsepower Polini Thor.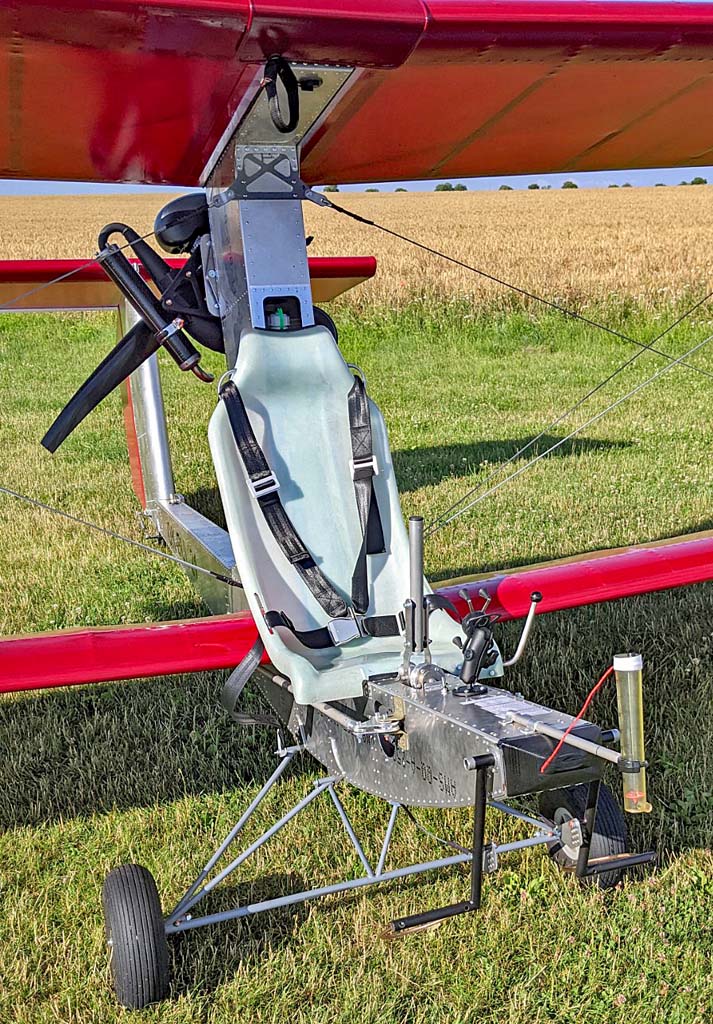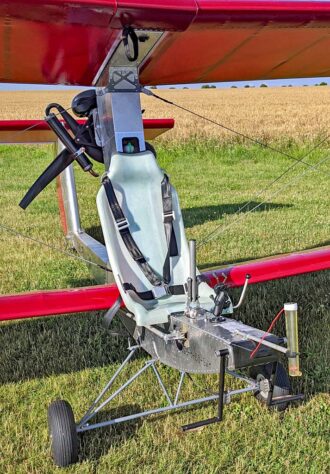 A rotationally molded fuel tank is cleverly located inside the mast-like structure that is the pylon for both the engine and upper wing, providing a bracing point for the upper wing wires and the upper seat mount. A series of cut outs in the pylon shows the fuel level.
Despite being quite light, the non-company pilot said, "Dingo gives a very-well-built and impressive feeling during a walk around thanks to a professional aeronautical design."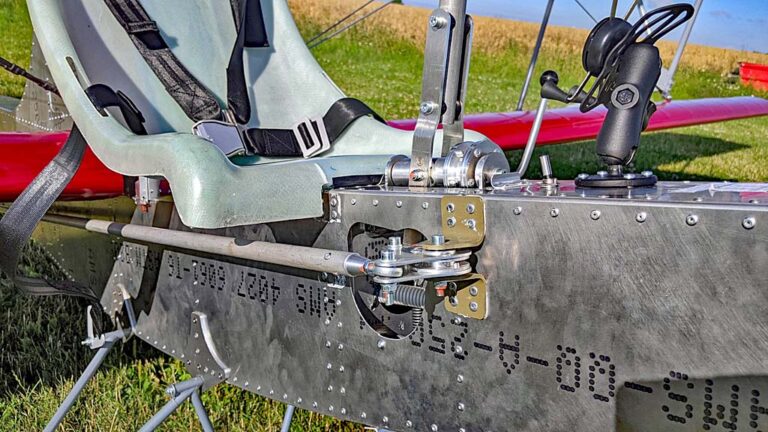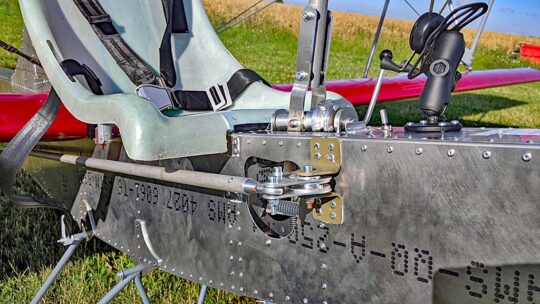 Flight Report: "Dingo is very easy to fly and exhibits predictable handling characteristics. The tail wheel landing gear arrangement is easy to master and is well controlled by the ample and powerful rudder. Climbs are suitable for flying from small fields and the take-off is short. Landings are simple and, due to the overall low mass, the Dingo comes to a stop quickly (specifications below)."
"The view in flight is simply amazing," thanks partly to the positive wing stagger that places the lower wing aft of the upper. The pilot sits well forward and has almost no visual obstacles. "Dingo's sturdy construction gives confidence and the plane is almost immune to turbulence that might be challenging for many classic ultralight-type planes."
Part 103 Ultralight Vehicles and
Powered Paraglider Engines
Fixed wing aircraft and powered paragliders developed in different worlds. The designers are different. The wing construction couldn't be more dissimilar. One uses an undercarriage while in the other you are the undercarriage. How could such discrete aerial cultures get together?
If you are going to carry your powerplant on your back, it had better be light. Yet it needs enough power and it shouldn't be any louder than necessary since the pilot is so close to it. A few brands from Europe have risen to this need, including Polini, Vitorazzi, and others. Until recently, almost none of these were used on fixed wings but that has changed.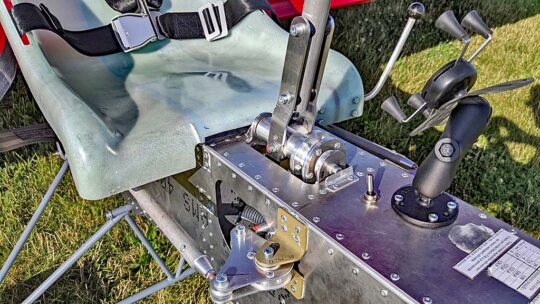 Lately, more designers of Part 103 ultralights have realized that these low weight, reasonably-high-power engines made worthy choices for the lightest of fixed wing aircraft. Such engines were key to the development of Dingo.
At this is posted, Future Vehicles is preparing to enter the market. Early sales will surely go to Europe, but pilots around the world could be interested.
Pricing is a challenge in times of high inflation and steep shipping costs but Dingo could still be quite a bargain.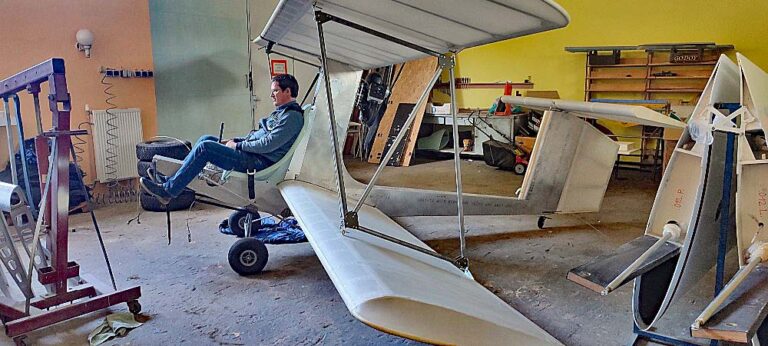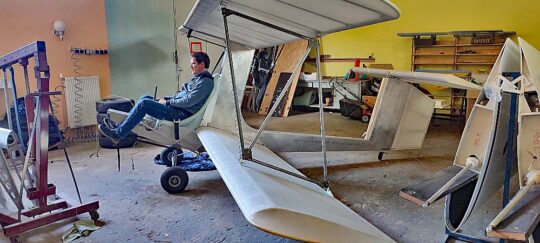 The company may offer an airframe kit for around $15,000 (an estimate; please contact the company for exact pricing), which suggests an airborne price of around $20-25,000 with an engine, dope-and-fabric covering, paint, and basic instrumentation. Shipping will add an expense to buyers outside of Europe but if a national representative can bring in four at once, the expense per Dingo may be tolerable.
At these prices and with good flight characteristics and a great appearance, Dingo may attract buyers from all over the world. If this interests you, use the link below to contact Future Vehicles.
Future Vehicles
Dingo SS UL
TECHNICAL SPECIFICATIONS
figures supplied by Future Vehicles
Wing Span — 21.6 feet / 6,57 meters
Wing Area — 135 square feet / 12,55 square meters
Length — 14.6 feet / 4,45 meters
HT Span — 7.4 ft / 2,25 meters
HT Area — 18.1 square feet / 1,68 square meters
Empty Weight — 209 pounds / 95 kilograms
Maximum Takeoff Weight — 485 pounds / 220 kilograms
Fuel Capacity — 2.6 U.S. gallons / 10 liters
Average Fuel Consumption — 1.3 gallons per hour / 5 liters per hour
Limit Loads — +4 G / –2 G
Never Exceed Speed — 54 knots / 100 kilometers per hour
Max Level Speed — 38 knots / 70 kilometers per hour
Cruise Speed — 32 knots / 60 kilometers per hour
Stall speed — 22 knots / 40 kilometers per hour
Powerplant — Vittorazi Moster 185 with manual start
Displacement — 185 cubic centimeters
Power — 25 horsepower @ 7800 RPM
LINKS


You can see Dingo fly for the first time in this short (1.5-minute) video…
---
Another of Marek Ivanov's designs, this one named Song. American pilots first saw this aircraft with electric power as Electric Aircraft Corporation's ULS.