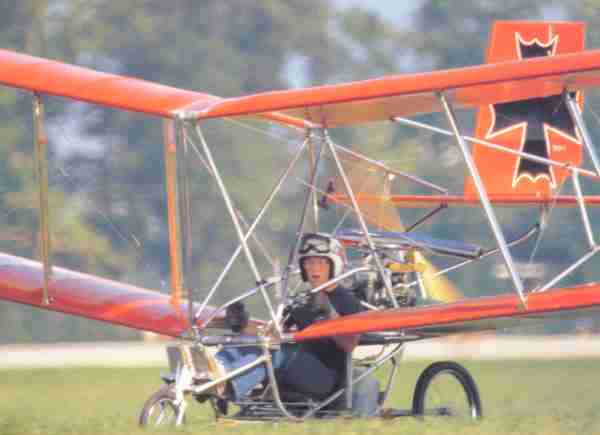 You can't buy an Easy riser anymore and you might find it hard to pry one away from those loyalists who still fly one. Their day has passed but early in the '80s at Oshkosh, 24 'Risers made up two thirds of all ultralights that showed.
A simple bi-wing glider to which power was fitted, the design emerged from the hang gliding world. The wing is very efficient and in its heyday, it won contests regularly. The aircraft is tailless, using weight shift for pitch. Roll is initiated through drag rudders located at the wing tips and between the staggered wings.
It was first flown from foot launch and you might still find someone who will demonstrate this technique for you. I'll never forget watching John Moody foot launch a 'Riser with a Mac 101 engine. He was on the beach where I was attending a hang gliding contest. He ran bravely to get off in the underpowered aircraft. John flew for hours while we waited out uncooperative winds. In some eyes, the movement of ultralighting had just been born.
The Easy Riser later sprouted landing gear. Mike Loehle entered the ultralight business putting tails on "Risers. The design lost ground when more conventional aircraft began to enter the ultralight market. The occasional one you'll see is fascinating to watch. They still fly very gracefully.
Not yet reviewed in UF!