Well, FINALLY, AirVenture Oshkosh is barely a week away. It seems like forever, doesn't it? It has been two years but feels like a decade. I hope you can attend, but if not, I plan to be on-site all week gathering the latest about Light-Sport Aircraft, Sport Pilot kits, and ultralights.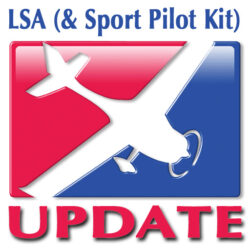 In this edition of "LSA Update," I'll cover an update about…
1️⃣ Jabiru and their AirVenture activities; 2️⃣ Beringer's new SensAir system that works with your smartphone; 3️⃣ an impressive father-and-daughter partnership forming a new dealer for Seamax; 4️⃣ a preview of the new Dragon powered paraglider single-place quad; and, 5️⃣ competition successes for E-Props and Polini engines.
Let's get this show underway…
---
Jabiru USA
One of the earliest Light-Sport Aircraft to be approved was the Australian Jabiru brand.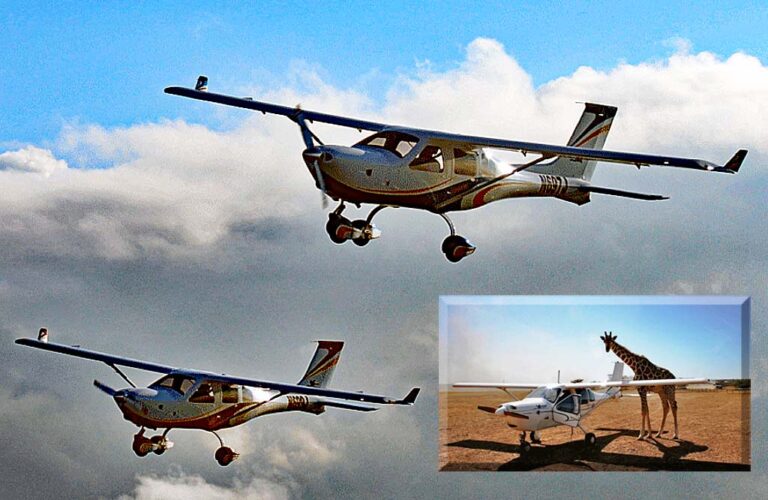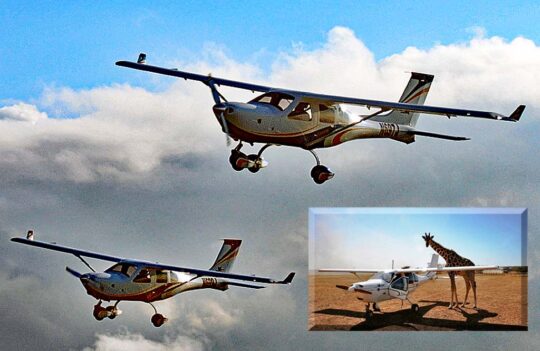 Not only was Jabiru one of the first approved SLSA (#22) but also one of the most prolific with SLSA #22 J250-SP, #23 J170-SP, #40 Calypso SP, #67 J230-SP (redesignated as J230-D in 2013), and #142 J170-D. The "SP models came from an earlier U.S.-based manufacturing arrangement. The "D" denotes the manufacturing now conducted in Australia.
When you are an early entrant you have time to get the details right and flesh out the operation.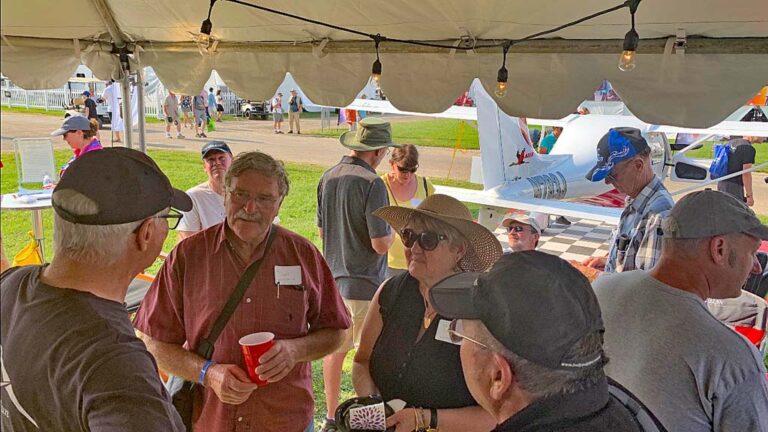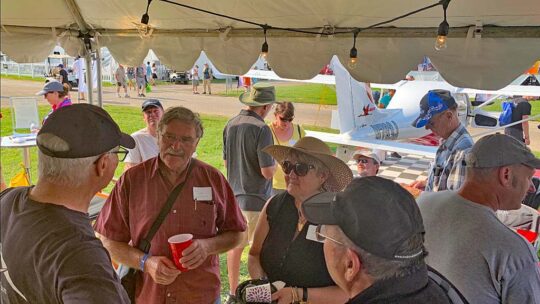 Now in the capable hands of Scott Severen, who runs US Sport Planes and took over from Jabiru USA founder Pete Krotje, Jabiru has matured to one of the leading LSA suppliers. It is the only Australian fixed wing aircraft brand to successfully enter the U.S. market.
The company remains a member of a very select club that manufactures both airframe and engine.
All Jabiru models appear compact but actually have spacious interiors; especially the latest J230-D has a cavernous aft area (where people sit when the same base airframe is used to make a four seater). A third door for this purpose serves U.S. pilots by making the loading of luggage (or your pet) easier.
With its 4th Generation six-cylinder engine producing 120 horsepower, Jabiru J230-D will satisfy a lot of pilots. Stop by their space at AirVenture and perhaps you'll meet some of their owners that will attend another annual Jabiru Owners Group (JOG) gathering.
---
Beringer
Known far and wide for their distinctive orange-ish wheels, Beringer has built a premium brand serving aircraft from the lightest LSA to Cirrus' SR-series.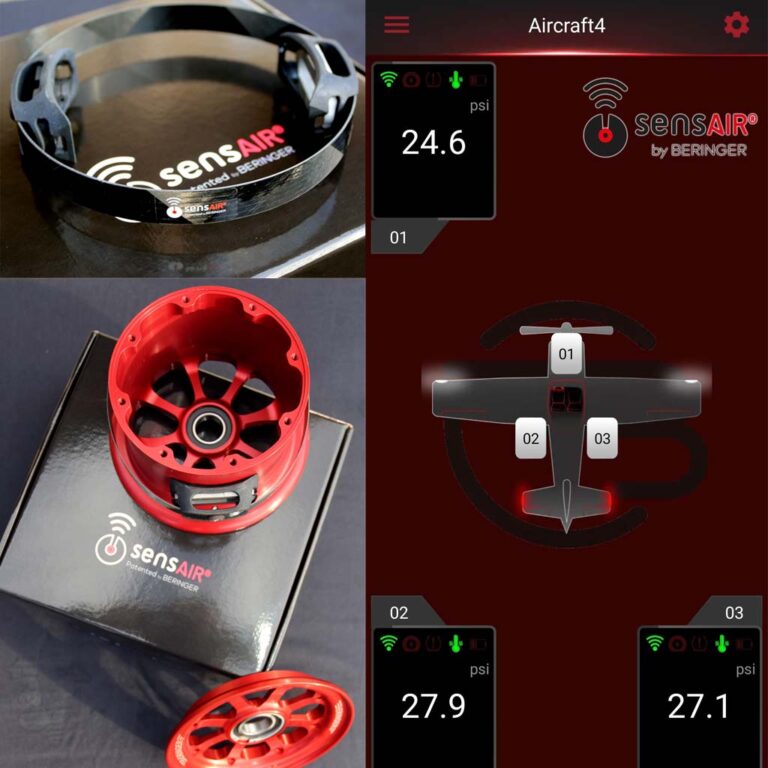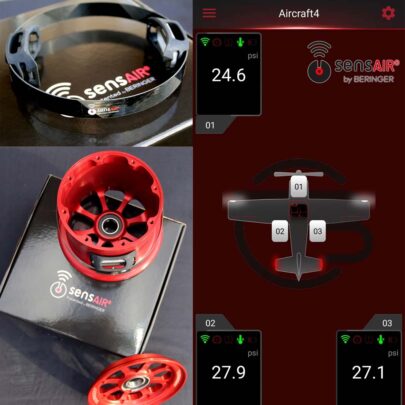 The France-based company with a permanent U.S. operation has numerous products in support of airframes including the unique locking tailwheel and their wheel shocks. Now, they have something new.
Beringer's SensAIR™ system is connected to a mobile app on your smartphone (image) thanks to pressure and temperature sensors fitted to your Beringer rim. Sensors are normally switched off to save the battery (2 to 3 years lifetime) and are activated when the smartphone is detected within a 30-foot radius (10 m).
Low pressure and temperature levels are set by the user on his smartphone so he or she can receive a notification.
No need to crawl under your plane to check pressure anymore, thanks to SensAIR you can check your pressure before and during each flight! SensAir is available now for 4-, 5-, 6-, and 8-inch wheels.
---
Seamax
With fabrication in Brazil, Seamax has been in the U.S. market for many years, earning FAA acceptance as #63 in our SLSA List.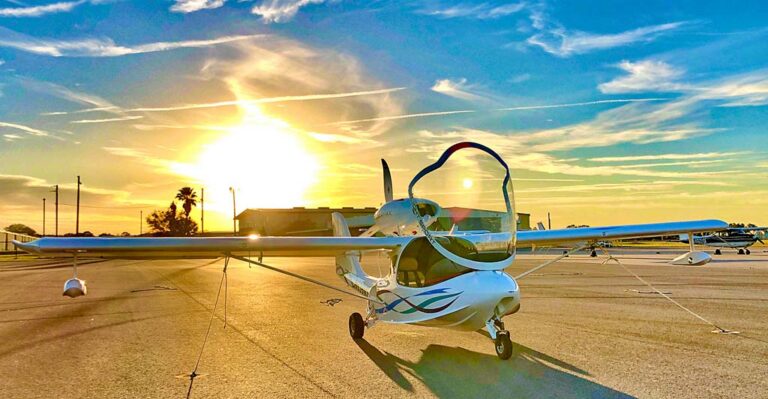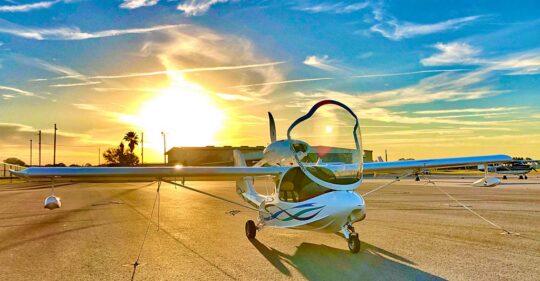 In the last few years Seamax has substantially upgraded their U.S. representation with full-time facilities adjacent to the prestigious campus of Embry Riddle Aeronautical University. From this ideal location they can cover the Eastern U.S.
Now, Seamax is pleased to announce a new dealer based in Tulsa, Oklahoma. The seaplane maker now offers support, training, and sales for several Midwestern states. The new business is called Central Seaplanes and they become the official sales agent and brand representative for Oklahoma, Arkansas, Missouri, Kansas, Colorado, New Mexico, and Texas.
Central Seaplanes will provide mechanical and maintenance service to Seamax aircraft in association with Johnson Aviation of Tulsa and plans to provide flight training in association with Destinations Executive Flight Club of Tulsa.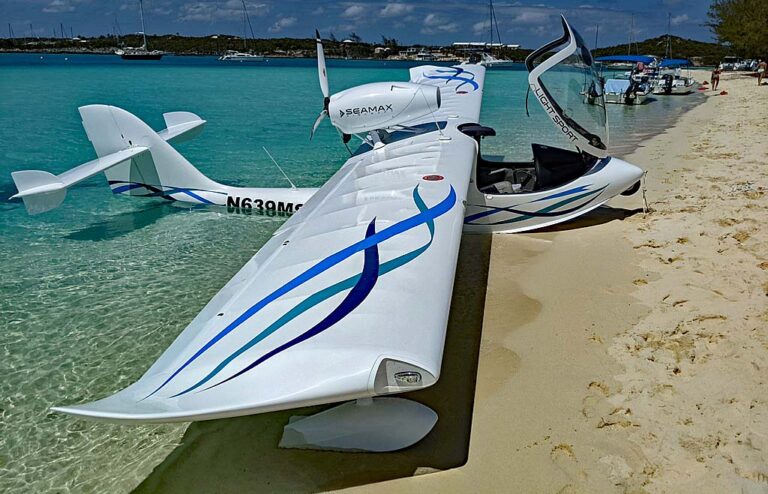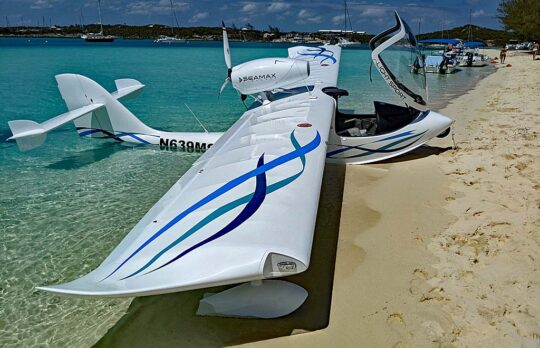 The Oklahoma dealer recently acquired two fully-equipped Seamax M-22 aircraft to their fleet and. One M-22 is equipped with IFR gear, which allows a pilot in training to log instrument hours at competitive rates.
Central Seaplanes, LLC is a father-daughter, veteran-owned business represented by Kira and Todd Lang.
Todd is a former fighter pilot with 40 years of aviation experience and 11,000 logged hours with CFI, CFII, and MEI instructor credentials. Currently, he is an international Boeing 767 Captain for a major U.S. airline. Todd also holds a Master's degree in Business Administration from Embry Riddle.
Kira has an Associate degree in aircrew safety systems technology, a Bachelor's degree in aviation management and a Master's degree in aviation and space science. She is currently finishing her doctorate. Kira received her Private Pilot certificate when she was 18 years old.
Kira said she has always dreamed of starting her own business with her dad. She has a passion for aviation and has thrived in the industry. She intends to dedicate her time to the success of Central Seaplanes and their association with Seamax aircraft.
---
Dragon PPG
Welcome to Dragon PPG (powered paraglider).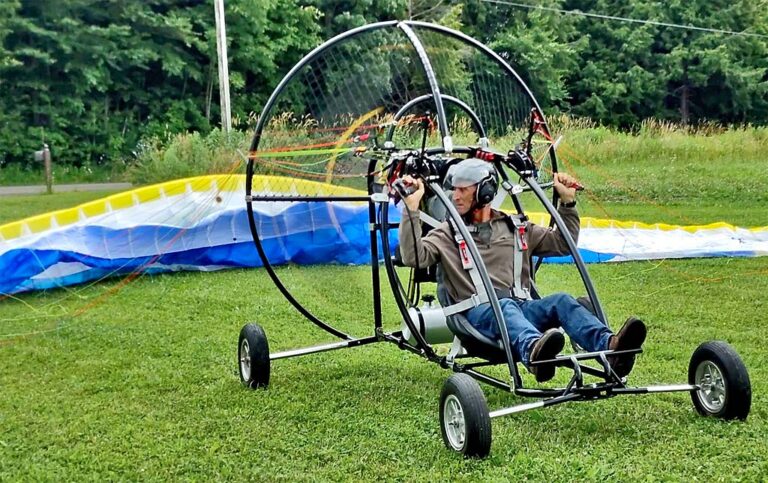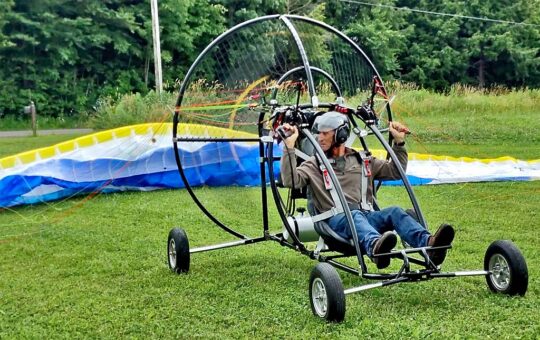 This quad — a term describing the four wheeled carriage some powered paraglider enthusiasts prefer — "is a new concept," said Erin Thorson about designer Dan Feldman's work. Dragon will make its official debut at AirVenture 2021. Thorson is a 30+ year A&P and former Air Force aviator.
"Considerable research and thought have been put into producing a high quality seated powered paraglider that meets all FAR 103 requirements," wrote Erin. Dragon PPG is aimed at taller and heavier PPG pilots. The design features a roll cage for protection. Such a configuration is common in powered parachutes (different aircraft, if you aren't familiar) but quads have previously been very light weight construction that mainly aimed to provide some structure to accommodate wheels, and not much more.
Based on Rotax 503 power, Erin described thrust of the engine as "incredible!" Dragon was weight tested at 4Gs assuming a 220-pound pilot. Commonly, powered paragliders prefer the lightweight, higher-revving Polini engine (see next news item).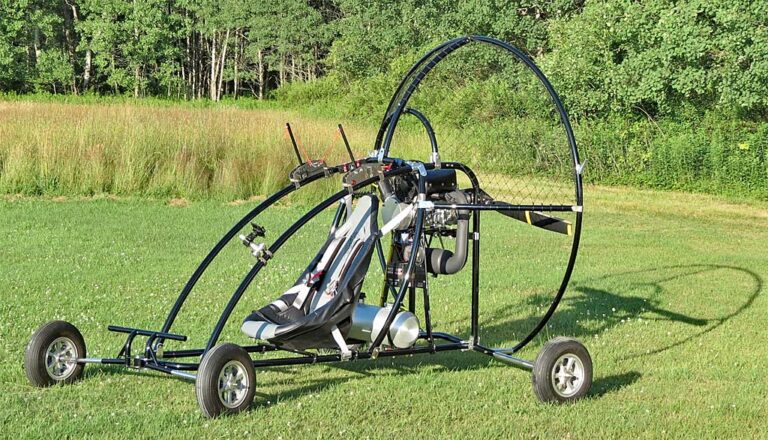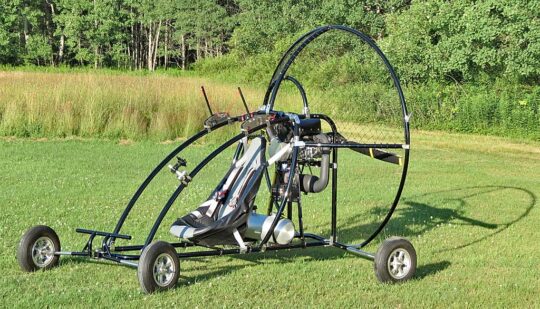 "Last week, Eric Dufour, a world-renowned paragliding pioneer and well respected paramotor instructor, personally flew the Dragon PPG and loved everything about it," wrote Erin. "I have witnessed the Dragon fly; it is a rocket!"
Dragon PPG is made in the USA.
"The challenge (and frustration) for many quad PPG pilots is a lack of power and thrust and overall structural integrity," continued Erin. "Dan set out to design a wheeled powered paraglider [carriage] using heavy-wall aluminum for the main structural components with aluminum clamp devices and U-channels clamps to secure the tubing. The reason is primarily to add strength to the tubing without drilling of holes which can weaken the structural integrity of the frame."
He reported the Dragon frame and engine have been designed to meet FAR 103 requirements. The Dragon frame itself can also be purchased as a stand alone frame without engine if the customer desires.
---
E-Props and Polini Engines
In early July 2021 flying enthusiasts participated in the second edition of a STOL competition for ultralights (with engines limited to 100 horsepower) in the south of France. The contest was organized by the French Federation, FFPLUM.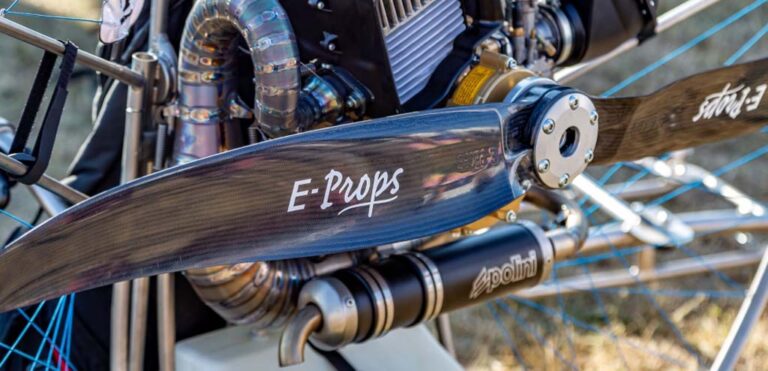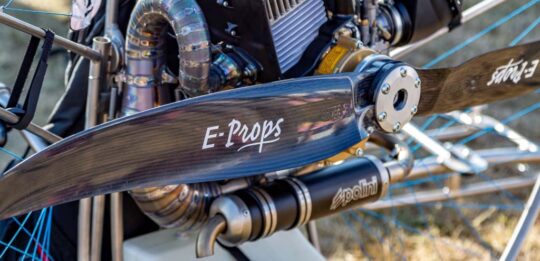 "The propeller is a very important equipment to succeed in this kind of competition," the company wrote. "E-Props is proud to have won the first three places."
Earlier, on the weekend of June 17, 18, and 19, the French Open Training Slalom 2021 at Sevins Le Lac, "the podium was monopolized by pilots using Polini Thor engines," boasted the Italian engine maker. Champion Alexandre Mateos, an ace of this sport, dominated results winning in his debut with the new Thor 303. Commonly, E-Props have been paired successfully with Polini.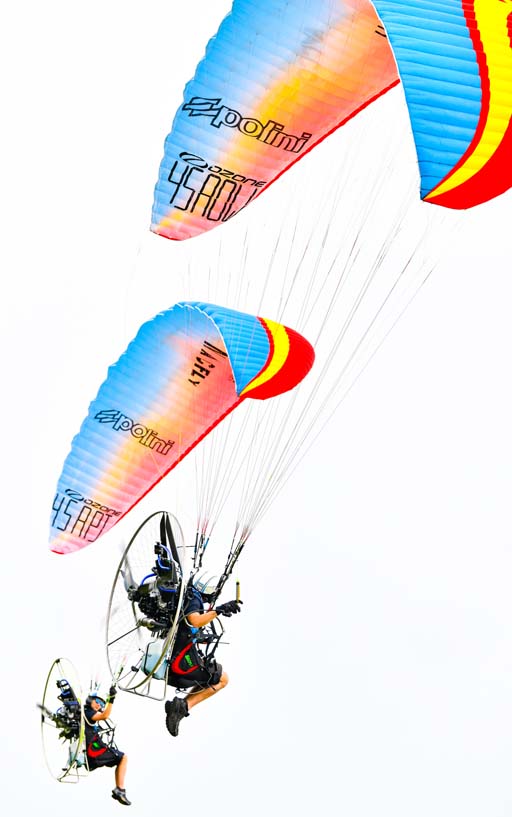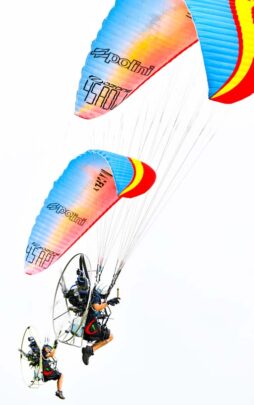 In second position was Jeremy Penone using the super-tested Thor 250.
In third, winning the bronze medal, was Marie Mateos also using the new Thor 303. Marie reached a new goal with Thor Polini engines. After previously winning the female category, in this recent competition she was the first woman to be on the winner's podium ranked equally with male pilots.
In a similarly timed event called "Slalomania," in Bornos in the south of Spain, the Slalom Open Spanish Championship took place. "Once again the pilots powered by Thor 303 engines confirmed this engine is superior for powered Paragliders," reported Polini.
Of the 21 pilots that took part to the competitions, 16 chose Polini Thor engines.
---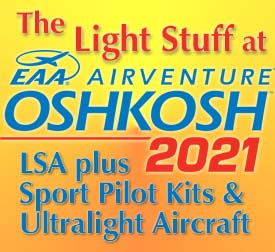 …but, of course, all the above is merely the tip of a large iceberg.
I hope to achieve sensory overload at Oshkosh '21 and I will do my best to transmit that excitement to you. Watch for the bright orange logo denoting coverage from the big show.
Off we go!