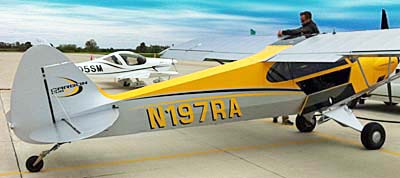 Elements are basic components of nature. As in our first part, I see Oshkosh Elements as fascinating ideas other than airframes or engines. One such worthy idea is Beringer's new anti-groundloop tailwheel. Before we talk about their innovation, though, let's take a quick glance at tailwheel design popularity. Cub-like models and other taildraggers account for more than 20% of the LSA fleet today. Tricycle gear may dominate but lots of pilots believe a tailwheel aircraft is the "proper" gear for an airplane with more machismo, more bush-capability, more aerodynamic efficiency (less drag) … you name it, many pilots just love taildraggers. Tricycle gear pilots, however, not so much. The reason? Trigear landings tend to self correct regarding keeping the airplane straight on the runway. Tailwheel aircraft threaten the dreaded ground loop. Since this sounds — and can be — scary, lots of Cessna or Piper-trained pilots avoid flying taildraggers.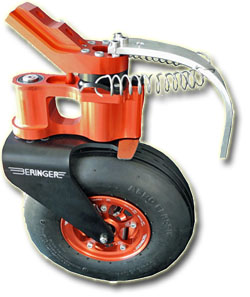 Several other reporters covered Beringer's press conference and reported on the company's tailwheel offering but none fully explained it, in my opinion. More importantly, no report I found showed the pilot's action to make this a functional component. I'll change that here, thanks to help from publicist Tim Kern, who assists Beringer. "Why is a taildragger unstable when taking off or landing," Tim asks? "When wind exerts a lateral push, pilot skill alone cannot always prevent the plane from doing a ground loop." Tailwheels tend to turn in the direction where force is applied and this can produce a ground looping tendency. That's why the famous P-51 Mustang has a pilot-lockable tailwheel. However, the Mustang, or any locked tailwheel, cannot be steered when locked; directional control comes solely from aerodynamics via the rudder surface. After seven years of work leading toward a patent, Beringer's (literal) family of engineers goes one better than Mustang. According to my fellow journalist Marino Boric writing for EAA, "Beringer's solution [is] a tail wheel incorporating a double-pivot mechanism. The rear pivot (see photos) is in line with the wheel axle for precise control [by eliminating the trail] on takeoff, landing, and taxiing turns; the forward pivot unlocks to allow full articulation when needed for turning tightly around a main wheel."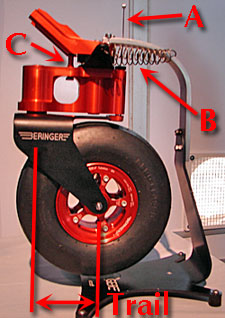 Another journalist, AIN's Matt Thurber, wrote: "On normal tailwheel designs, the pivot axis of a steerable tailwheel is offset from the wheel axis, and the distance between the two is called the trail (illustrated photo), according to engineer Claire Beringer. "When you increase this [trail], maneuverability increases but stability decreases." While pilots appreciate the trail feature that allows the tailwheel to pivot for improved ground handling, if there is a disturbance during landing, such as a crosswind gust, the force on the tailwheel tends to cause the wheel itself to [steer] just when it would be more helpful for the pilot if the wheel were to remain straight. "The [tailwheel] spring is not strong enough to retain the tailwheel in its axis," she said. With the wheel in the locked position, the wheel can't pivot but can still be used to steer a limited amount right or left. By pulling a cable in the cockpit (simulated by "A"), the pilot adds the trail to the tailwheel assembly, which can then pivot in any direction."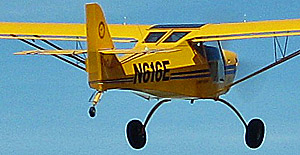 Summarizing then, aviation has three possibilities for taildraggers since the old tail skid: a tailwheel in fixed or locked position; the classic trailing, steerable tailwheel; and the new best choice: Beringer's no-trail innovation. With the latter, the pilot enjoys full movement while taxiing to the runway, sets the knob or lever (depending on how the kit builder or manufacturer implements this) to "lock" the tailwheel into limited steering for take off, and leaves it that way throughout landing. When ready to taxi back to parking, the pilot "unlocks" the tailwheel and again has broad steering control. Short of gross pilot error, Beringer's creation virtually eliminates the chance of the dreaded ground loop. Now pilots who grew up flying trigear airplanes can lose their fears and perhaps try a fun tailwheel aircraft design. Well done, Beringer!