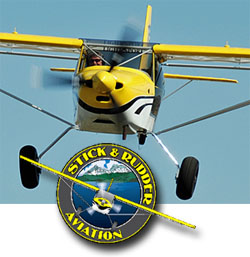 Again, I heard a common refrain. This time was at the recently concluded AOPA Summit 2012 in Palm Springs, California. I was speaking with some GA fellows, the kind — like so many — that know well of Light-Sport Aircraft but have opinions about them based on speculation or heresay. This time it was the familiar, "LSA are nice little airplanes, but they are too lightly built to hold up to the duty of a traditional flight school environment." I've heard this statement so many times I've lost count.
Right before the above conversation, I had been visiting with my editor/publisher friend Ben Sclair of GA News fame and Kitfox Aircraft co-owner John McBean. Ben and I were admiring a handsome tundra tire-equipped, taildragging Kitfox that looked immaculate — as John's airplanes usually do. Truly, it looked almost new. It was not. I told the GA "experts" in the opening conversation that they needed to go look at this particular Kitfox to see how well a LSA can endure flight training. I hope they did so.
The airplane pictured nearby has quite the credentials as shown on a sign placed under the chrome-plated main gear. It has logged 1,700 hours, the majority of which have been acquired in a flight school. The shiny bird has more than 5,000 landings, nearly all by flight students. Here it is coming up on an engine overhaul and yet you'd consider buying this aircraft thinking it might be a lightly-used factory demo. Absolutely, it bears no resemblance to used-and-abused flight school airplanes even though it is a taildragger. On top of the flight school pounding — students must be allowed to make mistakes if they are to learn, IMHO — this particular airplane has traveled from Washington state to San Diego to Vermont and to Exuma in the Bahamas… pretty much all four corners of this big country… and beyond.
Of course, Kitfox N726KA has enjoyed careful maintenance by both Kitfox Aircraft and Stick & Rudder flight school owner, Paul Leadabrand. Yet that's no different from any quality flight school with a fleet of Cessna 150s or Piper Tomahawks. The all-too common GA belief is that if an airplane doesn't weigh 1,650 pounds, like the 150 and T-hawk, it must be built sturdily enough to hold up in training. I say, in the best tradition of VP Biden, "Malarkey!" Need more proof?
I've already posted articles on an Allegro 2000, which has lived its whole life in a flight school that continues work even after a second 2,000-hour overhaul of its Rotax 912 engine. I've written about a Remos G3 with more than 20,000 landings and 3,500 hours, all in flight training. I know of a Flight Design CT2K that long ago had logged 13,268 landings. These may be anecdotal. Certainly some LSA have experienced problems in the harsh environment of primary flight training yet it is obvious that a carefully maintained LSA can indeed log thousands of hours of flight training.
Does this mean these hardy trainers are costly? Nope. The Kitfox pictured here is available (in late 2012) for $95,000 with such desirable equipment as a 10-inch Dynon SkyView, Garmin radios, your choice of taildragger or nosewheel, and a white paint job. You can spend more but it isn't necessary. When John McBean and I reflected on the expectation of a $60,000 back in 2003 — the year before LSA were introduced to the market — his present-day Kitfox SLSA with equipment we couldn't imagine then (i.e., synthetic vision) is a virtue of aircraft pricing.