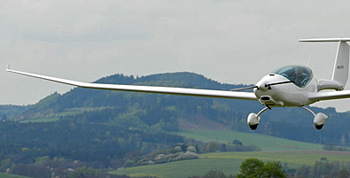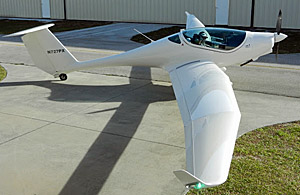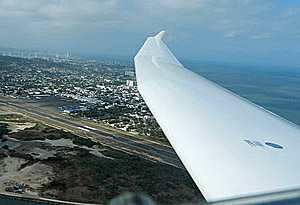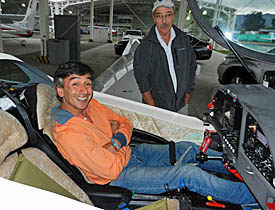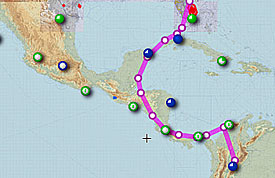 I think Phoenix is one the loveliest aircraft in the LSA fleet. Of course, I have a rather large bias as I'm a soaring enthusiast and this is one fine soaring machine in the SLSA fleet, able to compete fairly with a pure glider. I'm also a fan of importer Jim Lee, a modest, soft spoken man with a deep honesty streak. He's also a world-renown soaring champion. Yet what just catches my eye again and again are the long, lovely, shapely, slippery wings of Phoenix, which lead me to present the photos you see with this article.
These views came from Jim's long flight from his home base not far from mine in Melbourne, Florida to Bogota, Columbia. That meant a long water crossing from Key West to the Mexican coast, then south to Belize and on around to his destination (see route map). Jim wrote a blog of this entire experience featuring many photos and I'll bet most pilots would like to read it. You may never attempt such a long flight over such demanding terrain — immense stretches of water, tall mountains, and dense forests — but you can fly vicariously with Jim through his portrayal.
You may not think of yourself as a soaring pilot so perhaps a SLSA like Phoenix does not initially appeal to you even while you cannot deny its beauty and the efficiency of its design plus a cockpit comfortable enough for such a long voyage. However, plenty of others see Phoenix's capability. Importer Phoenix Air USA came in tied for an impressive sixth among all SLSA for registrations in 2012. For a specialty, niche aircraft, that is a great credit to both the aircraft and Jim's gentle but persuasive selling methods. His success means that if you want one, you'll need to plan on a wait. It won't take anywhere near as long as a new Ferrari, but you'll have to be patient. The good news is the reward at the other end puts big smiles on the faces of new owners. During the wait, Jim is lauded for providing information about the process from the Czech builder.
Interested in more info about the aircraft used for this long flight? Here are some teasers: • glide 32:1 • power cruise 115 knots • stall 38 knots • useful load 612 pounds • range 900 nm (power on). For those unfamiliar with glide angle performance, get this: Phoenix can glide, engine off, for more than 30 miles from only 5,000 feet above the surface. For its base price buyers receive wing extensions that give Phoenix two distinct (yet pleasant) personalities. Via the two wing configurations, a 49 foot motorglider wing reduces to just 36 feet with the insertion of different wing outer sections. When luxuriously outfitted with an EFIS, autopilot, airframe parachute, radios, and transponder, Phoenix is one of the higher priced Light-Sport Aircraft but compared to "full-sized" motorgliders Phoenix's price tag is actually modest.
You can read more in this earlier article or this one or watch our video. You can also read fellow blogger Jim Lawrence's view (with this disclaimer: like me, Jim is a soaring enthusiast so we are both quite taken with Phoenix). Even if you are not excited by flying engine off, keep in mind Phoenix's great performance in glide and its superb efficiency combined with surprising speed. For the 2,211 nautical mile delivery flight to Bogota, Phoenix flew 20.6 hours for an average speed of 110 knots. Sweet!