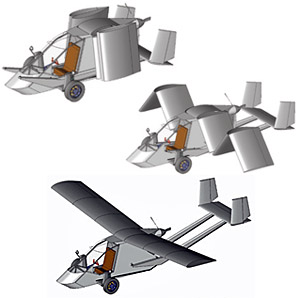 Call them "flying cars, flying motorcycles, flying dune buggies," or "roadable aircraft."
Regardless of the correct term, a growing wave of these car-to-airplane machines are in various stages of development and most will be at AirVenture 2010.
One of the newest entries is a kit with the lowest projected price among the group; all others are fully built and carry larger price tags. Check out the Caravellair, a three-wheel motorcycle adaptation portrayed on their website. They are predicting a kit for $50,000 but they need investment to get to finish development and get to market.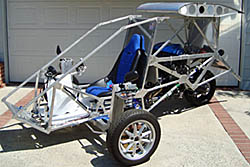 The better funded Terrafugia effort is leading the sector and recently basked in the warmth of media spotlights after winning a weight exemption from FAA. Their PR success may be boosting the fortunes of the others.
We've written about two four-wheelers: Transition — which first flew in March 2010 and is presently undergoing further flight and roadway trials — and Maverick — a cool dune buggie-esque configuration that looks like a hoot to drive on the ground; it is reportedly on the verge of winning SLSA approval and is likely to be the first of these projects to win an airworthiness certificate. Both four wheelers will be at Oshkosh and here's the AirVenture opportunities for the three-wheeler projects.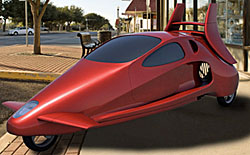 Taking a cue from Boeing, which kept its 747-8 home from the Farnborough show to pursue flight testing, Sampson Motorworks will not show their daring Switchblade as they did the last two years, but developer Sam Bousefield will give a forum on July 27 at 4 PM in Pavilion 08. The company's beautiful website has some great artist concept drawings and gives evidence of their work.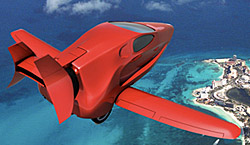 Joe Caravella, a father and son team, will conduct a forum on their project Monday July 26 at 10 AM in the 002 GAMA Pavilion. Afterwards, Oshkosh trekkies can pay a visit to the company's exhibit in space 97.
Hope we see you in Wisconsin — come by the LSA Mall and say "Hi!" If you can't make Oshkosh, keep checking here for the latest LSA news.