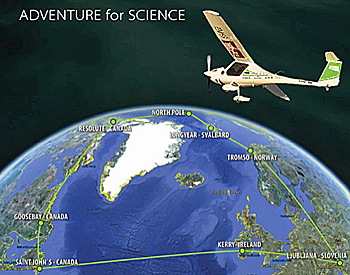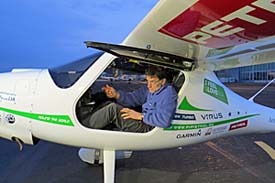 Matevz Lenarcic is in the air again. Lenarcic is the daring pilot who has already flown around the world … twice! Some pilots simply don't know when to rest on their earlier achievements. Indeed, today Matevz embarked on a solo flight over the North Pole in his specially configured light aircraft. His mission (besides an audacious long distance flight): recording black carbon readings over the Arctic. He'll cross much of Europe, pass over the North Pole, continue to Canada and return to Europe crossing the North Atlantic from Newfoundland to Ireland flying parallel to Lindberg's record flight from New York to Paris (map). He will capture the Arctic with aerial images and if you'd like to vicariously join his adventure, you can follow Matevz's North Pole flight.
A biologist and photographer, Matevz is again flying a Pipistrel Virus SW that has won NASA's efficiency competition; the company pocketed prizes of more than one million dollars. With 4,000 hours in his logbook, Lenarcic has proved his abilities with two globe-girdling flights, one with a Pipistrel Virus SW in 2004 and one with a Sinus in 2012. "Legendary expeditions … led to discovery of new trade routes that brought strategic and capital benefits," Lenarcic observed in a news release from Pipistrel. Modern expeditions benefit from improved research and technical instrumentation. Devices which weighed hundreds of pounds just a few years ago can now fit into fuel efficient, low cost, and nature-friendly light aircraft.
Lenarcic expressed that the Arctic is an important generator of weather. Changes in polar ice can have a decisive impact on the speed and direction of ocean currents, which events can trigger globally-felt effects. Arctic expeditions are frequent; the North Polar region has been crossed on foot, on skis, with icebreakers, submarines, and aircraft. However, Matevz noted, "Light and Ultralight planes are still extremely rare in this part of the world. Despite the development of high performance ultralights no one has overflown the North Pole from one continent to another." Assuming his flight progresses as well as his prior circumnavigating attempts, he will bring light aircraft to the northern Arctic.
On his flight Matevz will attempt to burn the smallest amount of fuel per distance flown. The project will attempt to show how light aircraft can be used to collect significant scientific climate data. His Pipistrel aircraft will carry a device developed by the company Aerosol, which measures the concentration of atmospheric black carbon (soot) in the air over the North Pole. Matevz reported that this has not been done before.
To fulfill requirements of the North Pole flight, Pipistrel specially modified a Virus SW able to operate safely at low polar temperatures and high altitudes. Fuel consumption must remain at very low levels because some legs of the flight cover several thousand kilometers. This Virus SW can fly up to 160 knots yet slow to 43 knots. It was fitted with a wide range of avionics, navigation equipment, IFR systems, an auto-pilot, radios plus a second generator for redundancy. Bon voyage, Matevz!