This article again delves into the changing face of aviation and in this case within the Part 103 Ultralight Vehicle sector.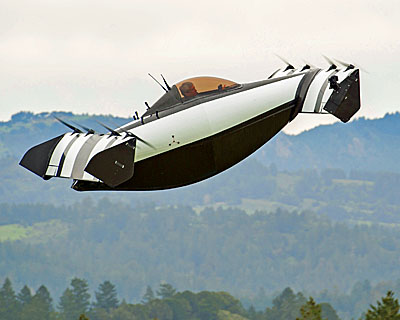 Infotech in Part 103 ultralight vehicles means far more than GPS or even synthetic vision digital screens (imagine an iPad mated to a Levil box … remarkable stuff and for very little money). However, digital avionics are not the point of this story.
In the last few days, a formerly Canadian company, Opener, announced their new eVTOL (electric vertical takeoff and landing), the second developer I know of to adopt Part 103's simplicity and freedom. Like Kitty Hawk's Flyer*, the rather unusually-named BlackFly also calls itself an "ultralight," more precisely meaning an ultralight vehicle that can operate under Part 103. What you might like about this, compared to more than a dozen "air taxi" designs, is that BlackFly appears aimed at recreational flyers (as does Flyer).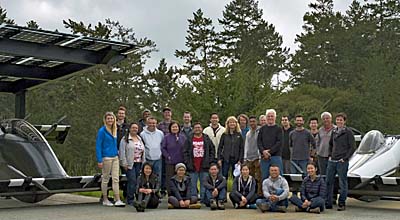 Developers probably use Part 103 because they can do what they want sooner, easier, and not require a pilot's license — or much FAA oversight. Conversely, any aircraft with two or more seats must use another FAR section inviting much more regulation.
"Infotech" is a catchall word suggesting computer technology or software or algorithms. It may be hard to explain precisely but it conveys an image of modern, fast, and cheap. Many fields are being altered by infotech. Why should aviation be any different?
Opener's BlackFly
Opener issued several news releases on July 12th, evidently aimed at mainstream news who seized on the unorthodox vehicle. The company, now quartered in Silicon Valley, claims "1,400+ flights and 12,000+ miles flown" over nine years of stealthy development; most of these were remotely piloted. Manned flight is very recent.
"Opener is re-energizing the art of flight with a safe and affordable flying vehicle," said Marcus Leng, CEO. "We will offer competitive pricing in an endeavor to democratize three-dimensional personal transportation. Safety has been our primary driving goal in the development of this new technology."
"Even though not required by FAA regulations," Leng continued, "BlackFly operators will be required to successfully complete the FAA Private Pilot written examination and also complete company-mandated vehicle familiarization and operator training."
In its news blitz, Opener announced Google guru Larry Page is one of the company's strategic backers. Page also is helping to finance Kitty Hawk and its Flyer (photo below).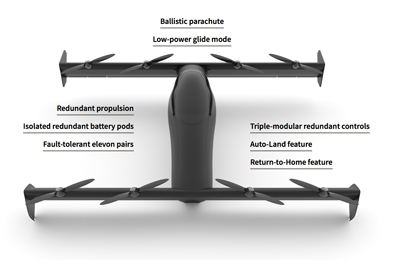 In a CBS News article, Leng was reported saying, "When you press the thumb-stick to climb, you have absolute full control. When you stop in the middle of the air and go off the joystick, the aircraft freezes." These phrases are hardly the way a pilot would say it; perhaps he stated it this way because he was speaking to a non-pilot reporter.
Although BlackFly claims full amphibious capabilities, "It is primarily designed to easily operate from small grassy areas and travel distances of up to 25 miles at a speed of 62 mph." said Opener. It presently has a 25-minute flight endurance. See more specifications; scroll down to bottom.
As with most of these multicopters, BlackFly's feature list differs from most LSA:
Software flight-envelope protection
Automatic Return-to-Home button (localized training feature)
Soft-landing assist (making BlackFly approachable to non-pilots)
Comprehensive training (required for purchase)
Geofence-capable (ostensibly preventing entry to certain airspace)
Super Charging capable (less than 30 minutes)
Low noise signature
Ballistic parachute option available
Manufactured in the USA
Regarding that "competitive pricing" comment, Leng said he "hopes BlackFly will be available to buy next year for roughly the price of an SUV." That sounds volume-dependent, but Opener appears to have substantial financial support.
Alan Eustace, former vice president of knowledge at Google, sits on the startup's board of directors. My guess is the money supply is something any LSA producer would love to claim.
If SUVs run $40,000 to $80,000 and if Opener could indeed achieve this, that might be a game changer.
Are Multicopters 'Inevitable' in Aviation?
"I've noticed in my career that things go from impossible to inevitable in a very short period of time," Eustace said.
His thoughts and my expanding view of this new wave of designs suggests we are just seeing the beginning of a new kind of aircraft, one anybody might be able to enjoy with mimimal or no training. I know that sounds radical and ill-advised but the potential of software-enhanced flying is hard to overlook — at least once the software is judged "very robust." It is not yet, but that may follow rather quickly.
"The dream of flight, which was so difficult and expensive to obtain, will soon be within the reach of millions," added Eustace. "Opener is putting the fun back into flying and opening up a new world of possibilities."
If you are attending EAA AirVenture Oshkosh in a few days, you can check out BlackFly yourself. Opener vehicles will be on display in the Innovation Showcase, booths IC-12A and 13A.