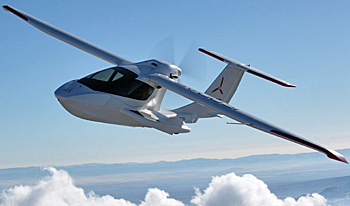 First Icon Aircraft wowed aviation enthusiasts with its sleek and uniquely featured amphibious A5 LSA seaplane. Over the years the company reported collecting around 1,000 orders, a success story that even beats Cessna's Skycatcher. However, several years passed and the company did not enter production, although they reported a deal with Cirrus Aircraft to handle some fabrication duties. Perhaps all that changed now. The Southern California company announced that it raised its fourth and final round of funding totaling over $60 million. They'll use the funds to "complete production preparations, demonstrate regulatory compliance, [and] ramp up full-scale aircraft production."
CEO and Founder of Icon Kirk Hawkins said, "For the first time in Icon's history, the company's future is no longer reliant on the whims of the capital markets, which have been highly unstable over the last five years." He identified that the new financing effort was led by a "multibillion-dollar conglomerate" strategic investor from China. The new financing "represents a minority, non-controlling interest in Icon which ensures [the] original mission and strategy remains completely intact." Hawkins said their A5 seaplane "will be U.S.-built, and the company will continue to be a U.S.-based, -led, and -managed organization." His language in the preceding statement may an effort to head off a significant outpouring of negative response such as Cessna received when the Wichita company reported the Skycatcher would be built in China.
Icon sent a letter to A5 deposit holders about the new funding. Hawkins reportedly acknowledged the production delays of the A5 and thanked owners for their continued patience and enthusiasm. "Creating a great aircraft and a great company from scratch is an extraordinarily difficult task," added Hawkins. "Furthermore, financing such an endeavor is an order of magnitude harder than just creating it — and fundraising is particularly difficult for aviation startups. This has been a longer and more challenging journey than even we had anticipated; that said, Icon is now in a great place."
The company's announcement about financing chose to make no mention of the company's weight increase exemption request. The company said the extra weight was needed to provide a spin resistant airframe.